Fitbit Versa Review
Fitbit's Latest Smartwatch Impresses on All Fronts, but Its Look and Price Are What Will Sell You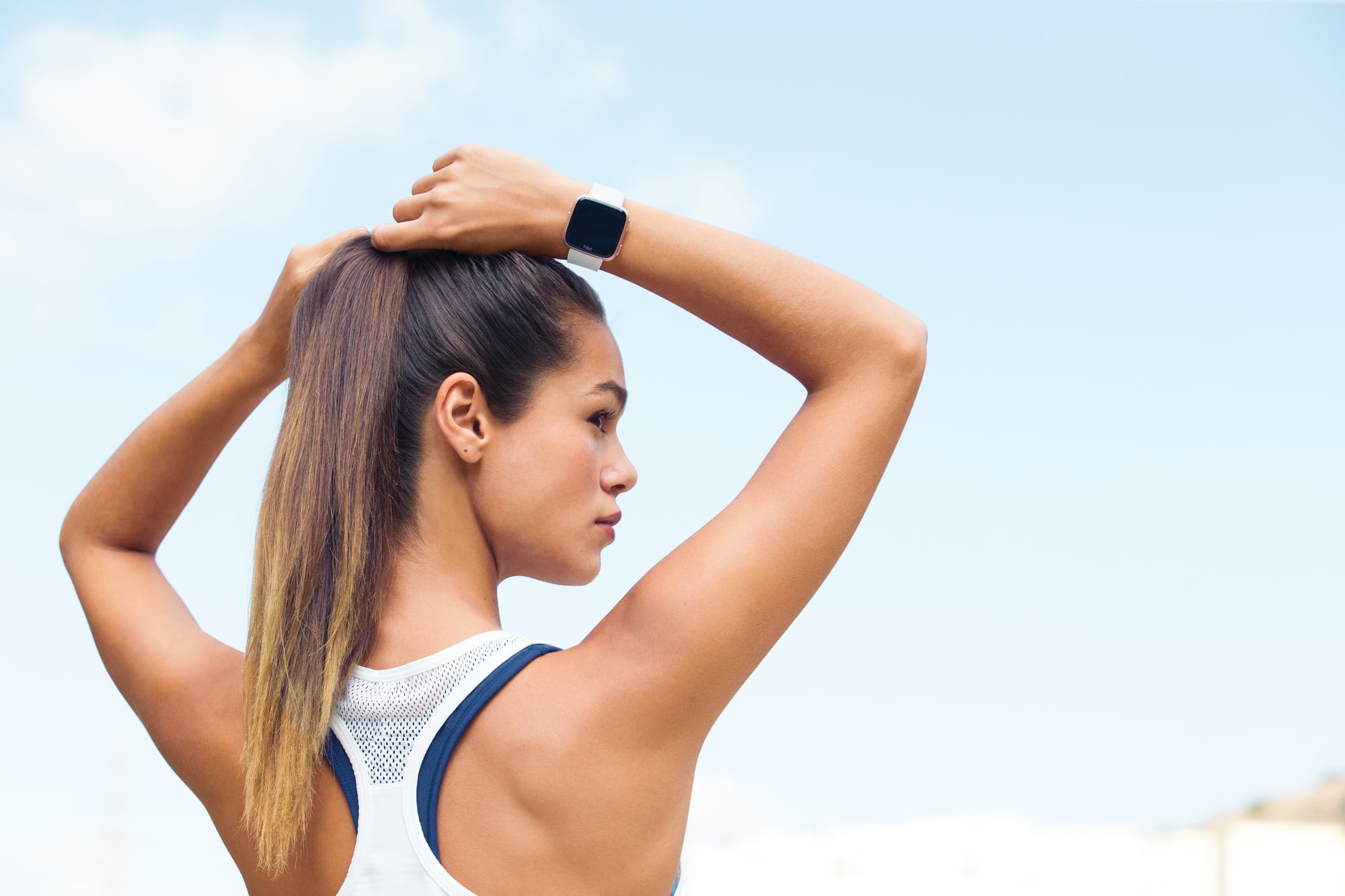 If the Fitbit Ionic impressed you, just wait until you see the company's latest product. On April 16, 2018, Fitbit released its highly anticipated smartwatch, the Fitbit Versa. Advertised with a completely new, elevated look along with four-plus days of battery life, the newest addition to the Fitbit family is sure to please. So, as soon as I was able to get my hands on one, I immediately put the Versa to the test. My first impression: Fitbit finally nailed it with this one.
From an aesthetics standpoint, I was fully impressed by the Versa's softer clock face and its light weight. Fun fact: the Fitbit Versa is the lightest metal smartwatch in the US. Its similar look to the Apple Watch also makes it competitive on the design front. Opting for a square face with rounded edges (compared to the Ionic's more angular design) was completely intentional and designed with the female consumer in mind, according to Fitbit senior product marketing manager Kat Binder. She shared that considering 60 percent of smartwatch buyers are men, Fitbit wanted to tap into the female market this time around. In addition to releasing a black-on-black aluminum and gray-silver aluminum watch, Fitbit also offers a gorgeous rose gold one that will definitely sway skeptics.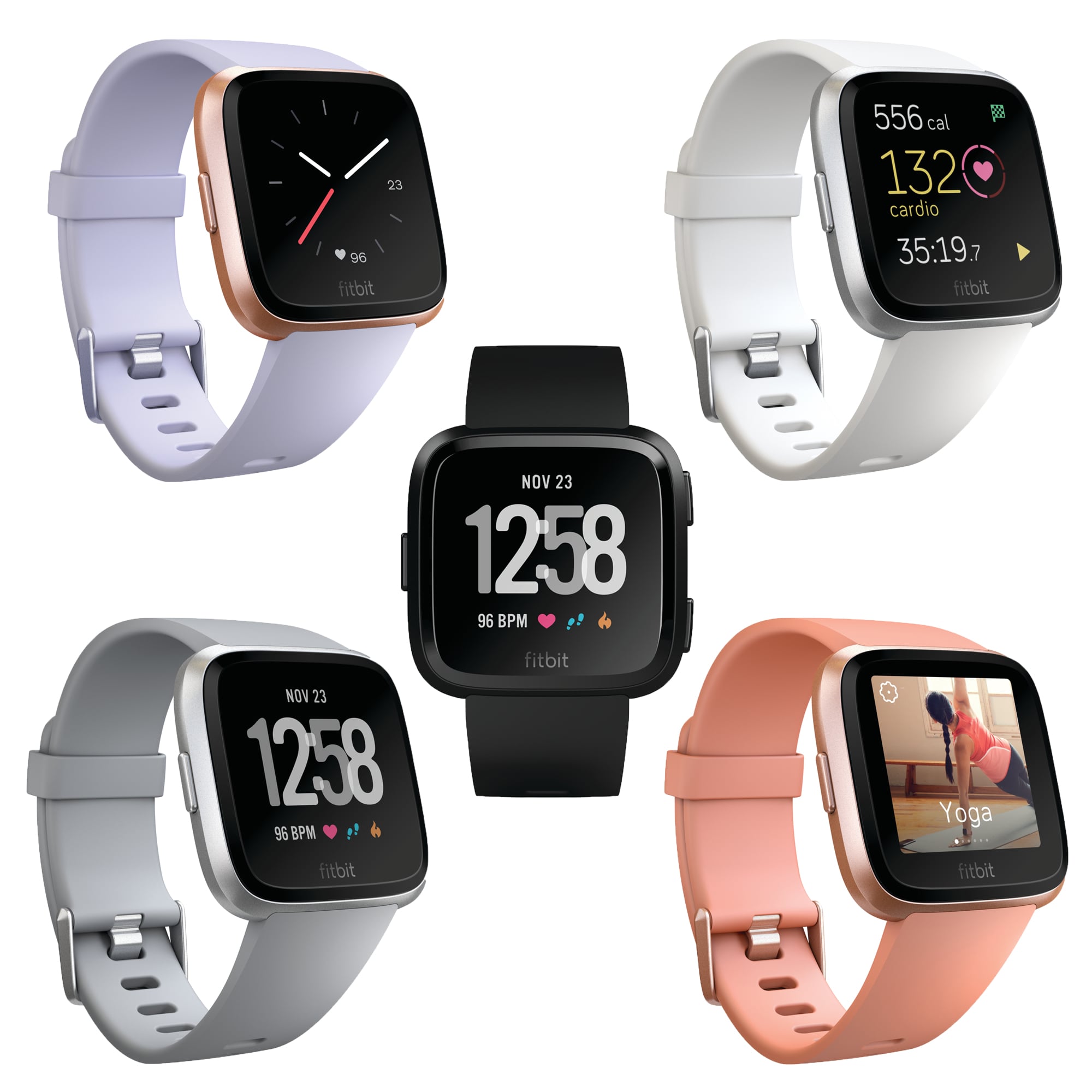 Here are some key features of the Versa, many of which we've already known and loved on previous devices:
Battery life: There's no need to charge your smartwatch every night because you can enjoy the Versa for a minimum of four days straight. This also means you can wear it while you sleep (and comfortably, might I add), which leads me to . . .
Onscreen workouts: With the Versa, you have your own personal trainer right on your wrist. Three on-device workouts are included with your device (10-Minute Abs, Seven-Minute Workout, and Warm It Up), while a paid subscription gives you access to multiple trainers, additional workouts, and Fitbit Radio. Your Fitbit Coach will walk you through each move and continue to improve with feedback.
Auto sleep tracking: Your Versa gives you a deeper look into your bedtime habits by telling you how long you were in light, deep, or REM sleep. See your nightly sleep insights on the Fitbit app, which also explains the importance of each cycle. I learned that I wake up much more often than I should each night, which has encouraged me to switch up my bedtime routine.
Auto activity tracking: Thanks to the Versa's SmartTrack technology, you don't have to hit "start" in order for your workout to count. Your watch will automatically detect what kind of exercise you're doing without having to log activity yourself.
Integrated dashboard: The on-device dashboard was redesigned to allow for easy access to your health and fitness data right on your wrist. Now, you can glance at your seven-day exercise summaries, current and resting heart rate, daily stats, and more — all without having to go on the mobile app to find it.
Connected GPS: Your Fitbit Versa automatically tracks your running and biking pace, distance, and speed using your smartphone's GPS if it's nearby. This is the one downfall to the Versa as the Ionic features built-in GPS.
24/7 heart rate tracking: Similar to the Fitbit Ionic, the Versa uses PurePulse technology to provide you with your current and resting heart rate. The new integrated dashboard also allows you to see your seven-day resting heart rate trends on your wrist.
Water resistance: Feel free to take a bath with your Versa on or jump into the ocean (up to 50 meters) or pool — it's totally safe.
Phone-free music: You can store up to 300 of your favorite songs directly onto your smartwatch or stream music through Pandora or Deezer. The best part? It's compatible with Bluetooth devices, so you can hook up your wireless headphones without having to carry your phone on a run!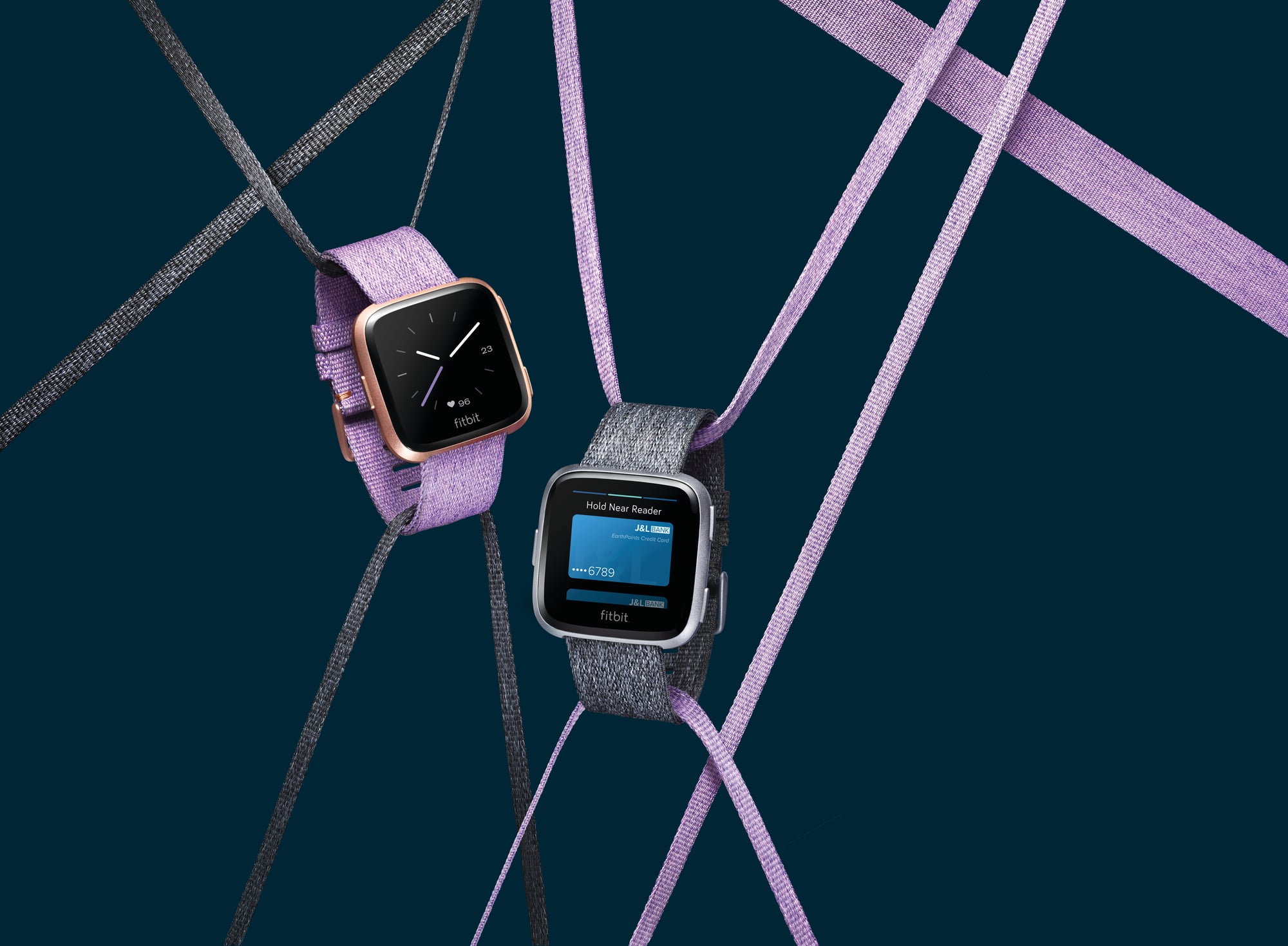 In addition to text/call notification and calendar alerts, you can take personalization to the next level with the various apps (hello, Strava!), the clock faces available, and numerous accessory bands, from stainless steel to leather. And if you're not yet convinced that the Versa is for you, let me just share the price point real quick. The Fitbit Versa starts at $200 (for the black, silver, and rose gold) and goes up to $230 for the special-edition smartwatches, which come in an exclusive charcoal woven and lavender woven band and feature Fitbit (wallet-free) Pay. In comparison to the Apple Watch Series 3 (starting at $329) and the Fitbit Ionic (starting at $300), the cost of the Versa is undeniably competitive.
As if all that weren't enough, coming this Spring are female health tracking and message quick replies for Android users. Ladies, soon we'll be able to get predicted ovulation dates, predicted period dates, menstrual reminders, cycle tracking, and other personal insights. But wait for it . . . you won't even need a Fitbit device to access this data as long as you have the Fitbit mobile app downloaded. As for you Android users, you'll soon be able to reply to texts on your wrist with quick preselected responses or with your own customized replies. Fitbit informed us that they're currently working on a solution for iPhone users.
Overall, the key difference between the Fitbit Versa and the Ionic comes down to looks and cost. The two devices are nearly identical in features, aside from the Ionic's built-in GPS. The Fibit Versa is an affordable option for fitness enthusiasts who want a smartwatch that's more fashion forward. If you don't mind bringing your phone along with you for its GPS, I'd say that the Versa is the way to go. Come on, you can't beat a $200 smartwatch.