Grain-Free Butternut Squash Cauliflower Risotto Recipe
You and Your Dinner Guests Will Be Glad You Whipped Up This Paleo Cauliflower Risotto
Cauliflower rice slowly simmers in cozy seasonings for an aromatic, grain-free risotto topped with roasted butternut squash, via PaleoHacks.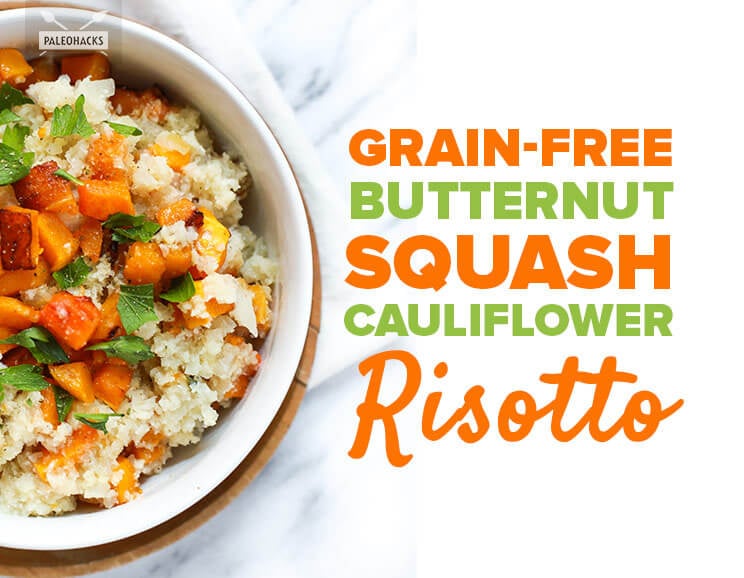 This easy Paleo risotto swaps the Arborio for low-carb cauliflower rice to create a dish that's healthy, gluten-free, and vegan-friendly!
Start by roasting cubed butternut squash until tender and crispy on the edges. While the squash is roasting, sauté diced onions and minced garlic in a skillet until the onions are translucent and the garlic is fragrant. Add cauliflower rice, cover with water and season with bay leaves, dried garlic and parsley. Bring the heat down to a simmer and allow the cauliflower rice to slowly absorb the liquid for half an hour.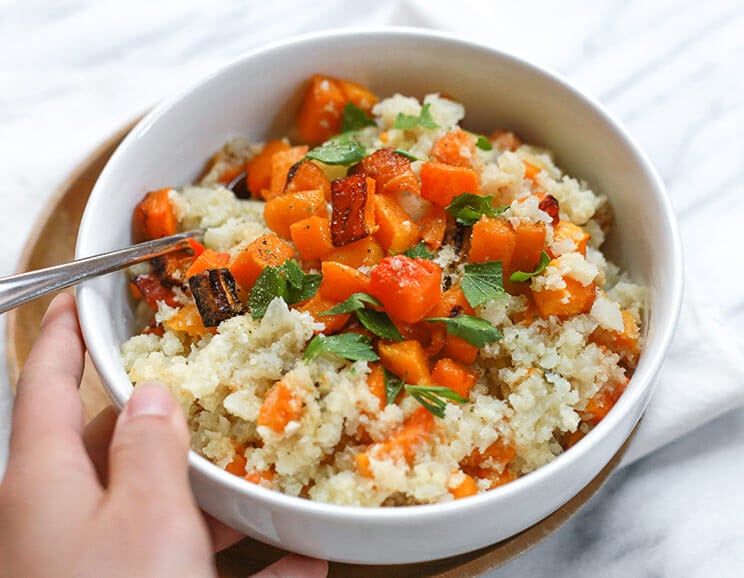 When the butternut squash is nicely roasted, mix it into the cauliflower risotto, add salt to taste, and garnish with chopped fresh parsley. Enjoy it while it's hot!
Tip: For a stronger flavor, skip the bay leaves and parsley, and fry up a few sage leaves as garnish instead!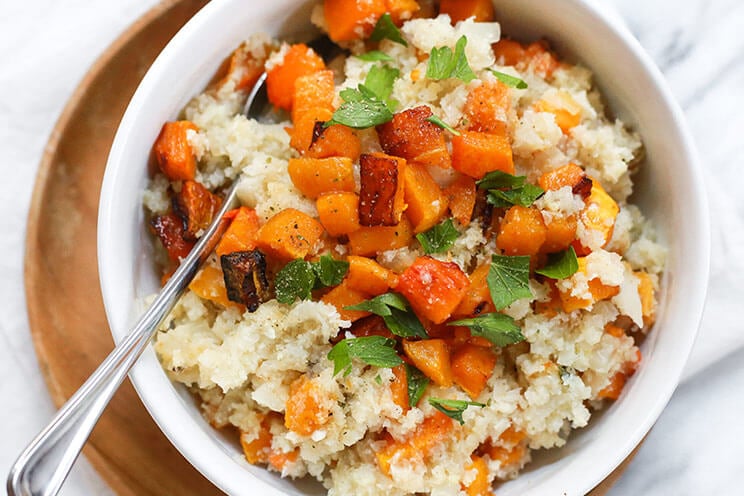 Grain-Free Butternut Squash Cauliflower Risotto
PaleoHacks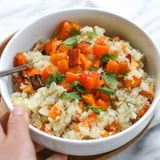 Ingredients
1 butternut squash, peeled and cubed
6 tbsp. coconut oil, melted and divided
1 head of cauliflower, chopped into florets
1 yellow onion, diced
3 garlic cloves, minced
3 cups water
4 bay leaves
1 tbsp. dried garlic and parsley mix
Salt to taste
Fresh chopped parsley, for garnish
Directions
Preheat the oven to 375°F.
Toss the cubed butternut squash with 3 tablespoons of melted coconut oil and spread in a single layer on a baking tray.
Roast for 40 minutes, flipping over the squash halfway through.
While the squash is cooking, make the cauliflower rice by placing the florets in a food processor and pulsing them into the size of rice.
Melt the remaining coconut oil in a skillet over medium heat and sauté the onions and garlic until the onions are translucent.
Mix in the cauliflower rice and sauté for two minutes, then add the water, bay leaves, dried garlic and parsley. Reduce heat to low and simmer for 30 minutes.
Once the butternut squash is ready, mix it into the cauliflower risotto until the ingredients are evenly distributed.
Add salt and serve hot garnished with fresh chopped parsley.
Information
Category

Main Dishes

Cuisine

North American

Yield

2 servings

Total Time

29 minutes, 59 seconds