Healthy Barley Bowl
Eat Clean and Green With This Edamame Barley Bowl
I typically love eating meat, but recently, I've been craving more and more plant-based recipes. Maybe this Michael Pollan rule finally set in, or maybe it has something to do with the warm weather in San Francisco. Either way, once I saw Candice Kumai's edamame barley bowl from her upcoming cookbook, Clean Green Eats ($28), I knew I had found a Spring lunch that looked delicious and was in line with my diet these days.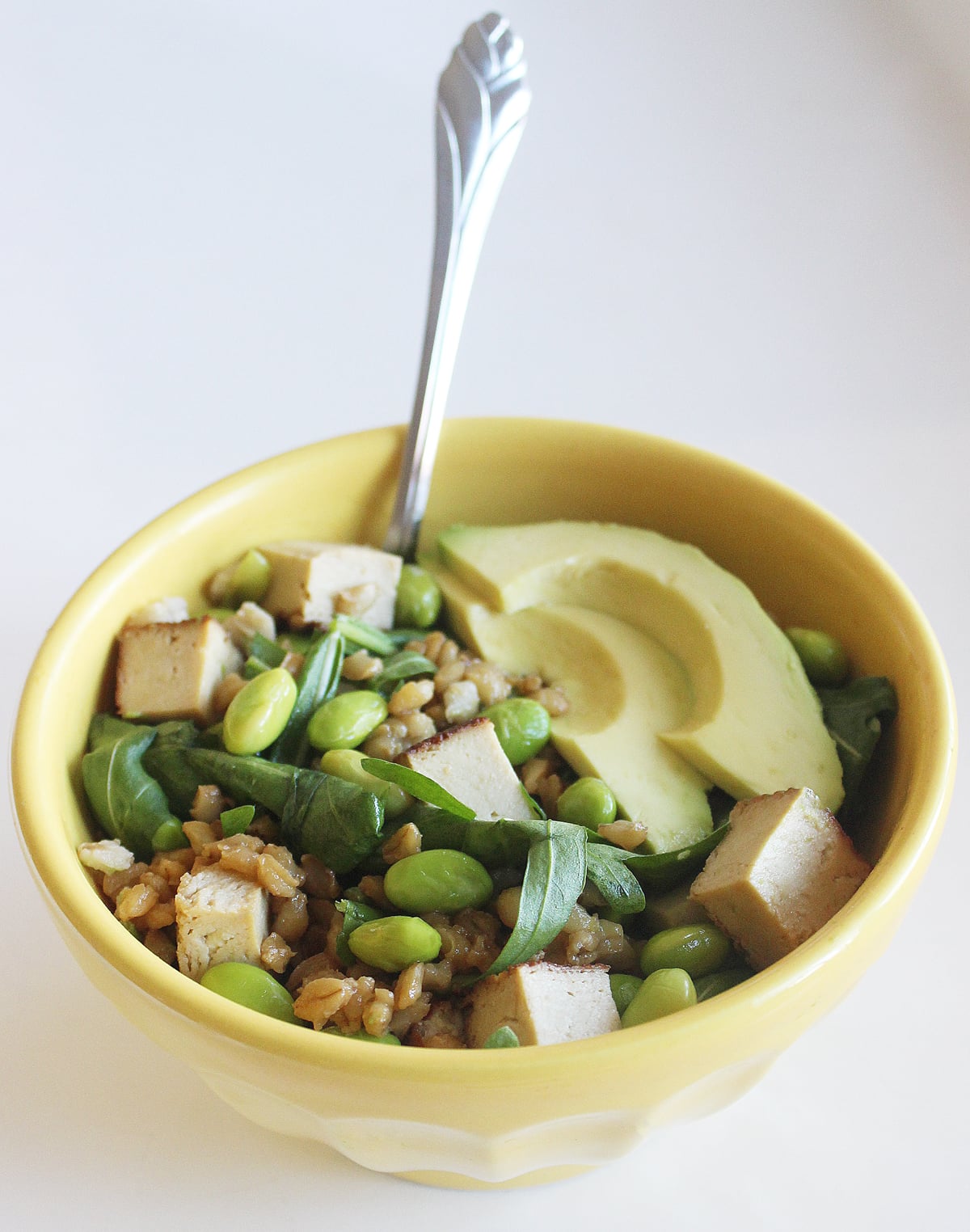 This hearty bowl powers you up with clean, quality nutrition — hello, energized afternoon! It's also packed with 22 grams of vegan protein and 58 percent of your recommended fiber for the day; all that protein makes it an ideal meal to refuel your muscles after a tough midday workout, while the fiber supports healthy digestion. Even better, this recipe makes four servings, so lunch is a no-brainer for the following days. All I can say is thank you, Candice.
Notes
Candice explains that hulled barley needs to cook for 1 to 1 1/2 hours longer than pearl barley. Adjust your cooking time based on the variety you choose.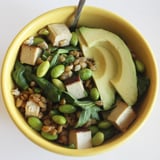 Ingredients
4 cups pearl or hulled barley
4 1/2 cups water
1 1/2 cups shelled organic edamame
2 cups wild baby arugula
2 blocks savory, baked, organic tofu (firm or extra firm), cut into cubes
1 ripe avocado, halved and thinly sliced
For the dressing:
4 tablespoons low-sodium soy sauce
2 tablespoons toasted sesame oil
Juice of 1 lemon
1 tablespoon dried oregano
1 teaspoon finely grated lemon zest
Directions
Combine the barley and the water in a medium saucepan, and bring to a boil. Reduce the heat to low and simmer for 40 to 50 minutes until all of the liquid is absorbed. Remove from heat and allow to cool slightly.
In a large bowl, whisk together the soy sauce, sesame oil, lemon juice, oregano, and lemon zest until well combined. Add the slightly cooled barley to the bowl and toss to coat.
Add the shelled edamame and arugula and toss gently to combine. To serve, divide the barley salad among four bowls and top with tofu and avocado slices.

Source: Calorie Count
Information
Category

Main Dishes, Tofu

Cuisine

North American

Yield

4 servings
Nutrition
Calories per serving

541