How to Make Dried Fruit
Make Your Own Dried Fruit — It's So Easy!
Besides freezing fruit and making smoothies, another way to use up all that farmers market bounty in your kitchen is to dry it. Dried fruit is a great healthy snack that's easy to tote around, and it also doubles well as a salad topping, cocktail garnish, or trail mix ingredient. Drying your own fruit is easy though a bit time consuming, but it's totally worth it! Say goodbye to high prices, added sugar, and sulfur, and hello to an all-natural fruity goodness that's sure to make Martha Stewart weep from joy, or whip around a stripper pole in total glee.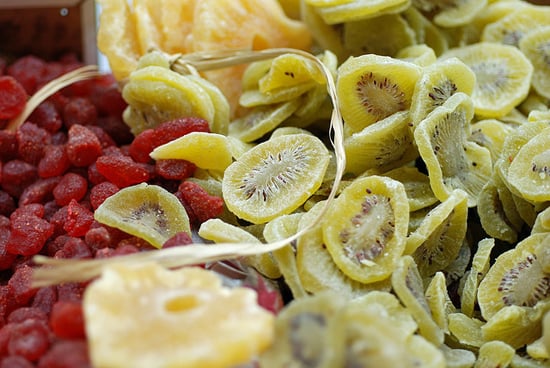 See the recipe when you read more.
Dried Fruit
original recipe
Ingredients
Fruit of your choice
1/2 cup lemon juice
1/2 cup water
Special equipment needed:
Cheesecloth
Directions
Remove oven racks; preheat oven to 145ºF.
Prep fruit: wash thoroughly, and slice into uniform pieces. Remove any seeds, pits, or stems. I cut small fruits like berries or grapes in half, and larger fruits like apples or peaches into quarter-inch rings or slices.
Mix lemon and water together. Then dip fruit slices into this mixture. The acid in the lemons helps preserve the natural color of the fruit.
Cover the removed oven racks with cheesecloth. Lay fruit in a single layer onto the covered oven racks. Place fruit racks into the oven, and leave the oven door slightly ajar to let steam escape while drying the fruit.
Bake fruit anywhere from 4 to 12 hours, and make sure to rotate racks while baking. Fruit will look dry and/or leathery when done. Don't be afraid to do a taste test!
Transfer finished fruit in an airtight container or bag, and store in a cool, dry place.
Information
Category

Other, Snacks

Cuisine

North American
Source: Flickr User Let Ideas Compete