Paleo Fried Rice
Low in Carbs, High in Protein: Asian Fried "Rice" Is Paleo Perfection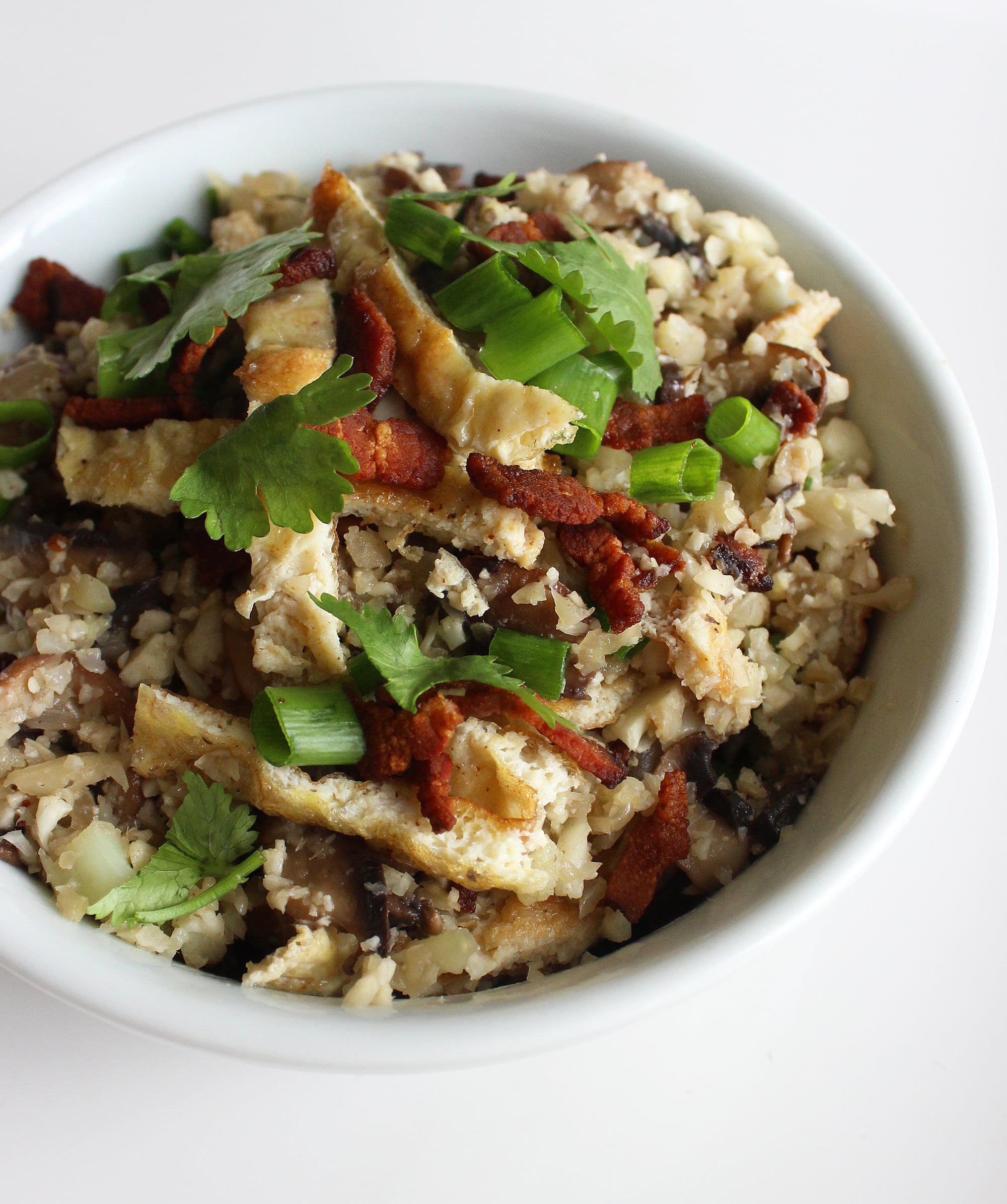 I never dreamed I could find a Paleo stand-in for fried rice that left nothing to be desired — until I tasted the Asian cauliflower fried rice from popular blogger Michelle Tam's book Nom Nom Paleo: Food For Humans ($35). Unlike the greasy Chinese takeout typical of most restaurants, this veggie-packed dish skips the food coma and leaves you feeling satisfied and energized at the end of your meal.
The combination of textures and flavors in this comforting Asian-inspired recipe is spot-on, but this versatile "rice" goes far past classic fried rice. The blitzed cauliflower can easily sub in for the grains in a warm couscous or rice salad to dramatically cut back on carbs and up the amount of vitamin C in your favorite recipes. High in protein and low in carbs, it's truly a Paleo eater's dream come true.
Notes
According to the cookbook, this recipe serves six. However, if you're looking to enjoy it on its own for a meal, this recipe will feed four healthy appetites.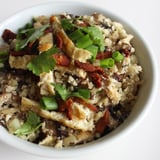 Ingredients
3 slices bacon, crosscut into 1/4-inch pieces
1 medium cauliflower head, cut into uniform pieces
2 large eggs
Kosher salt
Freshly ground black pepper
2 tablespoons ghee (or fat of choice)
1 small yellow onion, minced
4 ounces cremini mushrooms, thinly sliced
1 (1-inch) piece fresh ginger, peeled and finely grated (about 1 tablespoon)
2 tablespoons coconut aminos
1 teaspoon coconut vinegar
1 teaspoon Paleo-friendly fish sauce (I used Red Boat Fish Sauce)
2 scallions, thinly sliced
2 tablespoons chopped cilantro
Directions
Cook the bacon in a large skillet over medium heat, stirring occasionally. Once it crisps up, about 15 minutes, transfer the crunchy bacon to a paper-towel-lined plate with a slotted spoon.
While you're crisping the bacon, toss the cauliflower into a food processor, and pulse until it's the size of rice grains. Pro tip: don't overdo it. We don't want liquid cauliflower.
In a small bowl, whisk the eggs together with salt and pepper to taste. Pour the eggs in the hot bacon drippings, and fry up a thin egg omelet. Remove the omelet from the pan, slice it into ribbons, and set aside.
Melt the ghee in the same skillet of medium-high heat, and add the onions along with a sprinkle of kosher salt and pepper. Once the onions are soft and translucent, about 5 minutes, throw in the sliced mushrooms. When the mushrooms are browned, add the grated ginger and stir for 30 seconds to incorporate.
Add the cauliflower "rice," season with a bit more salt and pepper, and mix the ingredients together. Place a lid on the skillet, turn the heat down to low, and cook for about 5 minutes with the skillet covered. The "rice" is ready when it's tender but not mushy.
Season with the coconut aminos, coconut vinegar, and fish sauce. Before serving, mix in the scallions, cilantro, omelet sliced, and reserved crispy bacon.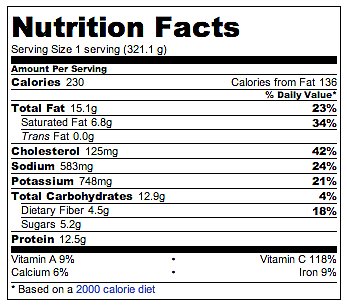 Source: Calorie Count
Information
Category

Main Dishes

Cuisine

North American

Yield

4 servings

Total Time

24 minutes, 59 seconds
Nutrition
Calories per serving

230