Pumpkin Cornbread Recipe
Your Fall Chili Is Begging For This Nutmeg-Spiced Paleo Pumpkin Cornbread
Using Paleo-friendly ingredients, our friends at PaleoHacks created a cornbread recipe to cure your pumpkin fix all season long.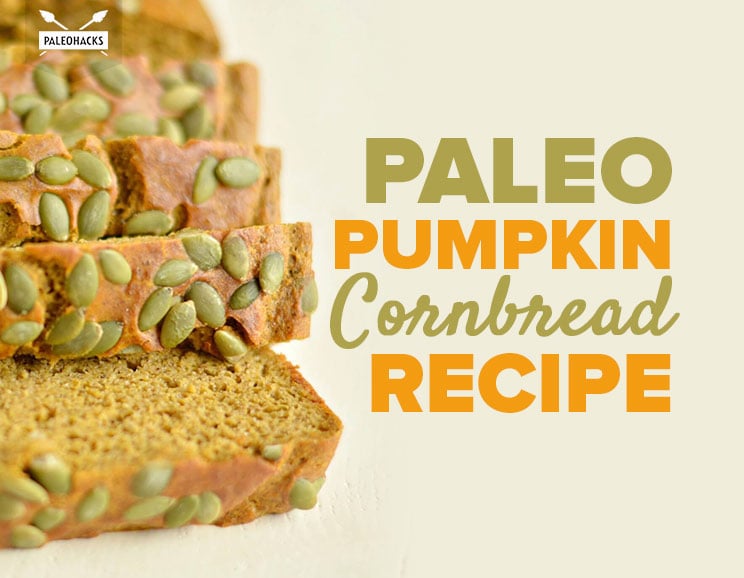 Made grain-free and with zero added sugar or oil, this recipe yields the thickest, creamiest bread. The pumpkin adds just the right amount of moisture to the bread to give it that melt-in-your-mouth consistency. Spiced with cinnamon and nutmeg, you get a tiny hint of spice in each bite that makes you wonder what's in it.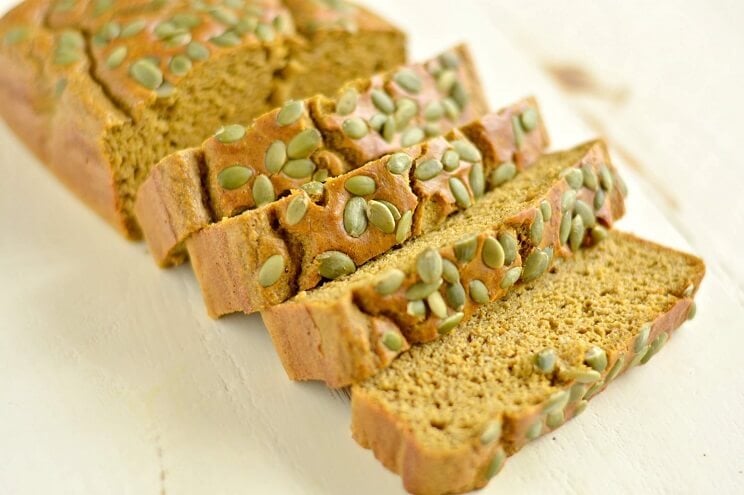 Almond flour gives the bread that cornbread-like texture. P.S: Coconut will not work as it soaks up too much moisture, but any nut-based flour will do.
This Pumpkin "Cornbread" recipe is perfect in the morning with a spread of grass-fed butter or a drizzle of coconut oil with a cup of coffee. You can also enjoy it with a warm bowl of chili for a cozy night in.
Notes
You can also make this in muffin tins for portable treats!
Ingredients
6 large eggs
1 cup pumpkin puree
2 teaspoons apple cider vinegar
1 teaspoon vanilla extract
1 1/2 cups almond flour
1 cup arrowroot starch
1/2 teaspoon baking soda
1/2 teaspoon baking powder
1/2 teaspoon nutmeg
1 teaspoon cinnamon
3 tablespoons pepitas (pumpkin seeds)
Directions
Preheat oven to 350ºF. Prepare an 8x8 loaf pan by placing a piece of parchment paper inside. Allow the ends to hang off the edges a bit for easy removal.
In a medium bowl, sift together the almond flour, arrowroot starch, baking soda, baking powder, nutmeg, and cinnamon.
In a separate larger bowl, whisk together the eggs. Then add the pumpkin, vanilla extract, and apple cider vinegar.
Slowly add 1-2 tablespoons of the flour mixture at a time to the egg mixture, mixing until fully incorporated. The consistency of the batter should be a little runny.
Transfer the batter to the prepared loaf pan.
Top the batter with the pumpkin seeds, pressing them gently into the batter. This way they will bake into the batter a bit and not fall off after baking.
Bake 40 minutes, or until a toothpick can be inserted into the center and come out clean.
Leave the bread in the pan for 2 hours to cool at room temperature.
Once cooled, gently lift the bread from the pan using the sides of the parchment paper to remove. Cool another 30 minutes before slicing and enjoying.
Store bread in the refrigerator up to one week.
Information
Category

Snacks

Cuisine

North American

Yield

10 Slices

Total Time

49 minutes, 59 seconds