Recipes You Can Make in Mug
Healthy Foods You Can Actually Make in a Mug
What's better than a quick and easy meal? One that also tastes amazing. These simple recipes from Self taste great and only require one dish: a mug.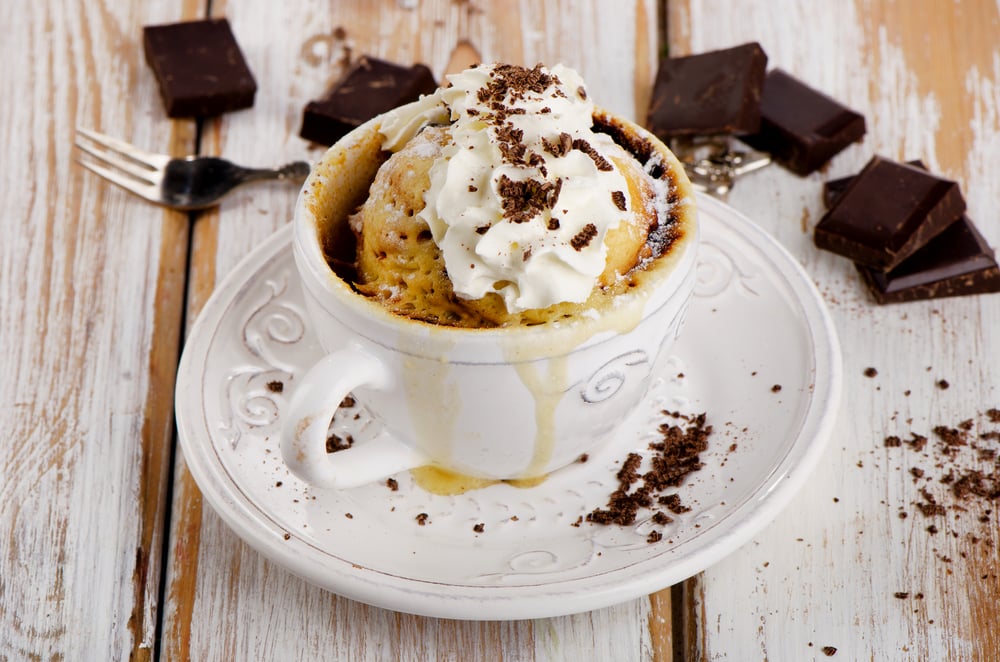 It's pretty amazing all the different things you can cook with little more than a microwave and a coffee mug. The beauty of it is not only are the recipes supereasy and superquick, but they are also portion-controlled and low maintenance on the cleanup. Here are five of my favorites that you can whip up anytime you have a craving. (PS Not to mention, the whole mug thing comes in handy for party tricks. Just sayin'.)
1. Strawberry Mug Shortcake
Spray a coffee mug with cooking spray. In a small bowl, whisk together 1 1/2 tablespoons sugar, 2 tablespoons low-fat buttermilk, 1 tablespoon canola oil, 1 tablespoon egg substitute (or egg whites), and a dash of vanilla extract until the mixture is smooth. Then whisk in 2 tablespoons all-purpose flour, a pinch of baking soda, and a tiny pinch of salt until combined. Fold in 2 teaspoons strawberry preserves. Pour batter into mug. Microwave for about 2 minutes until a toothpick inserted in the center comes out clean. Let cool and then top with ¼ cup chopped fresh strawberries and 1 tablespoon light whipped topping.
The Skinny: 300 calories, 15g fat, 1.5g sat fat, 0g trans fat, 0mg cholesterol, 55mg sodium, 40g carb, 1g fiber, 25g sugar, 4g protein.
2. Mug-Baked Berry Oatmeal
Spray coffee mug with cooking spray. Add ½ cup quick oats, 1 egg, ½ cup low-fat milk, and 1 tablespoon chopped pecans to the mug and whisk with a fork to combine. Fold in ½ cup fresh blueberries, ¼ teaspoon cinnamon, and 2 teaspoons brown sugar. Microwave for 2-3 minutes or until cooked through and then fluff with a fork. Top with 1 tablespoon nonfat Greek yogurt, if desired.
The Skinny: 410 calories, 13g fat, 2g sat fat, 185mg cholesterol, 125mg sodium, 55g carb, 7g fiber, 23g sugar, 18g protein.
3. Mexican Mug Mac
In an extralarge coffee mug, combine 1/3 cup whole-wheat macaroni noodles and ½ cup water. Place mug in the microwave on top of a microwave-safe plate to catch any water that might boil over. Microwave for 2 minutes and then stir. Continue to microwave for 3-5 more minutes, stirring after each 2 minutes, or until the pasta has absorbed all the water and is cooked to al dente. Add ¼ cup low-fat milk, 2 tablespoons chopped green bell pepper, ¼ teaspoon ground cumin, and 1/4 cup shredded pepper jack cheese. Microwave for 1 more minute until warmed through and cheese melts. Stir again and top with 2 tablespoons salsa, if desired.
The Skinny: 270 calories, 10g fat, 6g sat fat, 0g trans fat, 35mg cholesterol, 210mg sodium, 32g carb, 3g fiber, 3g sugar, 14g protein.
4. Little Lentil Loaf
Spray a coffee mug with cooking spray. Add ¼ cup cooked lentils to the mug and mash slightly with a fork. Stir in ¼ teaspoon each garlic powder and onion powder. Add ¼ cup cooked brown rice, 1 tablespoon ketchup, a pinch each of salt and pepper, and ½ teaspoon Italian herb blend. Top with additional ketchup if desired and cover and cook in the microwave for 2-3 minutes or until warmed through. Allow to cool slightly so the loaf will firm up before removing from the cup to enjoy.
The Skinny: 140 calories, 0g fat, 0g sat fat, 0g trans fat, 270mg sodium, 29g carb, 5g fiber, 5g sugar, 6g protein.
5. Mega-Awesome Microwave Cheesecake
Spray a coffee mug with cooking spray. Add 2 ounces of softened, reduced-fat cream cheese, 2 tablespoons nonfat, plain Greek yogurt, 1 egg, ½ teaspoon lime juice, ¼ teaspoon vanilla, and 2 tablespoons sugar to the mug and stir until well combined. Microwave for about a minute and a half, stirring every 30 seconds or so until all ingredients are incorporated and cooked through. Let cool and then refrigerate until ready to serve. Top with half of a graham cracker (crumbled) and 1/3 cup fresh raspberries. Serves 2.
The Skinny: 190 calories, 10g fat, 5g sat fat, 0g trans fat, 107mg cholesterol, 200mg sodium, 19g carb, 0g fiber, 24g sugars, 14g protein.
RELATED: