Ryan Held Secret Santa Gift
This Woman Got a Gold Medal Olympian as Her Secret Santa and His Present Will Melt Your Heart
Literally shaking and tearing up over the gift I just received!!! My first Imgur Secret Santa and I am matched with someone who is not only a gold medal Olympian, but also one of the kindest people I could imagine! @Heldilox, thank you!
Over the Summer, Olympic swimmer Ryan Held made headlines for his emotional podium reaction after winning a gold medal alongside Michael Phelps. Now, Ryan, or as he likes to call himself, Heldilox, is warming our holiday-infused hearts with his Imgur Secret Santa present.
Imgur user BurtonBrit posted her present and sweet note from Ryan, and when she pulled out a signed swim cap, she freaked out! But then she read his inspiring letter and it's exactly what we need to see around the holiday season (cue the second freak-out).
The Olympic swimmer, who took home the gold for the Men's 4 x 100m freestyle, wrote that he saw BurtonBrit was a teacher and not only wanted to inspire her, but also inspire her students. "I thought this cap would serve as some inspiration because it wasn't too long ago that I was your students' shoes dealing with the social, academic, and athletic pressures," Ryan wrote, seen in the letter below. "Just trying to figure out who my friends were, what I wanted to do, or even who I was and what community I fit in with. It's a stressful time but it is not the end :). Things turn around for the better."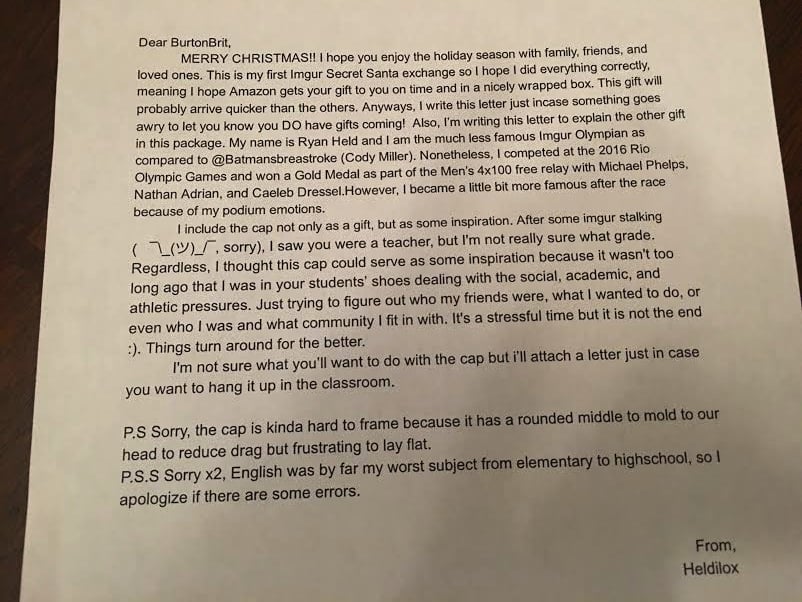 But Heldilox did not stop there. He included another note addressed to her students, stressing the importance of finding out what you're good at and setting goals to accomplish your dreams.
"Even though we did not go to the same school, we went through the same hardships; the difficulty of a particular subject, social exploration, time management, the start of dating, school projects, faith, and acceptance of oneself and others," Ryan wrote. "I can relate to how you are feeling and what you are going through, though do not let these factors drag you down and get in the way of accomplishing your dreams."
"Find what you are good at and pursue it," he closed his letter.
Ryan's gift is the epitome of kindness around the holiday season. Not only is he inspiring this Imgur user, but his assuring words are comforting her young students dealing with societal pressures. It's stories like this that prove how incredible the internet can be, bringing together strangers who are inspiring each other's lives.