Is Social Media Bad For You?
Yes, Facebook Is Making You Depressed
On some late nights, I can get easily sucked down a Facebook black hole. Two hours later, I'll resurface feeling disoriented, unsettled, and not much happier. To my relief, I've learned I'm not alone. After speaking with clinical psychologist Dr. Michael Friedman, who was full of reassuring gems about the role self-compassion plays in affecting weight loss, we discussed the unfortunate impact social media has on happiness.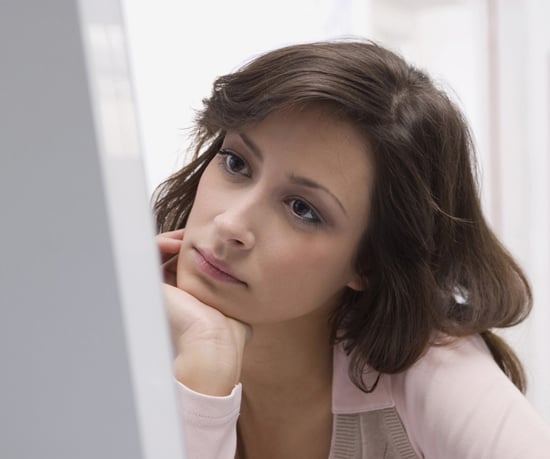 When you're bored or tired, it's natural to look for some stimulation, but Dr. Friedman explains that social media sites are "specifically designed to have people put their best foot forward." We don't see our friends' struggles or battles. Instead, we see the things we'd want to share: their smiles, exotic vacations, and wild nights out on the town with friends.
While the photos are seemingly happy, fun, and harmless, they can lead individuals to some dark places. The reason? "There's too much social comparison." Comparing your life to the facade on your friends' pages can leave you feeling disconnected, inferior, and even exhausted. Dr. Friedman's mantra rings true (on and off social media): "Don't judge your insides by other people's outsides."
With all this said, many people have found weight-loss success and healthy communities with the help of social media. If you approach these sites with the right mind-set, these tools can work to your advantage. Keep learning for three tips to make your online habits healthier and happier.
Limit your time: Research has found that people who spent more time with friends in the "real" world and less time socializing online were happier than those that spent the majority of their time forming relationships in cyberspace. Whether you set an alarm reminding you to hop off or set up a phone call with a friend during the hours you're typically online, take necessary measures to limit your time on social media. After a few days, you may find yourself feeling more positive and actively engaged in your life.
Spread love, not weight: I know it's shocking, but one Harvard study found that social networks can spread weight. When people see their friends becoming heavier and heavier over time, they tend to accept weight gain as natural or even inevitable. This is not advice to de-friend your less-fit friends, but it is something to be aware of when you're checking out their pages. If you're on a weight-loss journey, reach out to individuals who've had weight-loss success or specific pages that motivate you. This way, your feed will fill up with tips and tricks to help you develop healthier habits.
Unsubscribe when necessary: While all the smiles and vacations online can be overwhelming, oppositely, we all know people who love to air their dirty laundry online. You don't have to virtually break up with these folks, but it is easy to hide their posts on your news feed without them knowing.