Source: POPSUGAR Photography

Everywhere you turn there are incredible people doing inspiring things. We partnered with C9 Champion® at Target and Type I Diabetic ultrarunner and endurance athlete Robin Arzon and get her training tips for living and training with diabetes.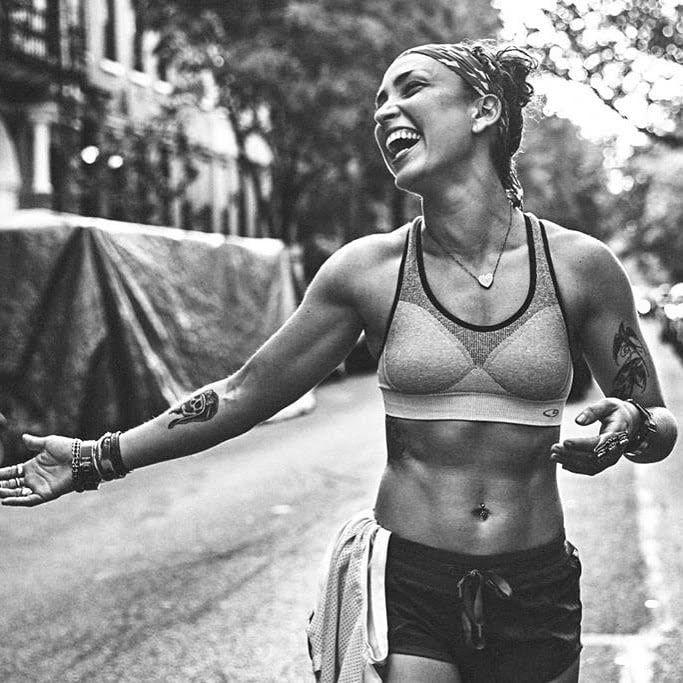 Type 1 diabetics can do anything non-Type 1 diabetics can do. As long as you take care of your body and monitor your blood sugar level regularly, there's nothing stopping you from pursuing all sorts of athletic endeavors. You just have to pay much closer attention to your body than a non-Type 1 might.
But for New York-based Type 1 athlete Robin Arzon, just being a runner wasn't satisfying enough. After being diagnosed with Type 1 in 2014, this lawyer-turned-ultramarathoner didn't let the disease slow down her fitness goals one bit (she was already an ultramarathoner when she was diagnosed). She admits that it's much harder and time consuming, but she's been able to make it work. Find out how she's adjusted to being a Type 1 ultramarathoner and what she's learned:
1. Technology is everything
As soon as Robin was diagnosed, she turned to a friend, another Type 1 athlete, to find out what technology was available to her. "I aggressively pursued technology because I knew that would make a difference in my training," she says. "I wear a pump that administers my insulin and a glucose monitor that takes my blood sugar without me having to prick my finger. They've allowed me to train pretty uninterrupted."
2. Things are going to change
"I do 30-40 hours of training a week, and that didn't really change. What changed was me having to be patient with learning my number and insulin ratios. I know now that if I do a long run I reduce my insulin by 50 percent and that will keep me at a good place. But you always need a good backup. That self-awareness is part and parcel of being an endurance athlete anyway."
3. Get comfortable adjusting your tools
Just because Robin has an insulin pump and glucose monitor doesn't mean her job is done. She's constantly tinkering with them, learning about how much insulin she really needs based on her meals and upcoming workouts. "It's really important to play with insulin ratios so you can reduce your insulin if you need to. Before, it was really frustrating and sometimes demoralizing not being able to finish races because I didn't know my sugar level."
4. Always run with food on you
Most endurance athletes run with energy-fueling food on them anyway, but for Robin it's absolutely crucial. If blood sugar runs low during a training session, she needs immediate sugar. "You must have some kind of food on you. I usually bring GUs, gels, and I love clementines — I'll actually carry them in my sports bra." And for those moments when you'd rather consume liquid, she recommends coconut water, which still has carbs.
5. Accept that it's scary
"I did a half marathon two weeks after being diagnosed, and I was terrified because I didn't know how my body was going to react," she shares. "I have to think about [Diabetes] 24 hours a day and it's really scary. Sometimes I say, 'Sh*t, if I don't get my blood sugar up I could be passed out on the side of the road somewhere.'"
6. Realize you're actually a superhero
Being a Type 1 endurance athlete will definitely present you with challenges. "When you keep doing what you love anyway it reinforces your armor. Your life is not going to be dictated by being a diabetic. The fact that I now have insulin as part of my tool kit — i call it my superhero kit — makes me want to rise above."
7. Look to yourself for inspiration
Because diabetes is a nonstop, 24-hour disease, Robin never gets to forget she has it; she never gets to put her feet up and ignore it. "There are many moments throughout the week that require me to rise above, so I always have a touchstone for what I'm capable of," she says. Those moments — the checking her sugar and regularly adjusting her insulin ratios based on her activity or even stress level — remind her that she's inspiring herself.
More from C9 Champion® at Target
Image Source: Steven Counts