Vegan Carrot Cake Cupcake Recipe
Make Easter at Home a Treat With This Easy Vegan Carrot Cupcake Recipe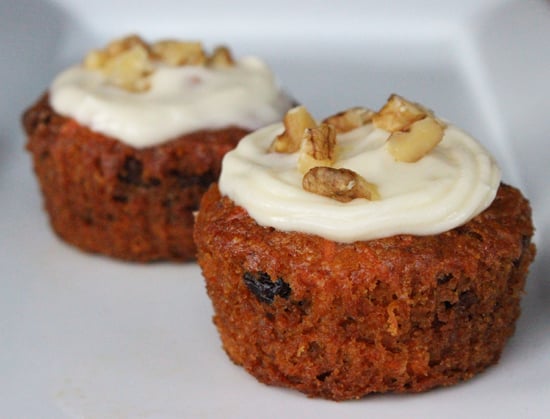 Carrot cake cravings can't be curbed easily, but a single slice of the store-bought classic weighs in at over 500 calories — not ideal if you're trying to eat healthy. Luckily, this vegan cupcake recipe offers all the traditional flavors of carrot cake but cuts the amount of sugar and calories in half.
While this recipe might be too much for everyday eating on some diets, calorie counts are much lower than more traditional recipes (256 calories per serving!). Best of all, these cupcakes don't taste vegan in the slightest — they're moist, sweet, and plain delicious.
— Additional reporting by Haley Lyndes
Vegan Carrot Cake Cupcakes With Cream Cheese Frosting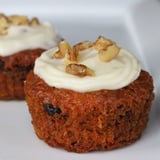 Ingredients
2/3 cup sugar
1/3 cup vegetable oil
1/3 cup soy yogurt (plain or vanilla)
1 teaspoon vanilla extract
2/3 cup all-purpose flour
3/4 teaspoon baking soda
1/4 teaspoon baking powder
1/4 teaspoon cinnamon
1/4 teaspoon ginger
1 cup finely grated carrots
1/4 cup chopped walnuts
1/4 cup raisins
For icing:
1/4 cup Earth Balance margarine, softened
1/4 cup vegan cream cheese, softened
1 1/4 cups confectioners sugar
1 teaspoon vanilla extract
Directions
Preheat oven to 350˚F. Line muffin tin with paper liners or lightly coat with nonstick spray.
In a medium bowl, mix together sugar, vegetable oil, yogurt, and vanilla. Sift the dry ingredients together, then add to the wet ingredients, mixing until smooth. Fold in carrots, walnuts, and raisins.
Fill the cupcake liners 2/3 full and bake for 26 to 28 minutes.
While the cupcakes are baking, beat margarine and cream cheese together with an electric mixer until just combined.
Continue to beat while adding the confectioners sugar in small batches. Mix until smooth and creamy, then beat in the vanilla.
Once cupcakes are completely cooled, pipe or spread on cream cheese frosting, and garnish with chopped walnuts.
Makes 12 cupcakes.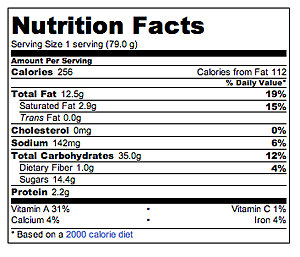 Source: Calorie Count
Information
Category

Desserts, Cupcakes

Cuisine

North American