Vegetable Paleo Soup Recipe
Warm Up With a High-Protein Crockpot Soup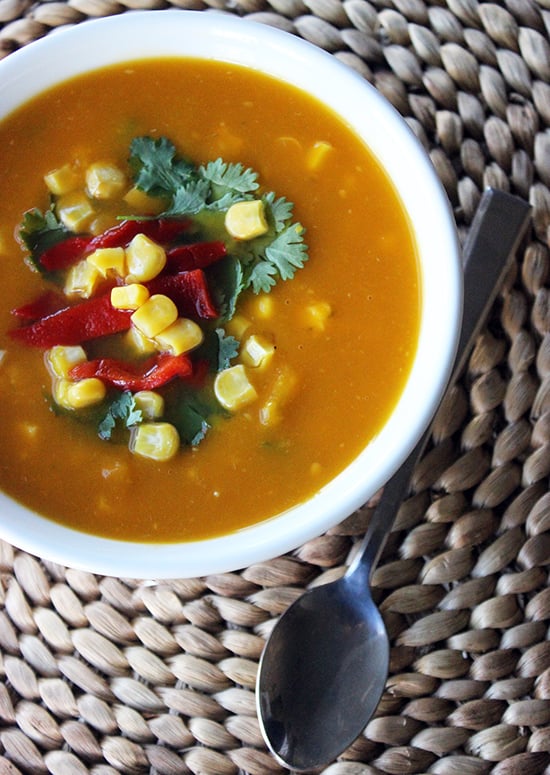 The kitchen appliance I can't live without once the weather cools off? My little red crockpot. Things might get busy during this season, but there's no reason I can't make a quick dinner that's delicious and healthy; all it requires is a few minutes of advance prep. This high-protein, vitamin-A-rich Paleo soup can help your body refuel after a tough strength-training session at the gym or satisfy a hungry crowd in need of a hot bowl of soup.
I added one cup of precooked shredded chicken to the original recipe for extra protein, but the recipe stands strong on its own without it. If you use veggie stock and eliminate the chicken, this recipe will work for a Paleo and vegan bunch.
Notes
Either cook for three hours on your slow cooker's high setting or six hours on low.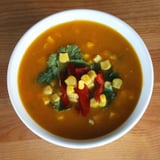 Ingredients
1 tablespoon extra-virgin olive oil
1 red onion, finely chopped
2 cloves garlic, minced
1/2 teaspoon dried oregano
1/4 teaspoon sea salt
3 cups chicken or vegetable stock
2 cups peeled butternut squash
1 dried New Mexico, ancho, or guajillo chile pepper
1 cup boiling water
1 jalapeno pepper, finely chopped
1 cup sweet corn kernels, thawed if frozen
1/2 teaspoon lime zest, finely grated
1 tablespoon lime juice, freshly squeezed
1 cup chicken, precooked and shredded, optional
1 roasted red pepper, cut into thin strips
Cilantro leaves, finely chopped, for garnish
Directions
In a skillet, heat oil over medium heat. Add onions, and cook, stirring, until softened, about three minutes. Add garlic, oregano, and salt, and cook, stirring, for one minute. Transfer to slow-cooker stoneware. Add stock, and stir to combine.
Add butternut squash, and stir to combine. Coverm and cook on low for six hours or on high for three hours, until squash is tender.
Thirty minutes before the soup has finished cooking, in a heatproof bowl, soak dried chili peppers in boiling water for 30 minutes, weighing down with a cup to ensure they remain submerged.
Drain, discarding soaking liquid and stems, and chop coarsely. Add to stoneware.
Purée using an immersion blender. (If you don't have an immersion blender, you can blend in a food processor in batches and return to stoneware.)
Add corn, lime zest, and juice. Cover, and cook on high for 30 minutes, until corn is tender. When ready to serve, ladle into warmed bowls, and garnish with red pepper strips and cilantro.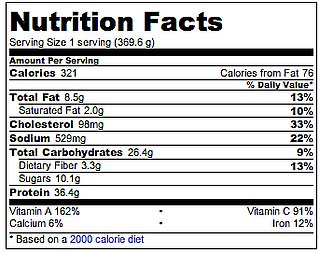 Source: Calorie Count
Excerpted from The Best 163 Best Paleo Slow Cooker Recipes by Judith Finlayson © 2013 Robert Rose Inc. www.robertrose.ca Reprinted with publisher permission.
Information
Category

Soups/Stews

Cuisine

North American

Yield

Serves three to four
Nutrition
Calories per serving

321