What to Bring With You Camping
First-Time Camping Tips: 5 Things to Bring (and 4 to Leave at Home)
Maybe you grew up camping with your family, but back then, the wilderness wasn't necessarily your style. Regardless of the past, there's no reason you can't learn to camp now, and start a new tradition for the future. We certainly love glamping over here, but there's also something really special about pitching a tent on your own. If anything beyond the necessities seems a little hard to decipher, have no fear. Here are five things you may not think to bring, and four you should definitely leave behind.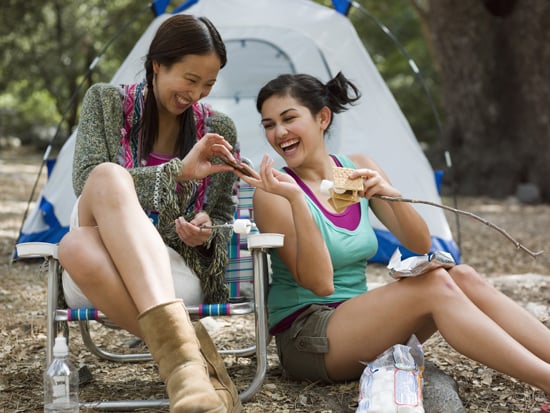 Be Sure to Bring
An appropriate sleeping bag: Waking up in the middle of the night being way too hot or way too cold will not make you a happy camper. Bring a sleeping bag that is appropriate for the weather at the camping spot: being able to get cozy in your sleeping bag will make you feel more at home.
A headlamp: Don't be afraid of looking dorky when you're rocking one of these — once you try one out, you'll never go back. They're always useful, whether you need a quick light in your tent, get stuck on the trail after sunset, or need to make a late-night bathroom trip. Always have one handy.
Plenty of water: Filling up your everyday water bottle will not be a sufficient source of water for more than a night. And don't assume that the water you find at your campground is safe to drink! Unless it's officially posted or the campsite has given you the go-ahead, be sure to bring a filter, chemical tablets, or a big old pot for boiling. If this sounds like too much, grab a few gallon jugs at the market before you head out.
Bug spray: Bug spray is one of those camping items that seem easy to remember, but someone always manages to forget it at home. To keep yourself as comfortable and bite-free as possible, make sure to bring a big bottle so you can spray yourself down. Not sure which one to grab? This bug spray guide will help you choose.
Big trash bags: Properly disposing of all of your lovely garbage is not only essential for the environment's sake, but it will also keep you safe from all those critters! Baby bags will not do the trick. Be sure to bring a few heavy-duty trash bags to keep everything tidy. If there aren't special lockers or bear-proof containers available at your site, you're also going to have to learn to hang your trash and food away from your sleeping area.
Leave at Home
Loads of decor: Decorative lamps and rugs may seem like a cute idea to make your site look homey and fresh, but they're definitely not necessary. There's so much beauty in nature! No need to doll up your campsite.
Your whole closet: Overpacking in the outdoors will only make things more difficult. Planning outfits ahead of time will save you a lot of heartache on your camping excursion. Chances are you'll be wearing the same pieces the whole time. Also, make sure not to bring anything along you'd be bummed ruining, because it will happen.
Scented or perfumed lotions: Smelling sweet may sound like a solid way to bring a little comfort to your camping trip, but it's best to leave scents at home. They will attract critters, and leave you all bitten. But lathering up after a long day can be an amazingly luxurious moment! I always grab some unscented lotion before I head out camping to keep me feeling pretty and fresh.
A bad attitude: Above all else, leave your 'tude at home, sister. There's nothing worse for the morale of a camping crew than someone who can't quit complaining. Every moment may not be rosy, but staying present and keeping a positive perspective will keep you happy and helpful. You may not know everything about the great outdoors, but a good mood is the best asset you can offer.