What Are Smart Sweets?
These New Gummies Are the Halo Top of Candy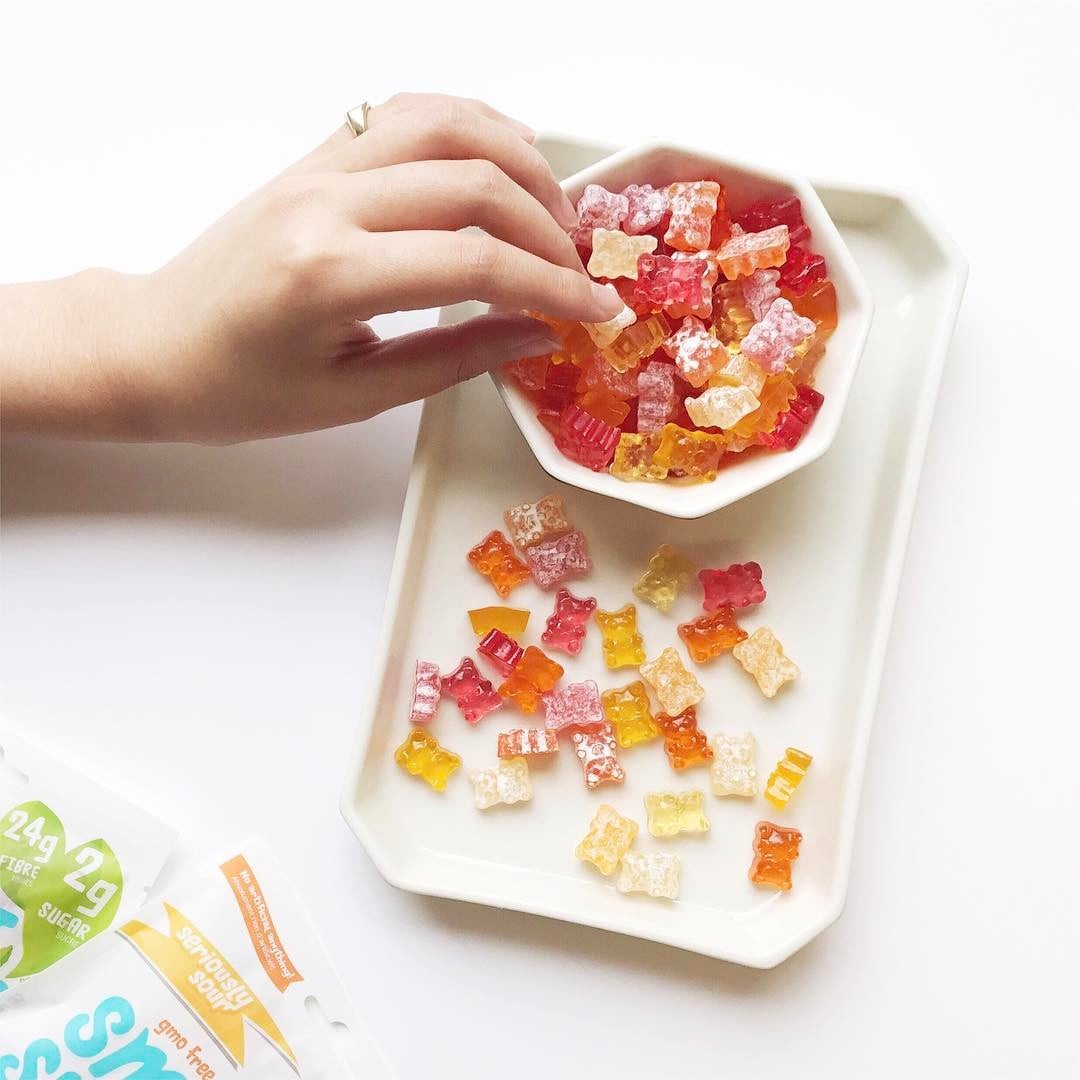 Usually healthy desserts kind of feel like a sham, right? You try to tell yourself "it's just like the real thing!" But . . . is it? Is it really?
However, there are some brands that are seeeriously stepping up their game. Take Halo Top, for instance. The wizards at Halo Top Creamery created a healthy version of ice cream that was so delicious, our taste testers didn't even realize it was anything other than traditional ice cream.
Another brand that's doing just that? Smart Sweets. We were lucky enough to be among the first tasters of these healthy gummy bears, and honestly, we can't put the bag down — they're that addictive. The best part is that after housing an entire bag of candy, you don't feel bad (physically or mentally) . . . but you might feel like going to the bathroom. These sweet and sour little bears have insane amounts of fiber, but we'll get to that in a minute. Here's the rundown on our new healthy obsession.
What Are Smart Sweets?
Gummy bears! They come in the original sweet version and "seriously sour," a coated version that has a sour powder similar to what's on the outside of Warheads candies, if you're familiar with them.
Smart Sweets was founded by 22-year-old Tara Bosch in Canada; it's currently available in stores across all of Canada, and online orders ship to the US and Canada. You can order a box of six bags for $26 USD.
What Makes Them Healthy?
Almost no sugar. Smart Sweets are sweetened with chicory root and a small amount of stevia, so the ENTIRE BAG contains only 2 grams.
Your whole day's fiber. Not only do these gummies curb a sweet tooth, but they've got 96 percent of your daily fiber — as much as SIX servings of veggies. This makes them filling and great for digestion. Just don't go overboard . . . we learned that one the hard way.
Non-GMO, no artificial colors or ingredients. Smart Sweets keeps it clean.
Even a little protein! It's not often you get protein in your candy! These have 5 grams per bag.
Allergen-free. No peanuts, tree nuts, dairy, soy, corn fiber, gluten, or sugar alcohols.
How Do They Taste?
They're sweet, tangy, and if you like the sour kind, they're really tart! The flavors are the same for each version: raspberry, peach, apple, and lemon. This makes them a little more unique compared to the traditional gummy bears you'll get at the drugstore.
The texture is MUCH firmer and chewier than a traditional gummy. Some of our testers were not fans and were too put-off by the texture and taste to enjoy the gummies (like our Fitness director, Michele). That said, most of us (including myself, our Food editor Anna, and Social Media editor Victor) really enjoyed them and embraced the chewiness.
If you're stevia-sensitive, you may notice the flavor, but most of us have found that it's subtle if not downright unnoticeable.
Image Source: POPSUGAR Photography / Victor Verdugo