Alex Morgan's Pre-Olympic Training and Mentality
Alex Morgan Preps For Tokyo 2021 by "Fine-Tuning" Her Workouts — and Prioritizing Family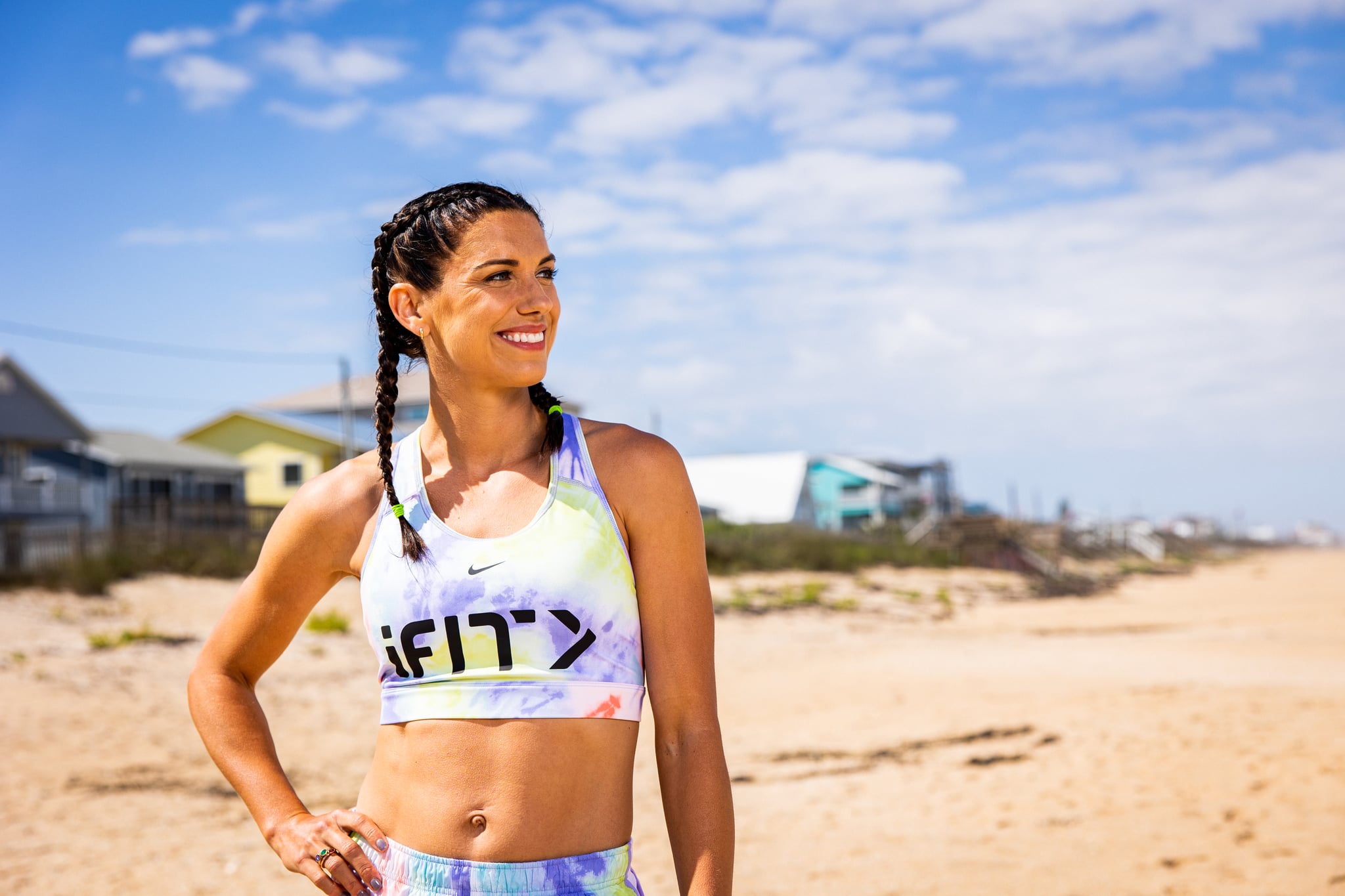 We don't yet know the Olympic roster for the US Women's National Soccer Team, but if Alex Morgan's name is on it, it will be her third straight Olympic Games (and her first as a mom). From being the youngest player at the 2011 World Cup to, now, a seasoned veteran vying for her second Olympic medal, Morgan has picked up a lot of wisdom during her career. One thing she knows? Right now, just a few weeks away from the Olympics, can be one of the toughest times for an athlete.
"You can get overwhelmed very easily with the journey ahead," Morgan told POPSUGAR. "We're less than two months away from the Olympics now, but it feels like it's right around the corner."
For Morgan, it's about keeping things in perspective. She doesn't want to spend too much time thinking about soccer and stressing herself out; instead, she's spending as much time as possible with her family, including her husband, Servando Carrasco, and their 1-year-old daughter, Charlie, who can often be spotted hanging out on the field after Morgan's Orlando Pride games. (Fun fact: Morgan said Charlie is fast becoming BFFs with the other Orlando Pride offspring, including Sydney Leroux's daughter, Roux, and Ashlyn Harris and Ali Krieger's daughter, Sloane, who's only a few months old but doing her best to keep up.)
"I always try and have a balance and not overwhelm myself with my sport," Morgan explained. "As much as I love to play soccer — and it's a big part of who I am — it's not everything . . . It's not how I define myself."
When it comes to training, Morgan said she's in the "fine-tuning" phase right now, with an emphasis on staying healthy as the USWNT's schedule starts to heat up. The hope is that she's done with the hard parts — the tough training, the three-times-a-week gym sessions — and now it's about maintaining her fitness and her confidence level. "You want to feel your absolute best, mentally, physically, emotionally, going into the Olympics," Morgan explained. "I'm on the right track right now. That's a good feeling."
Recently, she's been able to combine her fitness expertise with her passion for off-the-field endeavors by creating a workout program for iFIT. Morgan actually created two separate programs, strength and cardio, both based on her training regimen as a professional soccer player. While the USWNT forward said she generally enjoys strength training more ("I wouldn't say that I love running"), leading the more free-flowing cardio portion gave her a chance to chat with her audience about life on and off the field, her family, her goals, and what motivates her. "It was really fun and kind of surprising for me to be able to be so open," Morgan said.
It's the latest example of Morgan spreading her wings off the field. Besides being a pro soccer player and a mom, she's also a businesswoman, a cofounder, and an advocate for women's rights, seeming to juggle the roles as effortlessly as she does a soccer ball. And for Morgan, determining priorities, in and away from the game, comes down to a simple litmus test. "If there's something taking me away from my daughter," she said, "it better be something that I really enjoy doing."
Image Source: iFIT