April is Arab American Heritage Month, and while celebrating this heritage shouldn't be limited to 30 days, we wanted to take the opportunity to highlight a few of the incredible Arab American women athletes who have made a name for themselves in their respective sports. There's marathoner Sarah Attar, boxer Isra Girgrah Wynn, weightlifter Mahassen Hala Fattouh Paiva, and race-car driver Toni Breidinger. Keep reading to learn more about each of them and their accomplishments.
01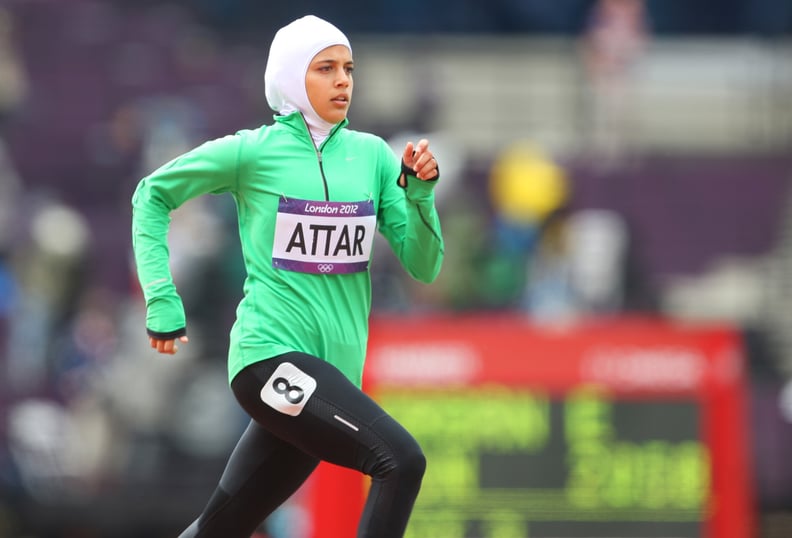 Sarah Attar, 1 of the First 2 Women to Represent Saudi Arabia at the Olympics
Attar, a 28-year-old Saudi-American runner, competed in the 800m track and field event at the 2012 Olympics, becoming one of two women to represent Saudi Arabia at the Olympics for the first time in history (the other athlete was Wojdan Shaherkani, who competed in judo for Saudi Arabia). At the time of her 2012 Olympic appearance, Attar was 19 and a member of Pepperdine University's cross-country team in Malibu, CA. She'd been given a wild-card entry amid International Olympic Committee pressures for Saudi Arabia to allow women athlete participation, Running Magazine reported.
Attar came in last but finished to cheers from the stadium crowd. She returned to the US to continue her training for a race that was more her specialty: the marathon. In 2016, Attar again received a wild-card entry for the Rio Olympics. Representing Saudi Arabia, she became the first Saudi Arabian woman to run in the marathon event.
"My participation is bigger than myself," Attar told Runner's World after the 2016 Olympics, where she came in second to last in the marathon. "Finishing strong would speak to the importance of women's presence in the Olympics, and the strength anyone can have."
Attar recorded a PR of 3:07:16 at the Chicago Marathon in 2018. She is a photographer — the images on her Instagram are breathtaking! — and has spoken of her goal to run the women's marathon at the Tokyo Olympics, but her involvement in this summer's Games is unclear (POPSUGAR has reached out for comment and will update this article with appropriate information upon hearing back).
Follow Sarah Attar on Instagram: @sarahattar
02
Isra Girgrah Wynn, Pro Boxer Inducted Into the International Women's Boxing Hall of Fame
Girgrah Wynn is a world-champion boxer born in Yemen. She retired from boxing in 2004 and was inducted into the International Women's Boxing Hall of Fame last year. Now 49, Girgrah Wynn told POPSUGAR via email that memories of winning every title are her favorites from her career; she earned titles of IBF Lightweight Champion, UBA Lightweight Champion, IWBF Junior Lightweight Champion, WIBF Junior Lightweight Champion, and IFBA Junior Lightweight, according to the Women Boxing Archive Network.
When asked what her induction into the International Women's Boxing Hall of Fame means to her, she said, "I have been recognized for the work that I put into this sport, the perseverance, the dedication, the struggle, but also the ability to be a part of a group of influential women who came before me that paved the way!"
Though Girgrah Wynn said she still loves the sport — she noted it's a great mental challenge and teaches you self-defense — she's focusing on other businesses, especially in the wellness sphere. Her advice to Arab American women and girls pursuing their athletic careers? "Don't let anyone or anything deter you from walking your journey! Stay focused, and put 100 percent effort into your craft, whatever it is!"
Follow Isra Girgrah Wynn on Instagram: @israwynn
03
Mahassen Hala Fattouh Paiva, First Woman to Represent Lebanon in Weightlifting
Fattouh Paiva told POPSUGAR via email that she loves the community of athletes involved in weightlifting, as well as the strength required to compete. The sport has also given her the opportunity to travel. "Weightlifting has taken me to countries all over where I've made priceless memories and experienced some of the wonderful cultures this world has to offer," she said.
Fattouh Paiva, now 31, earned silver in the Women's 63KG Clean and Jerk event at the 2018 Mediterranean Games, which was Lebanon's first international medal in Women's Olympic Weightlifting. But before that, she became the first woman to represent Lebanon in Olympic Weightlifting in 2014 at the IWF World Championships. You can find a full (impressive) list of accolades on her website.
Aiming to qualify and compete in the Tokyo Olympics this summer for Lebanon, Fattouh Paiva's next big competition is the Asian Weightlifting Championships this month, she said, adding that the qualification period was extended to the end of May, so she'll find out shortly after that if she's earned an Olympic berth. "Long term, I would love the opportunity to compete in Paris 2024, but the most important thing to me is to stay healthy, keep doing what I love, and spread that to more of my community."
Fattouh Paiva wants other Arab American athletes to remember their passion. "Do what you love! Have fun! And make sure you surround yourself with people who support your goals and respect and value you in and out of your sport," she said.
Follow Mahassen Hala Fattouh Paiva on Instagram: @mahassenhala
04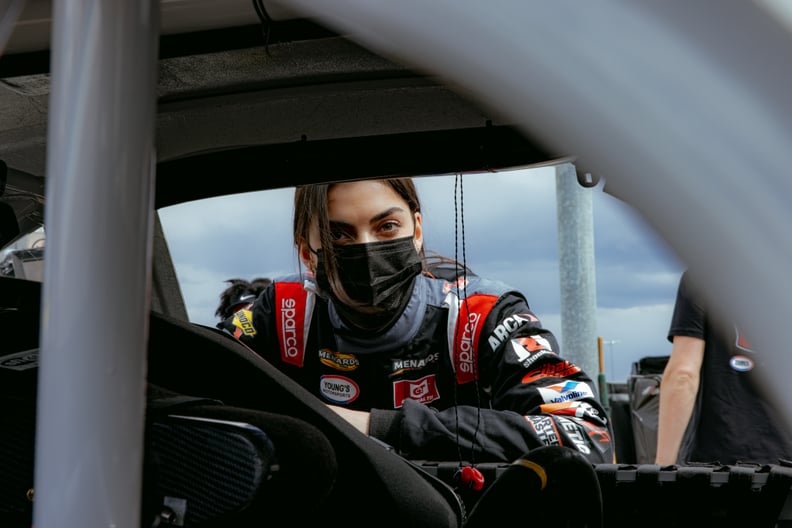 Toni Breidinger, NASCAR's First Arab American Woman Driver
Breidinger, 21 and Lebanese, made her debut with Young's Motorsports at Daytona International Speedway in the ARCA Menards Series season opener back in February (the ARCA Menards Series is considered a "direct feeder" into NASCAR's premier races, Today reported). According to NASCAR, she will become the first Arab American woman driver to take part in any NASCAR national-series event when she races in the Camping World Truck Series this year (though some outlets are saying her debut at Daytona already qualifies her for that accolade). For context, NASCAR acquired ARCA in 2018.
"Winning is always my goal for every race, but I also set smaller goals each time as well. I focus on getting ahead one car at a time and securing the highest placing possible," Breidinger, who has 19 wins in the United States Auto Club (USAC) alone, told POPSUGAR via email. "I work to understand my car better, and I learn something new with every race that I try to apply next time I'm on the track. The ultimate end goal for me is to get to the top level of NASCAR (the NASCAR Cup Series)."
Breidinger, who was first introduced to go-karting at age 9 and who was recently interviewed on The Ellen DeGeneres Show, told POPSUGAR that above all, she loves how close the competition field is while racing. "Everyone's lap times are measured with literally a blink-of-an-eye difference from each other. I find that as I'm in the middle of a race, I get in this hyper-focused mental space where all I'm thinking about is trying to pass the car in front of me." This keeps her coming back for more.
"Confidence is everything, and the best way to gain self confidence is to do what you're afraid to do," Breidinger said when asked about her advice. "Work on bettering yourself in every way that you can to truly become the best that you can be. Be the girl that just goes and does it!"
Follow Toni Breidinger on Instagram: @tonibreidinger