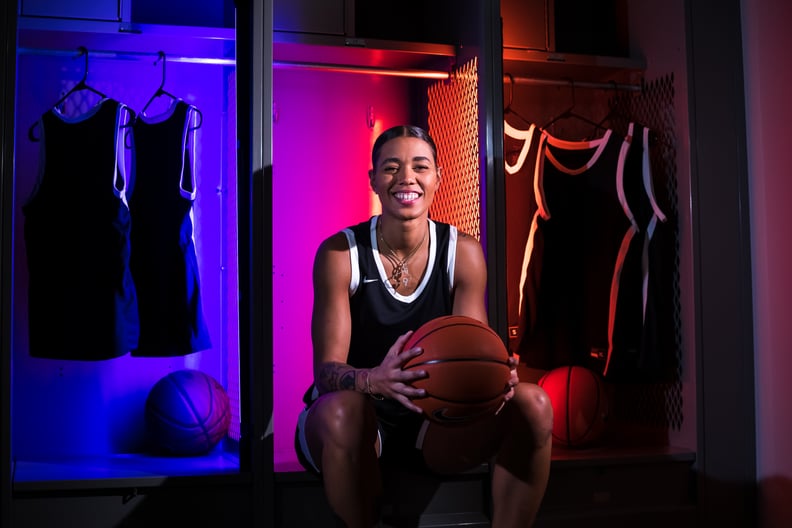 Courtesy of Athletes Unlimited
Courtesy of Athletes Unlimited
From Jan. 29 through Feb. 28, 2022, Athletes Unlimited is introducing a new player-centric pro women's basketball league in the United States with 44 players. All games will be played in one venue, and there are no owners, general managers, or specific teams (more on that later). Decisions are made via a Player Executive Committee instead — which Athletes Unlimited hopes will empower athletes as leaders. Ahead, find out how the league, first announced on Oct. 12, works.
How Does Athletes Unlimited Basketball Work?
This new league divides players into four teams with different-colored uniforms. There are assigned captains, and players rack up points based on individual stats — for rebounds, assists, steals, etc. — as well as their teams' results and if they are voted as MVPs. Then, at each week's end, the top four players in the standings become captains and repick their teams from the roster.
According to Athletes Unlimited cofounder and CEO Jon Patricof, total compensation for the 44 athletes equals over $1 million (more than $20,000 per player). For some — not all — WNBA athletes, this exceeds what they would earn playing overseas, he told POPSUGAR. There are 30 games total, six games per week, and where athletes end up on the leaderboard at the end of the season points-wise also determines the cash bonus they earn. The top four athletes receive medals, too, and the athlete with the most points at the end of the season is crowned the champion.
Every player plays for a charity of their choice as part of the Athletes Causes program. Players are also part of a profit pool that entitles them to a share in the success of the league for the next 20 years. "Our vision and our belief is that the players who are playing today should share long-term in the profits of the venture that they're creating," Patricof said. "Their efforts today are gonna help us build what we believe will be a very long-term successful business."
Patricof continued, "[Fans are] going to get to learn a lot about those players both on the court and off the court, and then you get to follow these players in this dynamic, fast-paced scoring format that's still the basketball that people know and love — so the game itself is the same — but really the scoring system layers on a level of excitement and energy and intensity."
"From the first tipoff in the beginning of the season, there are just points on the line, high stakes, and you're going to see really intense competition."
Athletes Unlimited previously launched pro leagues for softball, volleyball, and lacrosse with the same model. Athletes Unlimited Basketball is meant to expand opportunities for talented players who may not make the WNBA after college and don't want to, or can't, play overseas. It also gives players who have inconsistently stayed on WNBA rosters throughout their careers a chance to show what they can do and have that pro-level experience.
"With the launch of Athletes Unlimited, pro women's basketball will be played during the winter to coincide with fans' engagement with the NBA, NCAA and international basketball, and brings us closer to the year-round access fans have on the men's side," Patricof noted in a statement.
Patricof further told POPSUGAR, "I think we're building an incredible community across sports of athletes and fans. And really what hopefully Athletes Unlimited shines a light on is the power of sports to have a positive effect on the world." He continued, "What we say is, 'Every moment counts,' and it's really true. From the first tip-off in the beginning of the season, there are just points on the line, high stakes, and you're going to see really intense competition."
Athletes Unlimited Basketball Player Roster
Three players have already announced they've signed with the league: Washington Mystics guard Natasha "Tasha" Cloud, whose wife, Aleshia Ocasio, plays in the Athletes Unlimited Softball league as a pitcher and was the softball champ this past season; guard Sydney Colson, who did not play in the WNBA's 2021 season; and retired WNBA forward Ty Young. Cloud, Colson, and Young will sit on the Player Executive Committee.
Current and former WNBA players, plus other talent from the US and abroad, will round out the Athletes Unlimited Basketball roster; you can expect to find out who else is filling these roster spots in the coming weeks and months. The athletes themselves, led by the Player Executive Committee, are in charge of spearheading recruitment, but Patricof said that it's possible the league could introduce tryouts in the future. There are no multiyear player contracts for now — just yearly contracts — though that may change.
Where to Watch Athletes Unlimited Basketball, and Where to Follow Athletes Unlimited Basketball on Social Media
Patricof said that the 30 Athletes Unlimited Basketball games will be televised nationally and internationally as well as streamed digitally — information on exactly where fans can watch is forthcoming. Stay up to date on everything Athletes Unlimited Basketball has to offer by following the below accounts: