Mask Up and Stay Safe With These Pretty Multilayered Face Masks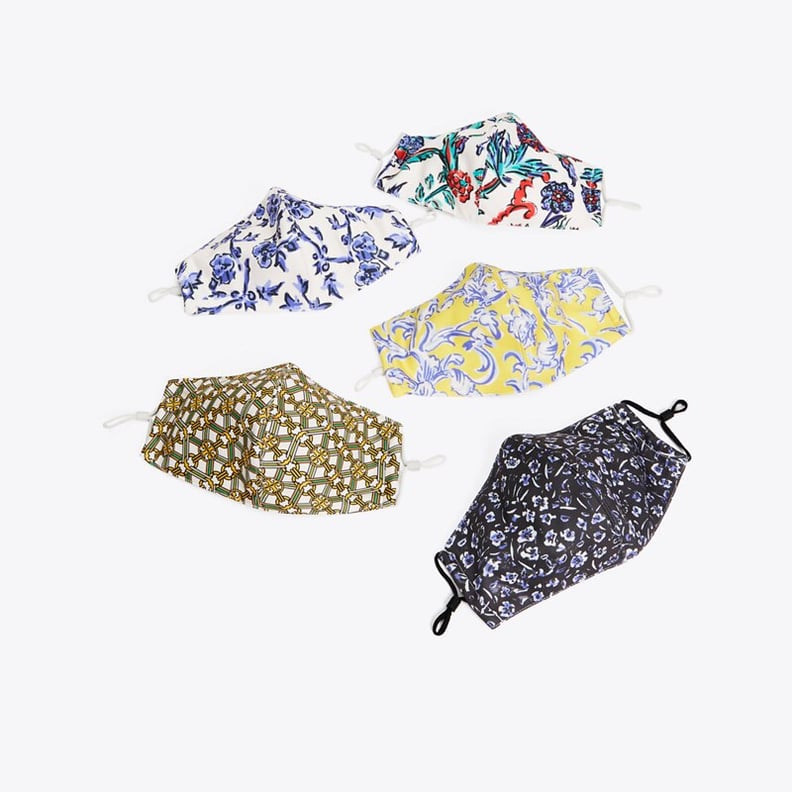 Tory Burch
Tory Burch
Every editorial product is independently selected by our editors. If you buy something through our links, we may earn commission.
Sunglasses? Check. Wallet? Check. Stylish, tie-dye, double-layered cloth face mask? Check! Fabric face masks are the most important accessory we have now, so it's good to keep a wide variety on hand in multiple colors, patterns, and designs to match every outfit in your closet — because, ya know, a leopard-print face mask does not go with a pink gingham dress. The Centers For Disease Control and Prevention said that wearing a mask over your nose and mouth will help slow the spread of COVID-19. But not all face masks are created equal — and I'm not just talking about how they look. A study in Physics of Fluids found that stitched, double-layered cotton masks were the most effective in stopping the spread of droplets. If the cougher was wearing this type of mask, their droplets only went two-and-a-half inches on average, rather than three feet in other masks, seven inches for those wearing a simple bandana, and eight feet for those not wearing a covering at all.
Luckily, you don't have to bust out the sewing machine to find a mask that works. Several retailers offer cute and functional masks that will match your outfit and keep those germs from spreading. Just make sure to look for ones that mention they are made with a double layer of fabric or more. Keep reading to check out some of our favorites!
POPSUGAR aims to give you the most accurate and up-to-date information about the coronavirus, but details and recommendations about this pandemic may have changed since publication. For the latest information on COVID-19, please check out resources from the WHO, CDC, and local public health departments.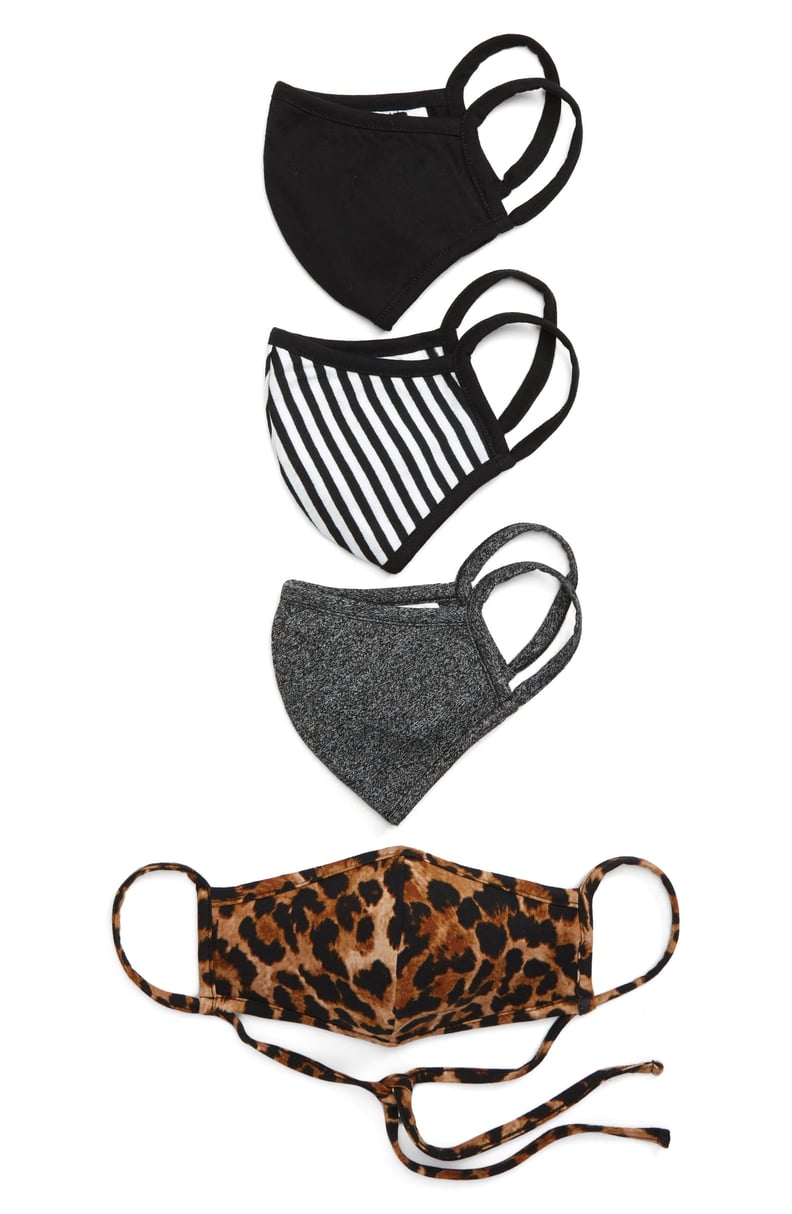 Nordstrom Assorted 4-Pack Adult Face Masks
From neutral black to fierce leopard print, this four-pack of face masks ($20) from Nordstrom offers double-layered protection for every mood. The masks are made with a jersey material, with nose-to-chin coverage and adjustable ear loops so you can get a snug fit.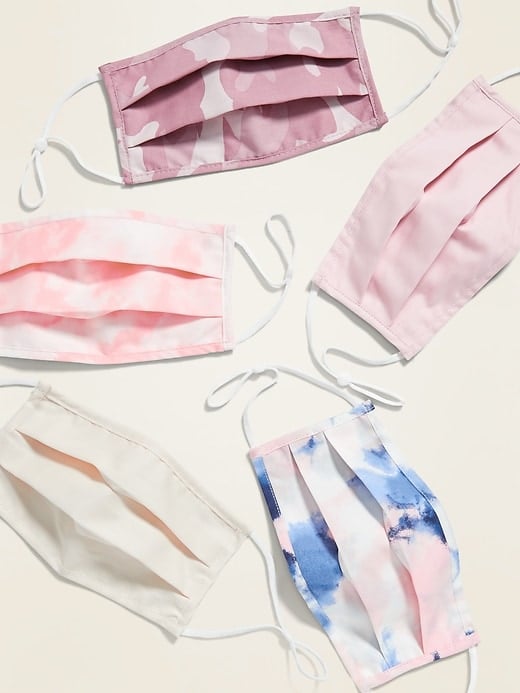 Old Navy Variety 5-Pack of Triple-Layer Cloth Face Masks For Adults
On Wednesdays, we wear pink face masks! This five-pack of triple-layered cotton face masks ($13) comes in light pink, pink camo, pink tie-dye, pink-and-blue tie-dye, and plain white. As a bonus, these Old Navy masks now have adjustable ear straps to help tightly secure them to your face.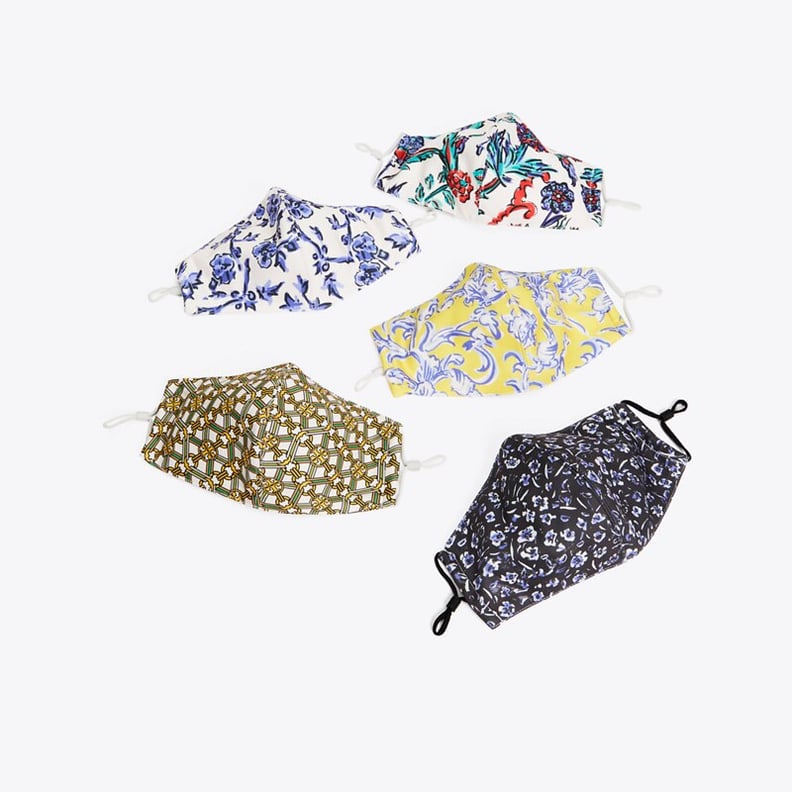 Tory Burch Printed Face Mask, Set of 5
Floral-print face masks are a fashion yes! This set of five ($35) from Tory Burch are made with two layers of lightweight, moisture-wicking fabric, complete with an over-the-nose wire. The playful patterns and comfortable fit will have you reaching for these over and over again.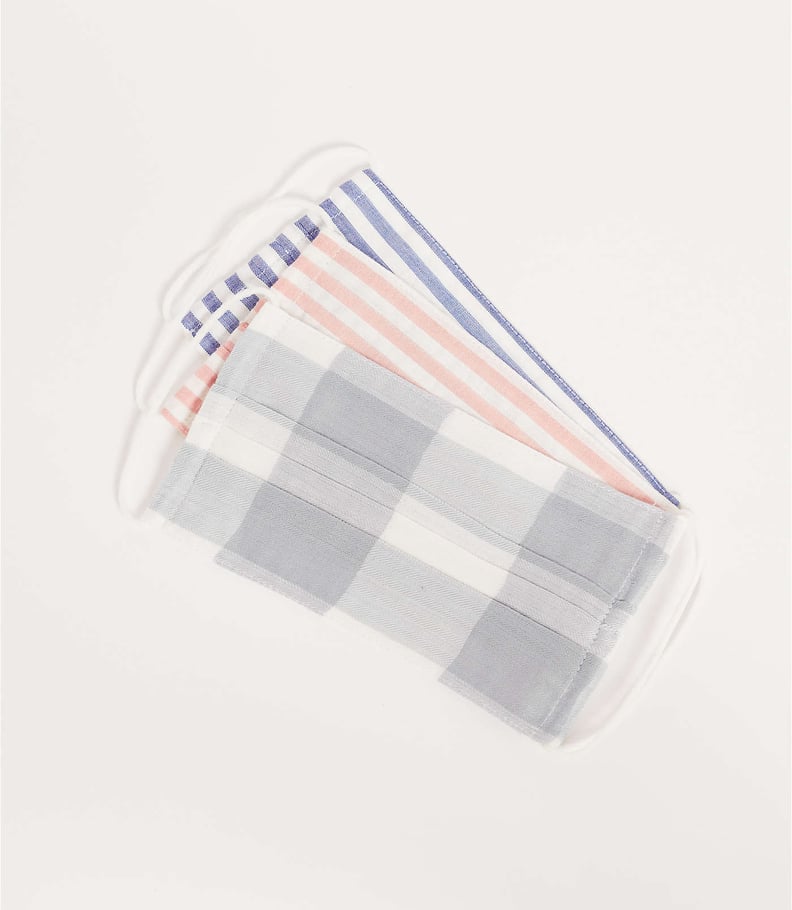 Loft Face Masks, Set of 3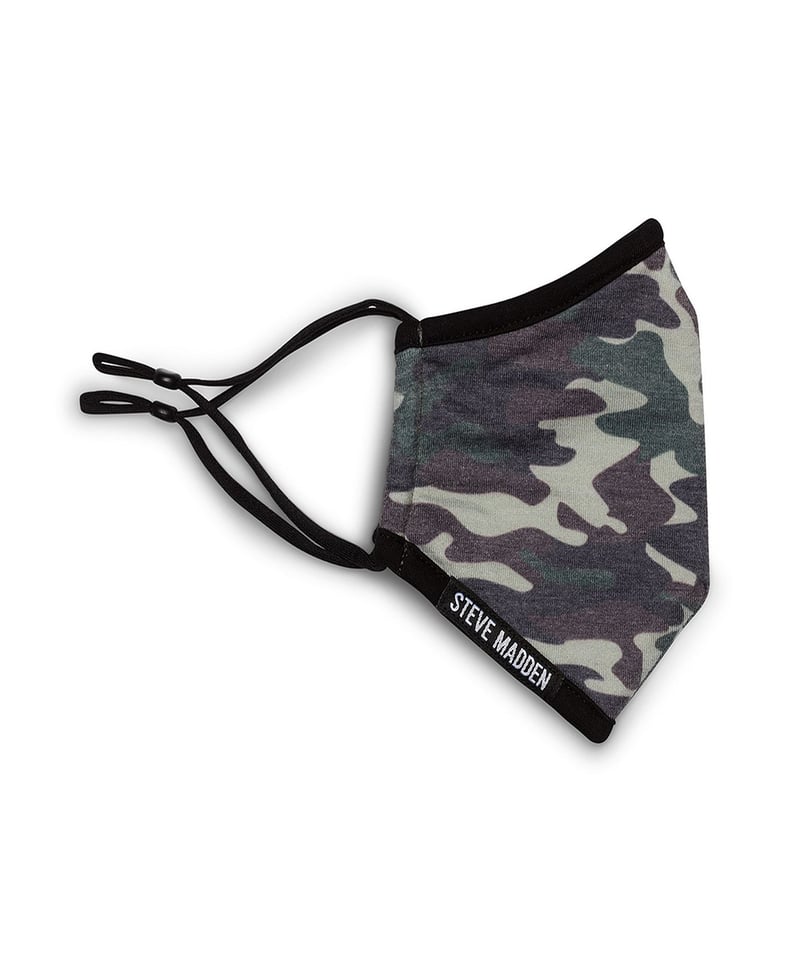 Steve Madden Adult Combat Face Mask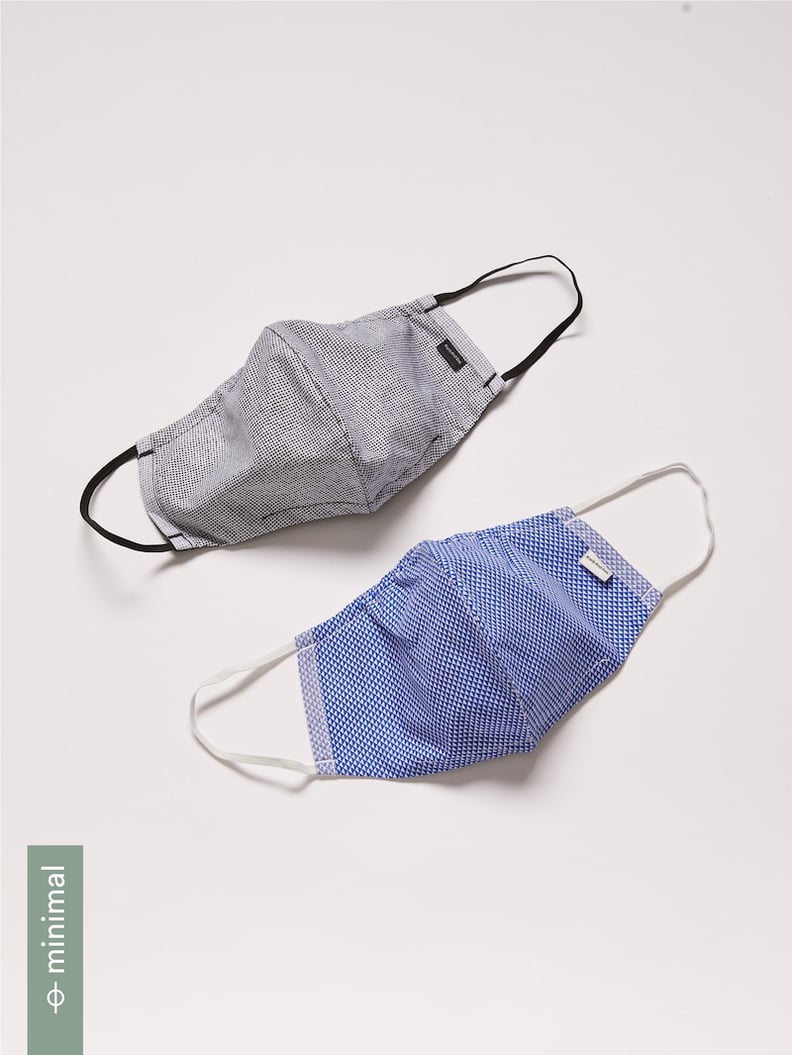 Frank and Oak Set of 2 Reusable Masks
Adjust these Frank & Oak double-layer masks ($24) at the chin to ensure they fit tightly over your mouth and nose. The subtle patterns and neutral blue and gray colors make these masks perfect for your collection. You may have to join a waitlist to purchase this set, but it'll be worth it.
American Exchange Adult Face Mask 2-Pack
We know "being pretty" isn't a requirement for face masks, but we can't help but admire the sophisticated charm of these American Exchange triple-layer masks ($10) from Macy's. One is navy blue with white polka dots, and the other is navy blue with light pink and light blue flowers.
Wolford Classic Reusable Non-Medical-Grade Face Mask
Think of this as the LBD of face masks — this little black mask ($35) from Neiman Marcus has two layers of breathable stretch-knit fabric that is classy and comfortable. Its lightweight material and water-repellant finish also makes this great for working out. As a bonus, the mask was treated with UV light to kill bacteria, viruses, and germs before it was packaged!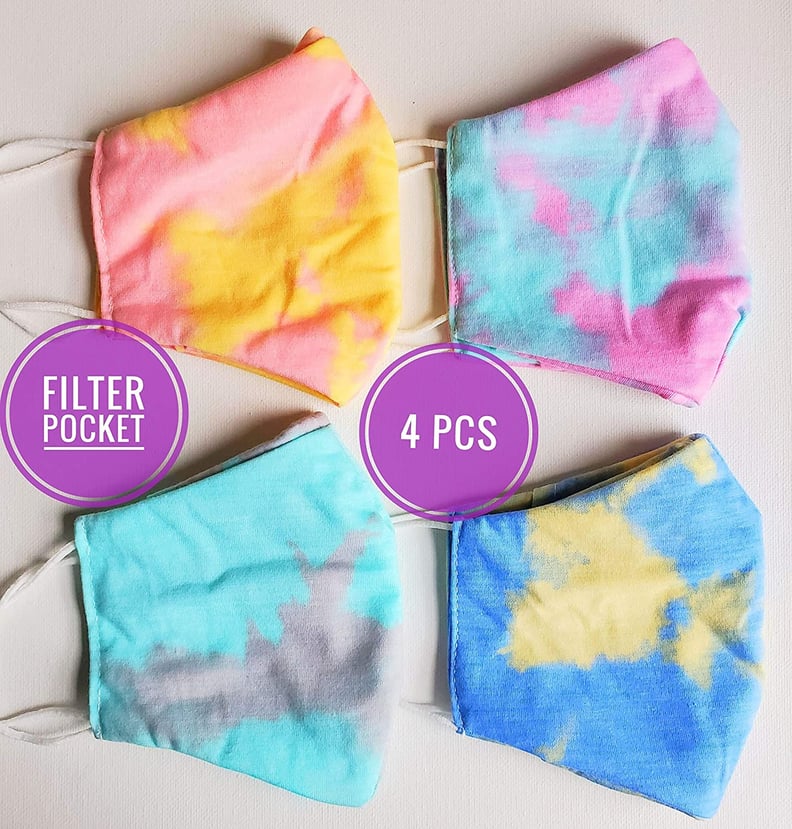 Funnel Cake USA 4-Pack Cotton Face Mask Filter Pocket
Everything is better when it's tie-dyed, right? These colorful face masks ($30, originally $35) from Amazon come in a variety of fun tie-dyed colors, from yellow and blue to turquoise and gray. They are all made with soft, double-layered fabric that is stretchy to fit over any face shape.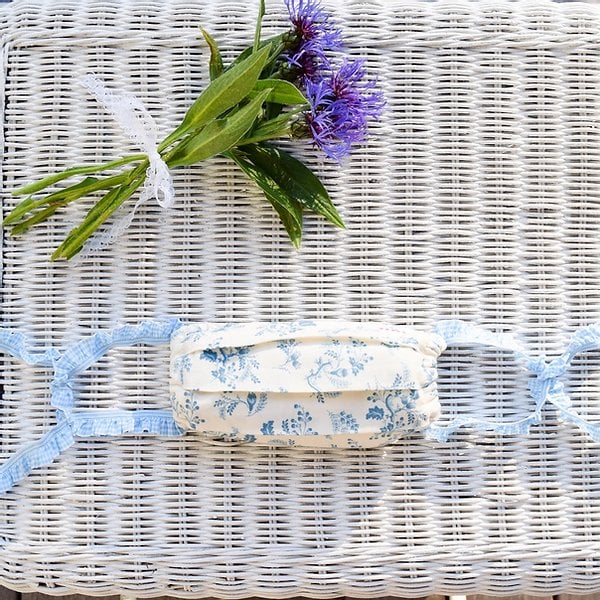 Fofas Pleated Jane Mask
Who knew a face mask could be this lovely? This handmade, double-layered Fofas face mask ($45) is made with a natural, antique-looking white fabric with tiny blue flowers. The elastic ties come in a ruffled, blue pattern, giving it a classically beautiful look.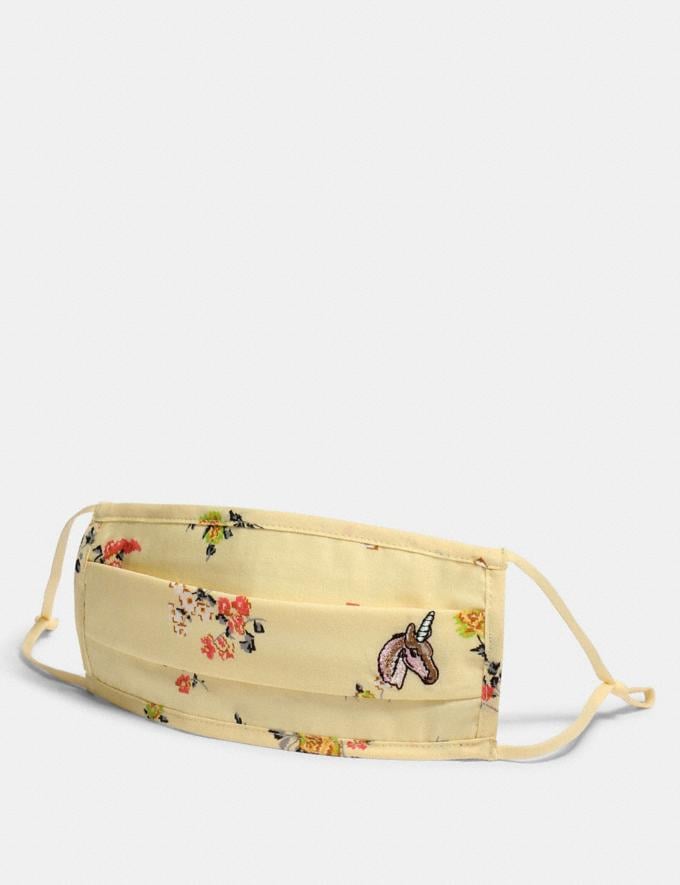 Coach Uni Face Mask With Floral Print
This pale yellow, double-layered Coach face mask ($18) is so pretty, you'll want to wear it everywhere! It has multicolored flowers and a tiny, embroidered unicorn on one corner. And, buying this mask helps the community — 100 percent of net profits will be donated to Feeding America.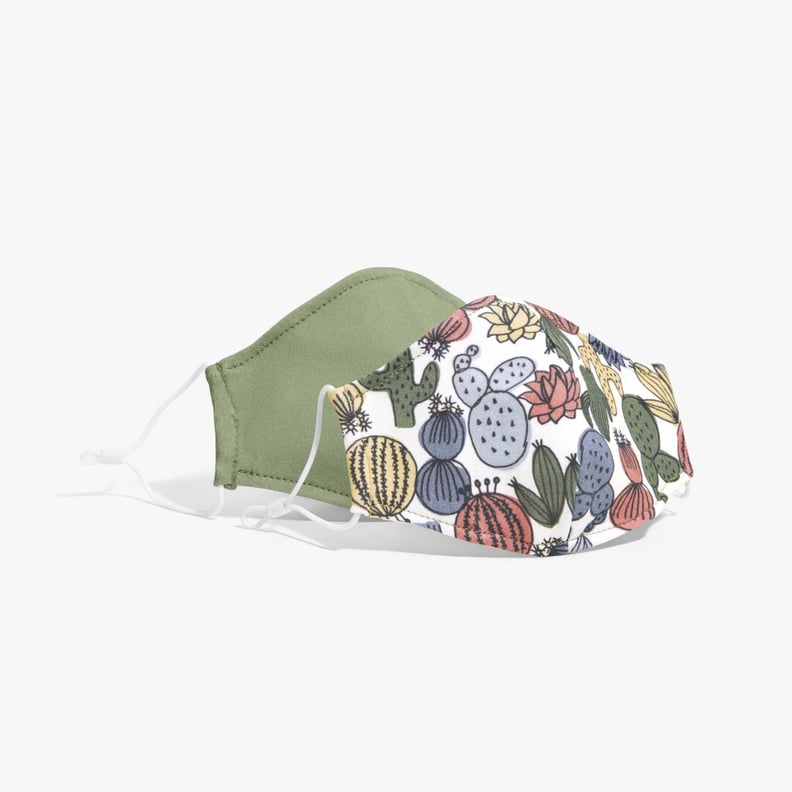 The Honest Company Adult Cotton Face Masks, 2-Pack, Cactus
These double-layered cotton masks ($25) from The Honest Company feature adjustable silicone sliders on elastic ear bands and a bendable wire over the nose to ensure a snug fit. And the colorful cacti print and soft olive green color are so fun, you'll be excited to put these masks on!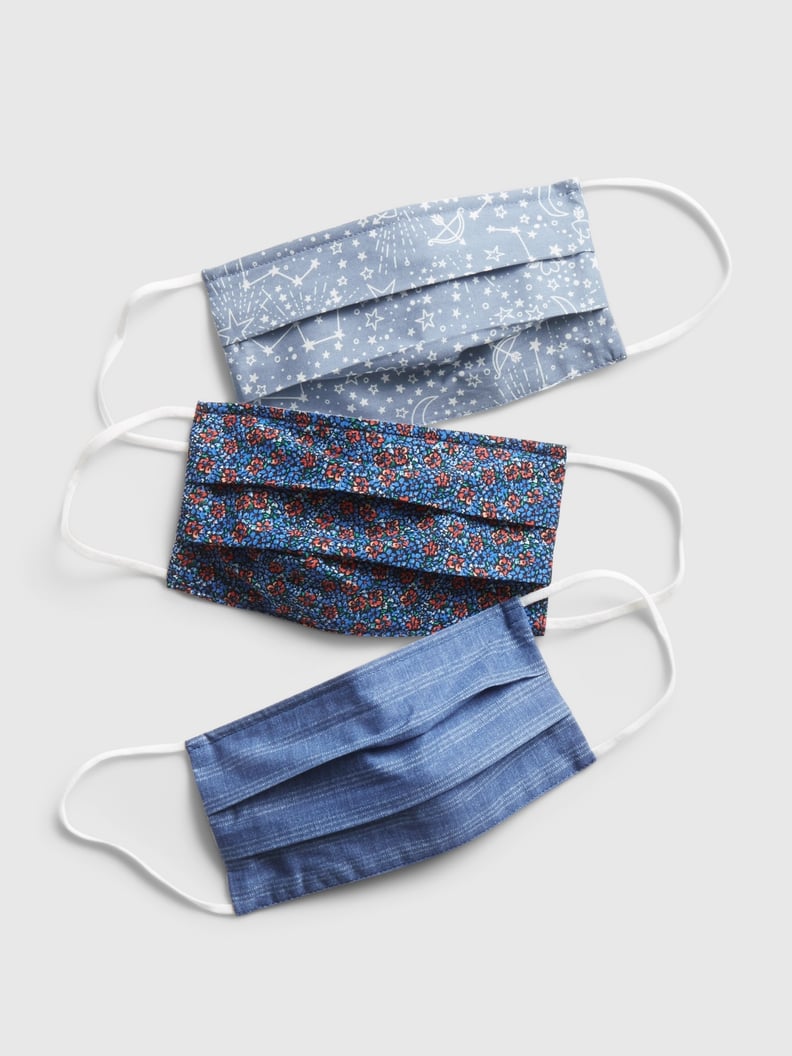 Gap Adult Unisex Face Mask (3-Pack)
Reach for the stars with this three-pack of face masks ($15) from Gap. These triple-layered masks include one blue striped pattern, one autumn-colored floral print, and one light gray mask covered in tiny pictures of the constellations.