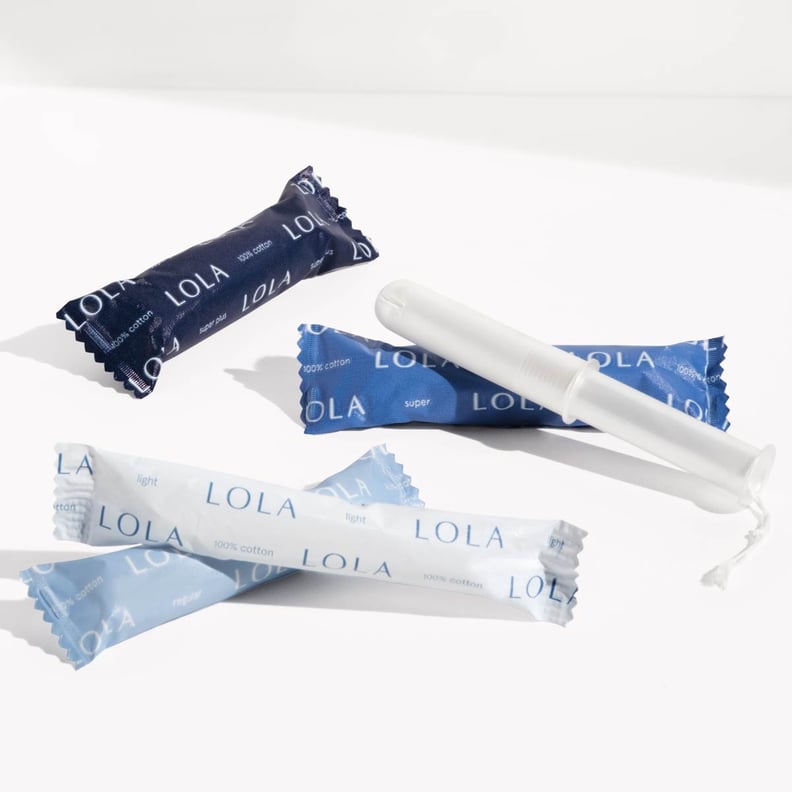 LOLA
LOLA
As POPSUGAR editors, we independently select and write about stuff we love and think you'll like too. If you buy a product we have recommended, we may receive affiliate commission, which in turn supports our work.
Reassessing the tampon box on the back of your toilet? Considering it's a menstrual product that literally goes inside the body to absorb blood during your period, it's understandable to want to know more about how it's made and what's inside of it. That desire might have even inspired your search for the best organic tampons out there.
Before we get into the products that score positive customer reviews, let's talk a little bit more about organic tampons and their consumer draw. Typically made with 100 percent organic cotton, many organic tampons are free of pesticides, rayon, dyes, fragrances, deodorants, chlorine bleach, and other potentially concerning ingredients. Frequently offered with cardboard or plant-based applicators, they're often also more eco-friendly than conventional tampons.
However, according to Megan Zaander, a board-certified ob-gyn at Lake Oswego GYN, data and scientific studies don't necessarily indicate that organic tampons are a safer alternative at this time. Referencing a study published in 2020, Dr. Zaander explained that researchers tested a mix of regular hygiene products and organic hygiene products (washes, tampons, menstrual pads, wipes, sprays, powders, and moisturizers) for volatile organic compounds (VOCs), which are chemicals that may have adverse health effects. According to the study, organic products didn't necessarily have lower levels.
"For all the products, it does seem like a very low exposure, but it was disappointing in that if you wanted to be extra cautious and get organic products, they don't actually seem to be any safer than the regular products," Dr. Zaander said.
No matter what tampons you buy — organic or conventional — be sure you're wearing and changing them as advised. "Anything that is put inside the vagina is going to have a potential risk for toxic shock syndrome," Dr. Zaander said.
Don't forget to regularly change pads, liners, and menstrual cups, too. Dr. Zaander also recommended staying away from fragranced products, as those have the potential to be irritating.
If buying organic tampons is the best choice for you, the good news is that you have plenty of options as more and more brands are offering organic alternatives. Still, as with any hygiene product, it's important to do your research and reach out to your doctor with any questions.
Ahead, we rounded up seven of the most popular organic tampons based on customer reviews, in no particular order.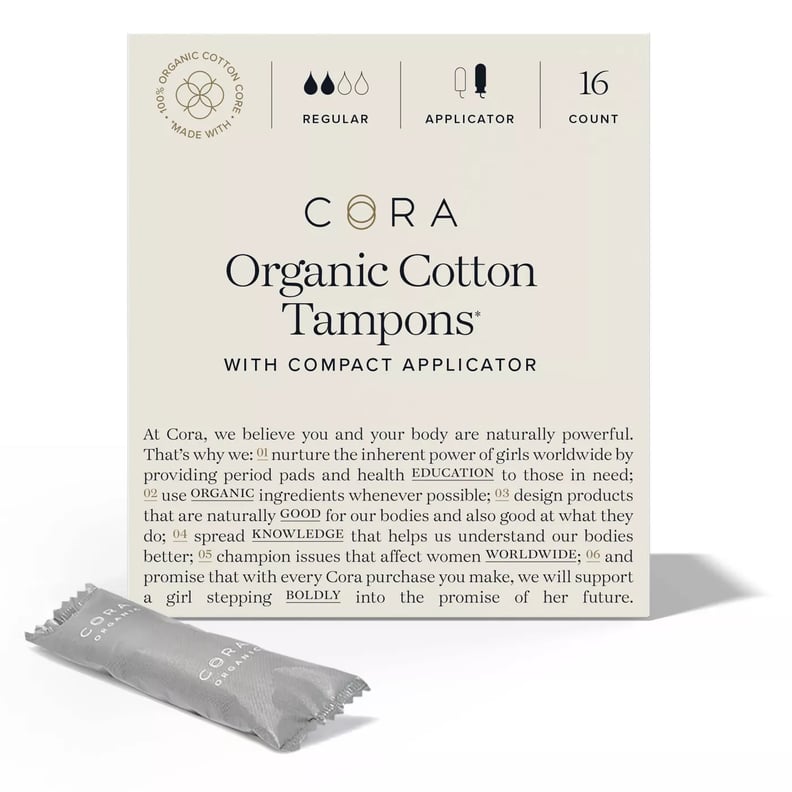 Cora Organic Cotton Tampons
Cora Organic Cotton Tampons ($7) can be purchased per box on the brand's website and at Target, or through a subscription service that ships and bills every three months, which allows you to choose how many tampons (and what absorbency) you want delivered every month. For example, if you choose 48 tampons, you'll receive 16 per month. On the brand's site, the organic cotton tampons with plastic applicators have garnered over 2,000 five-star reviews. An applicator-free version is available as well.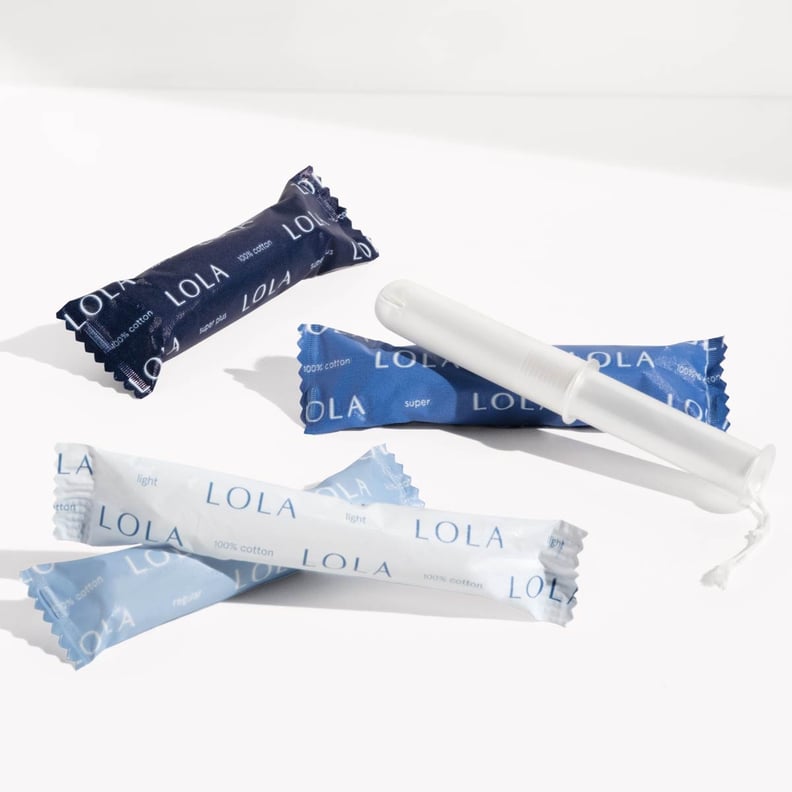 Lola Compact Plastic Applicator Tampons
A tampon subscription will hopefully help eliminate those panicked mid-period trips to the drugstore for a restock. Lola Compact Plastic Applicator Tampons ($11 per box or $10 per box with a monthly subscription and tampon strings are made of 100 percent organic cotton and have received FDA 510(K) clearance, which means the brand has demonstrated to the FDA that the product is safe and effective. The compact plastic applicators are BPA-free, and the brand also offers cardboard applicators made of compostable and recycled paper. While you can certainly order an entire box of regular or super tampons, the coolest thing about Lola's super popular service is the ability to customize each box with tampons of different absorbances.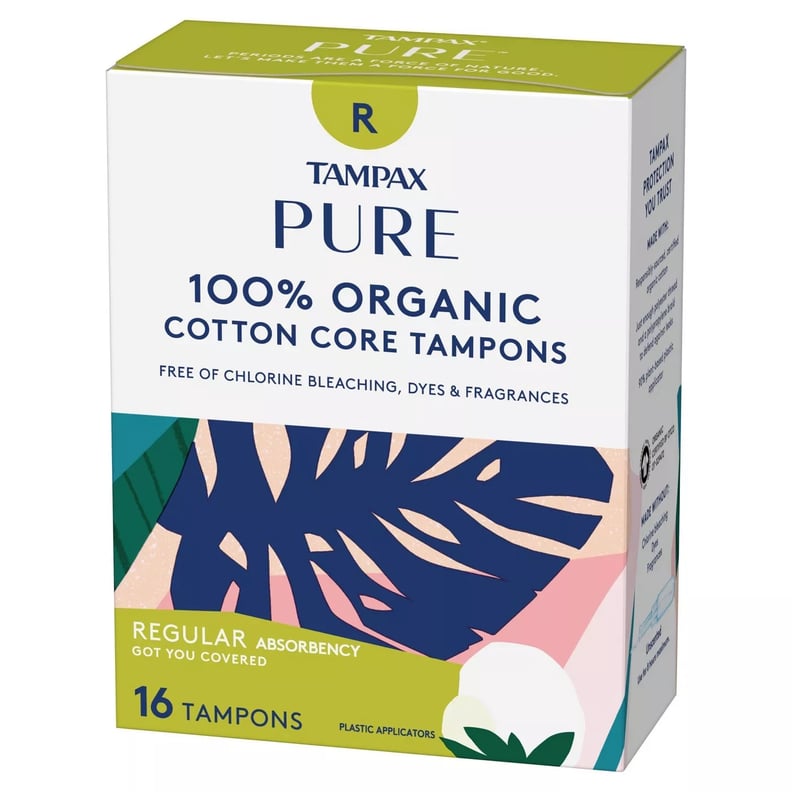 Tampax Pure Organic Tampons
The well-reviewed Tampax Pure Organic Tampons ($6) feature a 100-percent cotton core and can be found at many local drugstores, Target, and Walmart. They are free of dyes, fragrances, and chlorine bleaching. The brand claims the tampons are 100 percent leak-proof, thanks to the braided string, but choosing the right absorbency is key for reaping that benefit.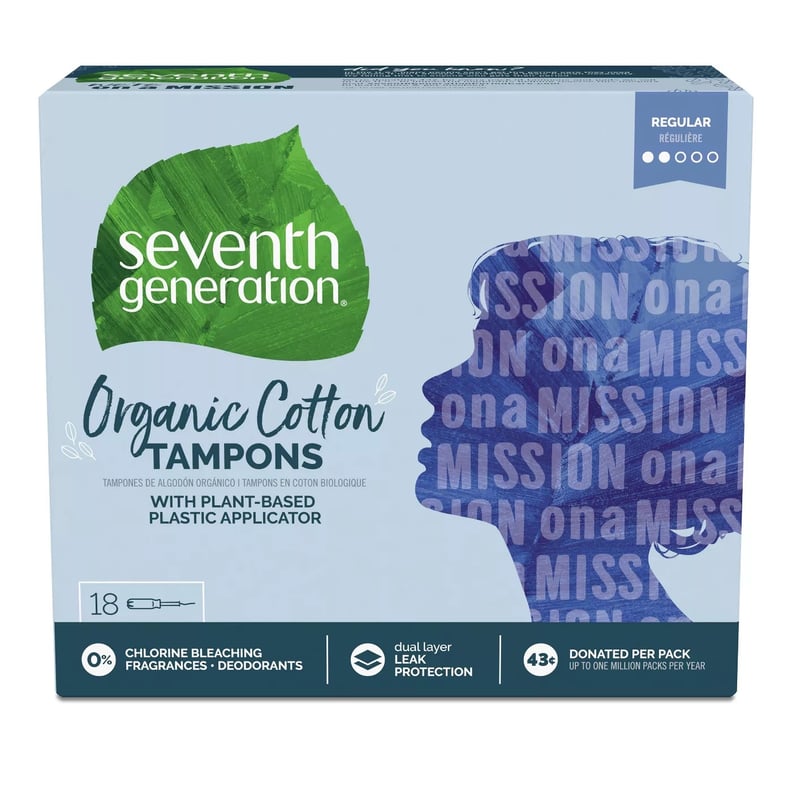 Seventh Generation Tampons
Reviewers note Seventh Generation Tampons ($8) are comfortable and easy to insert. On top of being free of fragrances, dyes, deodorants, rayon, and chlorine bleaching, the applicator is made of 99 percent plant-based plastic. They are available in light, regular, and super absorbencies, as well as in an applicator-free option.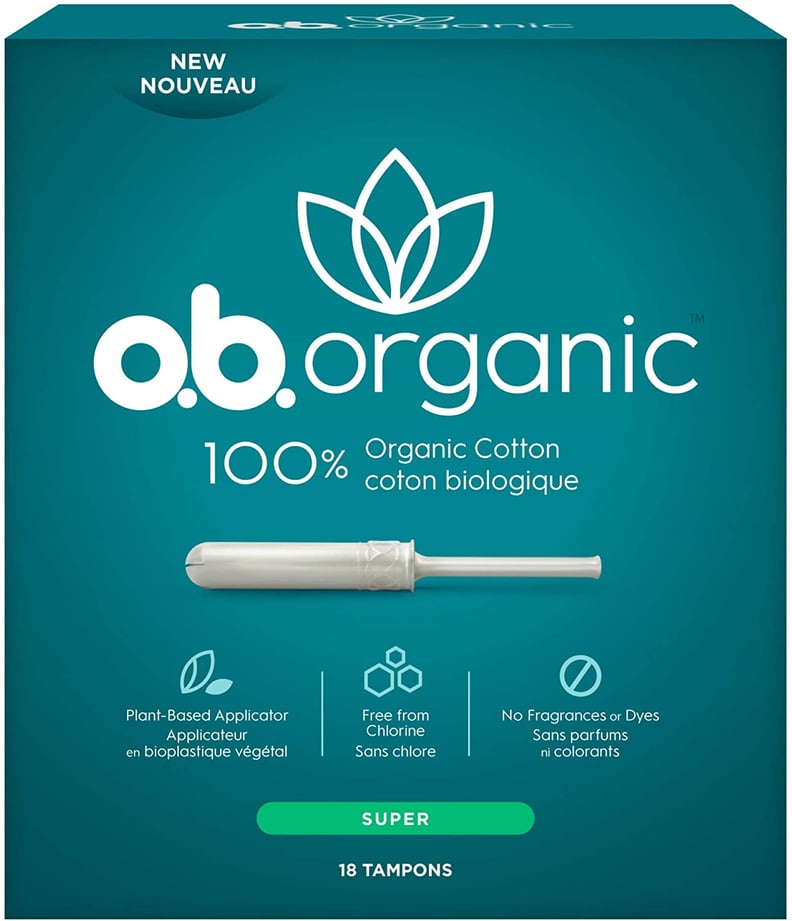 o.b. Organic Tampons
While o.b. is known for its classic applicator-free tampons, the brand does now offer a 100 percent organic option made with a plant-based applicator. The o.b. Organic Tampons ($6) have received a little over 900 five-star ratings on Amazon.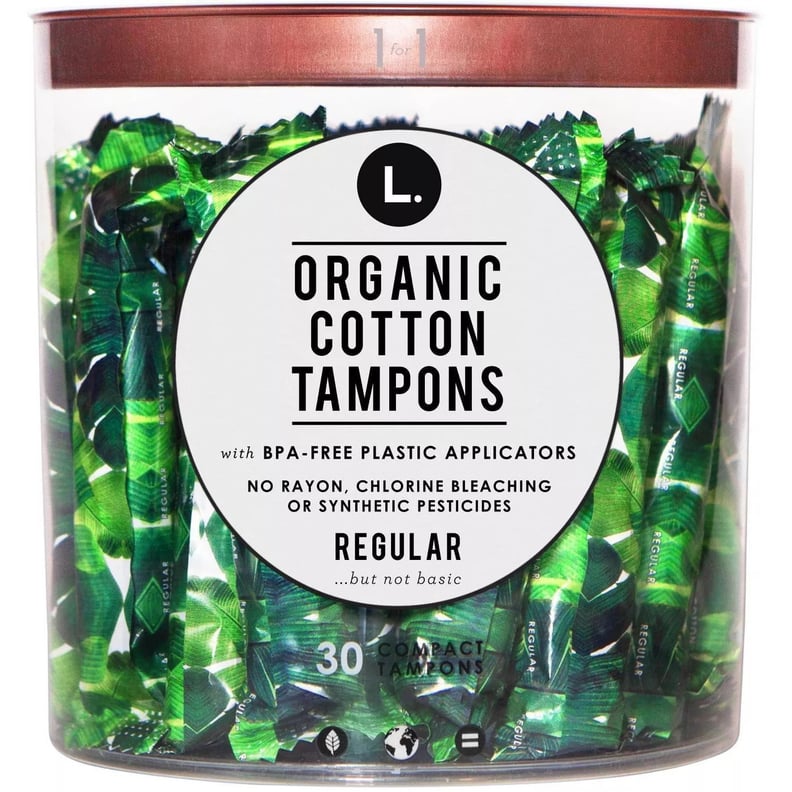 L. Organic Cotton Compact Tampons
For every L. Organic product sold, the brand donates hygiene products to someone in need through partnerships with local and international organizations. Positive reviewers tend to call out the L. Organic Cotton Compact Tampons ($9) for their convenient compact nature and comfort, though some do say the applicator is difficult to use. Housed in printed wrappers, they'll definitely add a design element to your bathroom.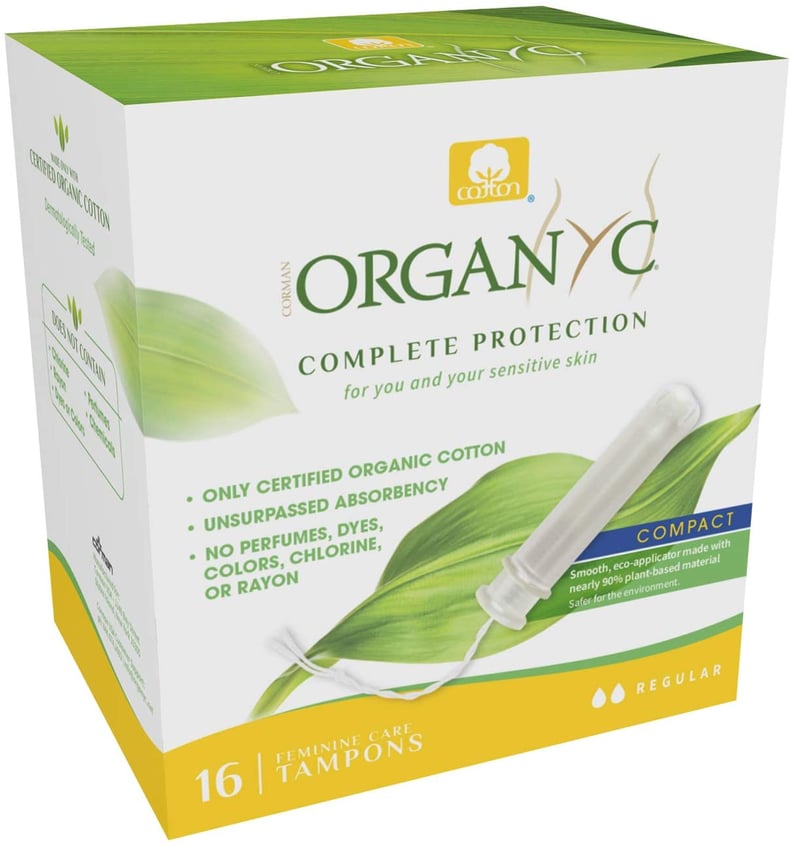 Organyc 100% Certified Organic Cotton Tampons
By far one of the most popular organic tampon options on Amazon, Organyc 100% Certified Organic Cotton Tampons ($6) are made of 100 percent organic cotton, free of dyes, fragrances, chlorine, and rayon, and feature a 90-percent plant-based applicator. Offered in normal, super, and super plus absorbencies, many reviewers note these tampons don't make them itch and are great for those sensitive to normal tampons.