4 Tips For Doing Plyometric Workouts Without Irritating Your Knees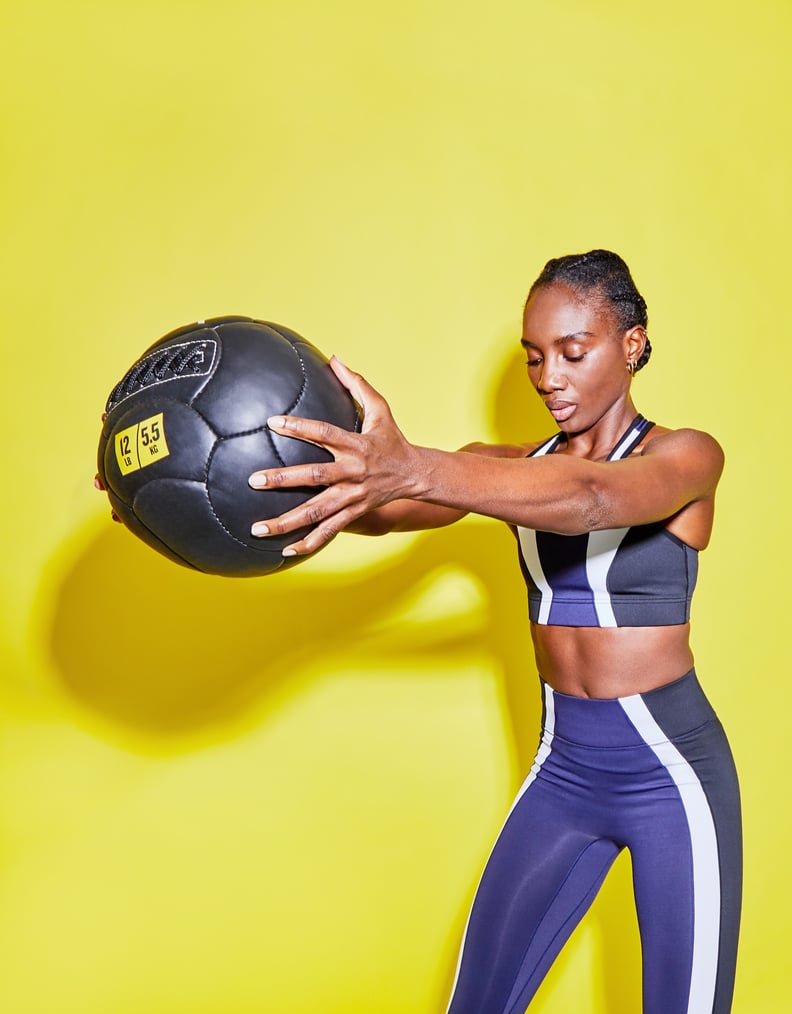 POPSUGAR Photography | Matthew Kelly
POPSUGAR Photography | Matthew Kelly
If you suffer with knee pain or any other knee concerns, you shouldn't jump blindly into jump training, otherwise known as plyometrics. (But, for the record, no one should!)
First, clear the training modality with your doctor, then follow some of these plyo best practices from celebrity and NCSF-certified personal trainer Ridge Davis. The good news: according to Davis, those with knee concerns can complete common plyometric moves safely — it's all about making modifications, maintaining proper form, and doing your workout homework. You can start by checking out Ridge's top tips and exercise swaps below.
Assess Your Workout Surface
To soften the impact of plyometric training on your knees, Davis suggests avoiding hard surfaces, like concrete or asphalt, and opting for flat (important!) grass fields or astroturf instead. Rubber flooring can also work — but you should check in with your trainer to ensure you're purchasing the proper product.
Choose a Shoe With Shock Absorption
Different workouts call for different shoes, and opting for the right type of shoe is especially important during plyo workouts. For plyometric moves, Davis suggests choosing a shoe that has proper shock absorption, as well as sufficient heel and arch support. Davis says the shock absorption will prevent the knees from taking aggressive impact, while the heel and arch support will help keep the ankle stable in landings, preventing the knees from collapsing.
Work on Your Soft Landings
Whether you've taken 300 or only three HIIT classes, chances are you've heard this phrase come out of your workout instructor's mouth: "Soft landings!"
And yes, they're reminding you for a very good reason. "The main focus for jump-focused plyometric moves is a soft and secure landing," Davis said. This also includes making sure your glutes are strong — Davis explains that if your glutes are weak, your knees could cave in and create a torque on the knee joint, leading to injury or pain. "Focus on the landing, staying in the heel and knees pushing outward," Davis added.
Drop the Jumping and Modify
While plyometric training might refer to jump training, you actually don't have to jump to complete a plyometric workout. "Plyometric moves are moves that can be quick and explosive," Davis said, and he suggested omitting jumping moves altogether as an option to make your plyo workout less demanding on the knees. "Kettlebell/DB swings, medicine-ball slams, and battle-ropes slams are fantastic plyo moves that get overlooked," he explained.
You can also edit and modify traditional jumping moves — ahead, Davis demonstrates three knee-friendly modifications to consider adding to your routine.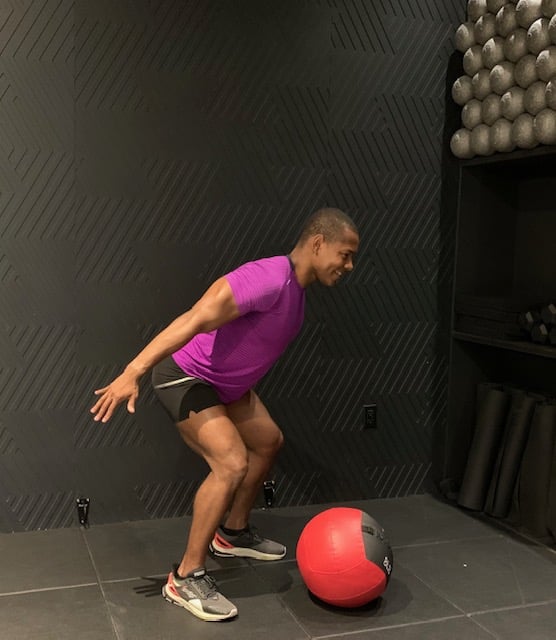 Swap Jump Squats For Ball-Slam Squats
"For this modification of the medicine-ball-slam squat, all of the focus is driven downward instead of upward," Davis said. "The downward force engages the abs and protects the knees from aggressive landings. This still spikes the heart rate and gives the same benefits of a traditional jump squat."
Setup: Reach up high, heels off the floor, glutes tight, and biceps at your ears.
Action: Hips drive back quickly, heels planted on floor. Slam the ball down forcefully while keeping your chest lifted.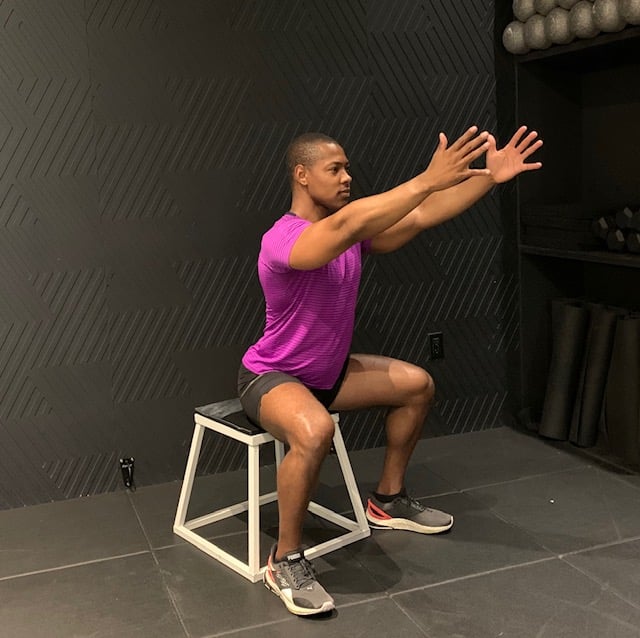 Swap Jump Squat For Box Squat With Calf Raise
"This modification eliminates the jumping aspect of the jump squat and focuses on the quickness and power of the horizontal hip thrust," Davis said.
Setup: Sit up nice and tall, hands reaching forward. Your weight should be in your heels and knees pushed out.
Action: Stand up by driving hips forward, rolling to the balls of your feet. Hands reach behind you, squeezing shoulder blades together.
Swap Lunge Jumps For Staggered-Stance DB Swings
"With this modification, feet will stay in a staggered-stance position," Davis said. "You will swing the arms in a pendulum motion by hinging at your hips. This focuses on the power of your hip thrust and omits the jumping aspect of plyo lunges."
Setup: Driving hips back, keep your spine nice and flat — dumbbells reaching behind your hips.
Action: Drive hips forward quickly, while arms swing forward in pendulum motion. Return back to the starting position.