There are a lot of championships and titles linked to soccer player Christen Press's name, but "global humanitarian" is probably the one we're most inspired by. You see, while Press may be a back-to-back FIFA Women's World Cup champion and two-time Olympian, she's also known for partnering with organizations and athletic programs that advocate for young athletes both on and off the field.
"I feel like it's really important for girls to feel like they have the opportunity to participate in the sports world and the sports community," Press said during a donation event for Chicago Public Schools in 2017. At the time, she was the captain of the city's NWSL team, the Chicago Red Stars. "Sports can give you confidence, and they helped me to learn who I was as a person, and to learn my strengths and what I needed to work on to grow as a person," Press said.
Known for her speedy footwork and seemingly endless ability to score, Press has been a force for the US women's national team (USWNT), both as a player and in their fight for equal pay. After hearing that a judge would dismiss the team's lawsuit against the US Soccer Federation, Press said "there was no doubt" they'd appeal. "There was no second-guessing," Press told POPSUGAR in November 2020. "It was like, what's the next step? And that's how the team performs on the field, and that's how the team stays together off the field."
With any luck, that same determination will carry Press and her teammates to an Olympic medal this summer — her first and the USWNT's sixth since the sport made its Olympic debut in 1996. Learn more about Press ahead, and be sure to cheer her on in Tokyo!
To learn more about all the Olympic hopefuls, visit TeamUSA.org. The Tokyo Olympics begin July 23 on NBC.
01
She Cofounded an Eco-Conscious Fashion Brand With 3 of Her Teammates
In 2019, after clinching a second FIFA Women's World Cup title, Press and three current and former USWNT players — Megan Rapinoe, Tobin Heath, and Meghan Klingenberg — founded the eco-conscious fashion brand Re—Inc. The brand's genderless streetwear is made with all body types in mind.
Press told POPSUGAR that the "strength and love" they received from fans following the 2015 World Cup championship fueled their inspiration to "challenge the status quo." "We can be the makers of the world that we want," Press explained. "Let's build something ourselves. Let's bet on our own value. Let's claim our space and be female entrepreneurs as well as female athletes and world champions."
02
She's Been Teaching Soccer in Developing Countries Since 2013
For almost a decade, Press has been a global ambassador for Grassroot Soccer, an organization dedicated to educating, inspiring, and teaching adolescents in developing countries how they can live healthier lives through soccer. Press now serves as a member of the organization's global board, too. "Soccer has always been much more than a game in my life. . . . I'm particularly excited about GRS' work with young women in these communities," her Grassroot Soccer bio reads. "I want these girls to know that anything is possible and they have the ability to achieve whatever they set their mind to."
03
She's a California Girl
In an interview with Visit California, the Palos Verdes native talked about her love for the ocean, as well as "Mexican food, street tacos, and margaritas," which she said should be "the official state culinary experience" for anyone who visits her beloved home state.
04
She Does a 20-Minute Meditation Before Every Game
While some athletes feed off anger, pressure, and pent-up energy, none of those things help improve Press's game. "So much of my physicality comes from my mind, and yoga is the link between those two things. . . . I'm the best player when I'm smiling, when I'm having fun, when I'm super relaxed, when I can enjoy scoring goals, and when I can laugh off my mistakes," Press told ThePostGame ahead of the 2016 Rio Olympics. "[Meditation and yoga are] my way of staying centered." The following year, she told ESPN that, in place of pregame superstitions, she commits to a 20-minute meditation before each match.
05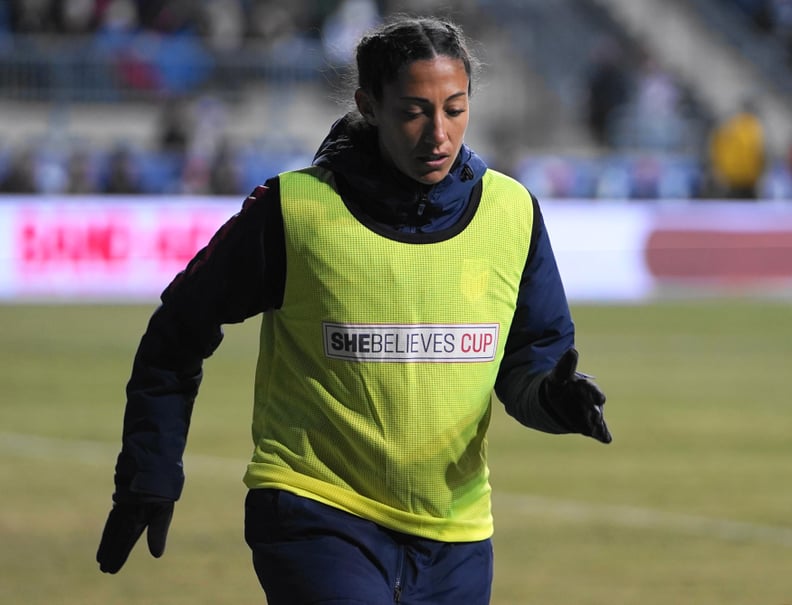 She Finds Inspiration in Activists Past and Present
In 2019, the SheBelieves Cup took place during Women's History Month. To honor the occasion, each USWNT player chose a woman who inspired them and wore their name on the back of their jersey. Press chose civil and women's rights activist Sojourner Truth. "Sojourner Truth is the original intersectional activist — advocating for people who have layers of oppression being Black and female," Press explained to US Soccer at the time. "She is the ultimate hero for us today, centuries later, as we grapple with the same problems and try to better our world regarding these complex social issues."
06
She Got Her Competitive Spirit From Her Dad
Sports are in Press's blood. Her dad was a college football player, who once had his eyes set on playing in the NFL and was determined to pass his love for sports on to his three daughters. "He was having us dribble a basketball in the backyard, trying to kick the soccer ball as high as we can, and throw a football and tackle each other, and you know, run sprints and race," Press told Fanatics in 2016. "I think he gave me my love for competition and for that little bit of drive and motivation to be better than the people I was playing with."
07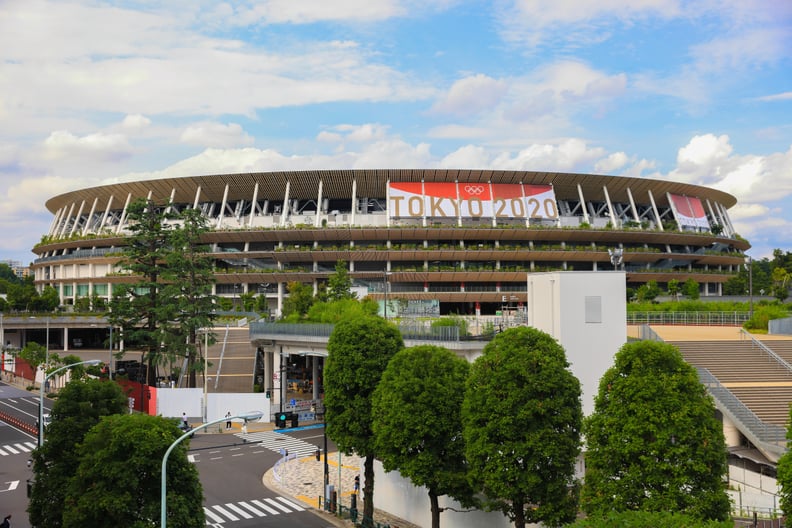 She's About to Visit Her Top Tourist Destination
Back in spring 2017, ESPN asked Press to name one place she hadn't been that she really wanted to visit. Her response: "Tokyo." Four years later, she'll finally get to check this destination off her list, while possibly bringing home an Olympic gold medal.