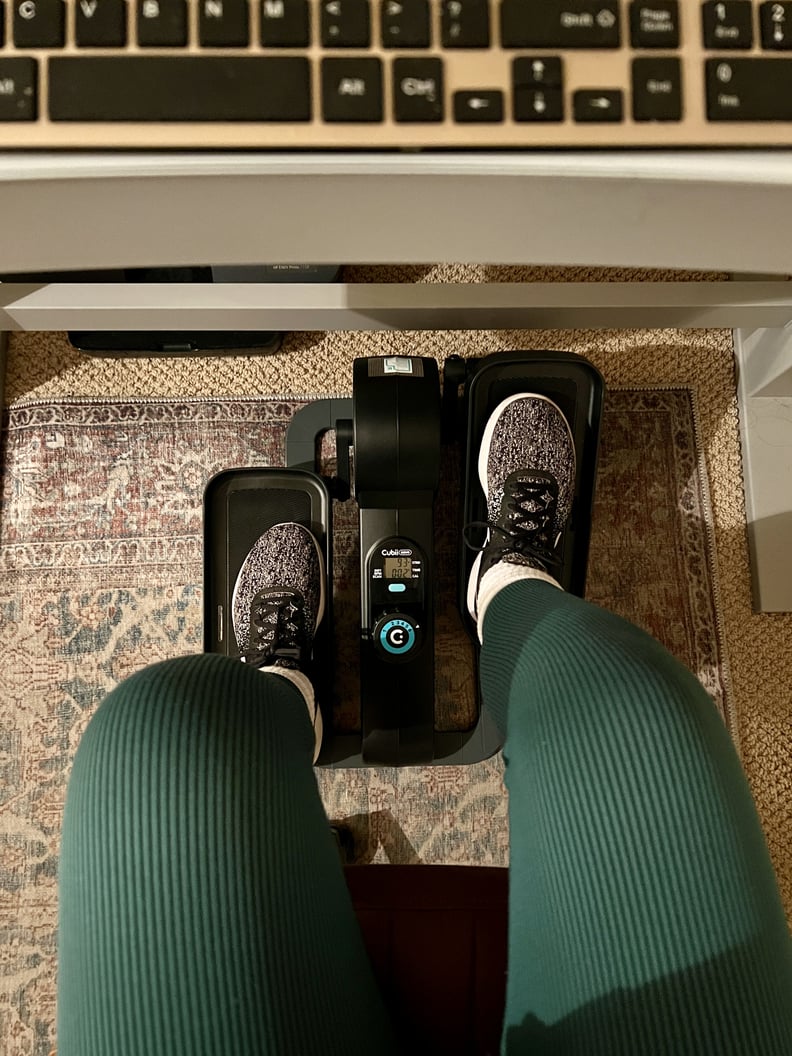 POPSUGAR Photography | Kyley Warren
POPSUGAR Photography | Kyley Warren
Every editorial product is independently selected by our editors. If you buy something through our links, we may earn commission.
While people tend to have mixed feelings about them, I'll be the first to admit: I'm a big advocate of New Year's resolutions. (Yes, even when I often struggle to follow through with them!) While I agree with the sentiment that we all have the power to change our lives any day of the year, I find that the new year always inspires me to reflect more closely on the previous 12 months, focus on my goals, and figure out how I can be more thoughtful in creating balanced habits that are realistic within my day-to-day lifestyle. Unfortunately, even with all of my good intentions, this usually just translates into me overcommitting to a slew of new resolutions, finding myself overwhelmed with the wide array of responsibilities, and being burnt out on all of them by March. Hey, at least I'm honest, right?
But in an effort to actually build habits that stick, my main resolution this year was to start small and ease into my goals with the adoption of more practical, reasonable tweaks to my life — like incorporating one plant-based meal into my day rather than fully transitioning to a vegan diet; signing up to volunteer at a nonprofit once a month compared to every week; and committing to integrating more tools in my life that will help me to keep moving my body, even if I can't always make it to the gym. All of these things are obviously easier said than done, but so far, I've at least been able to keep my fitness resolutions in check with the help of this Cubii Move Under-Desk Elliptical Machine ($199).
Hailed by TikTok users as being the ultimate fitness "life hack" tool (particularly for those working from home or who spend their days curled up in front of their computer), this under-desk elliptical went viral over the last year for its reasonable price tag, easy-to-use build, and undeniable health benefits — which include a user's ability to reportedly burn an average of 150 calories per hour, simply while pedaling on the machine. Eager to test out the workout tool for myself, I immediately requested a sample of the product, slid it underneath my desk, and haven't looked back since. Keep reading to see my honest review and why I believe every remote worker needs this under-desk elliptical machine in their life.
What I Like About This Under-Desk Elliptical
I've invested in a fair share of home-based workout machines in my lifetime, and the Cubii Move Under-Desk Elliptical has, without question, proven to be the best of them all — for a number of reasons. Besides the easy assembly and portable design (which allows me to move the machine from my home office to my living room and just about any other area within my home), the compact tool also features a basic LCD monitor on the front that can be adjusted to display everything from the number of calories burned to a user's stride count, duration, and more. The machine features six resistance settings, so I can program my workout to the intensity that's best for me, all with the turn of a dial. The elliptical is also built to create a smoother, more low-impact cardio experience that allows users to work their leg muscles (actually six key muscle groups, to be exact) with minimal motion and without fear of hitting their knees on a desk or putting stress on their joints in the process.
Best of all, this under-desk elliptical machine can also be registered through the Cubii app, which gives users the opportunity to enjoy a more comprehensive workout through manual data tracking, annual progress reports, and access to 300+ expert-guided workout classes. While this machine hasn't entirely replaced my daily visit to the gym, it has helped me to get some extra movement in while sitting at my office desk and also contribute to my daily step goals. Each day, I've been using the machine for two hours in two different intervals — typically for one hour in the morning (usually while sorting through emails or just easing into my workday) and again for another hour in the afternoon. While I've yet to use the machine on a Zoom call, many reviewers have also claimed that the tool is quiet and smooth enough for them to keep using it through various meetings and presentations as well.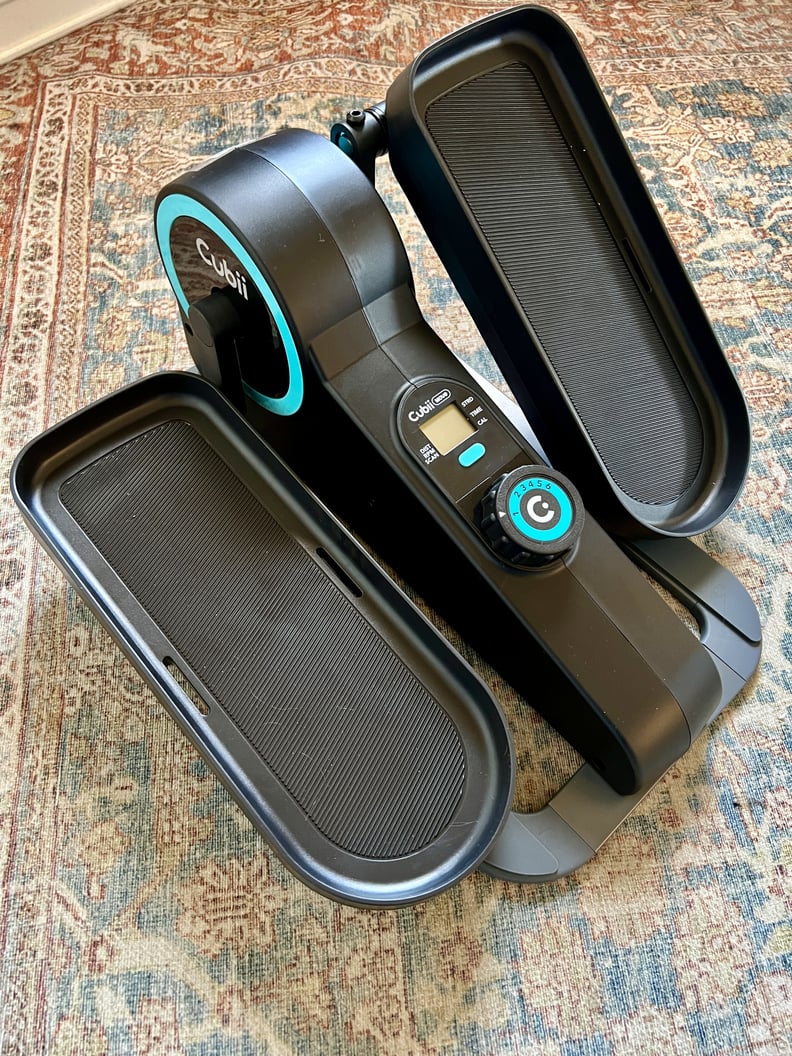 What's Worth Noting
While traditional elliptical machines are built for people to use while they're standing up, this under-desk elliptical is designed to be used only while sitting, with standing on the tool being completely prohibited. As a result, if you're looking for an elliptical machine that you can stand on or use beneath an adjustable standing desk, you'll want to keep this in mind.
There's also some assembly required with this model, though nothing too strenuous. The elliptical machine came with a full set of easy-to-read instructions that guided me to put the tool together in under 25 minutes and even had me properly using the machine (utilizing the product's tracking settings and all) in the span of about five minutes. While this under-desk elliptical is, as advertised, very compact, it does also carry a weight of 17.6 pounds. This is certainly more lightweight compared to other, similar models, but it's still worth noting if you have a carrying limit or are hoping to invest in something even lighter for easier portability.
Who Is This Under-Desk Elliptical Best For?
This elliptical machine is ideal for anyone who constantly finds themselves left without enough hours in the day to accomplish everything they need to. (A struggle we likely can all relate to!) Whether you're having difficulty squeezing a good workout into your already hectic schedule, a remote worker in need of some extra movement, or a multitasker who loves finding new ways to manage your time efficiently, this under-desk elliptical is a valuable tool that will help anyone to stay active and tackle fitness goals in a more reasonable way.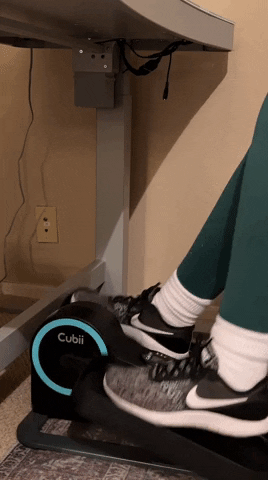 Is the Cubii Under-Desk Elliptical Worth the Splurge?
This compact workout machine is absolutely worth the splurge. With an under-$200 price tag, the tool provides an easy outlet for users to enjoy a low-impact cardio workout each day that will help them to get their body moving and burn calories — even while they're working at a desk, stuck on a Zoom call, or just sitting on their couch watching TV. Life has a tendency to get pretty busy, and it can prevent us from squeezing in our daily workouts in the way that we'd like. Fortunately, even if you're too exhausted to go for a run or make a quick visit to the gym after work, this under-desk elliptical offers a fail-safe way for you to ensure your body enjoys some necessary movement each day — and all without having to adjust your work or life schedule to accommodate it too much.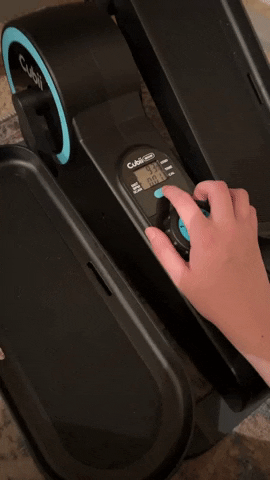 Where Is This Under-Desk Elliptical Available?
The Cubii Move Under-Desk Elliptical is available to shop at Amazon, Walmart ($178, originally $198), and Cubii ($199).
Additional Details
This elliptical machine features an LCD monitor which displays a user's duration, calories, mileage, and more, so you can easily track your progress while using the fitness tool throughout the day.
Unlike other workout machines, the Cubii Move Under-Desk Elliptical is quiet and compact, allowing users to easily enjoy a low-impact cardio workout at home, and is built to activate six key muscle groups and strengthen leg muscles.
According to the retailer, users can burn an average of 150 calories an hour simply by pedaling on the machine.
The product weighs 17.6 pounds and is easy to move around your home space, as needed.
Rating:
★★★★★