These Flushable Wipes Are Perfect For a Quick Refresh During Your Period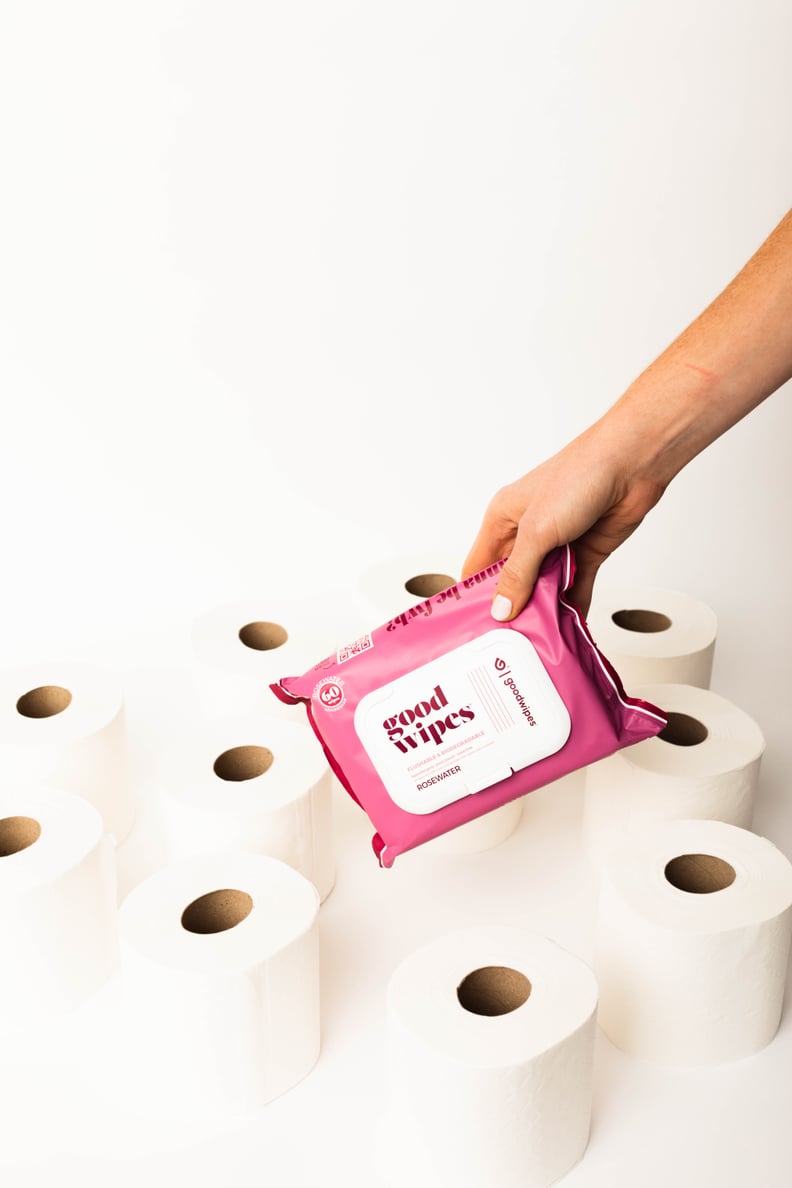 Goodwipes
Goodwipes
Every editorial product is independently selected by our editors. If you buy something through our links, we may earn commission.
I know it's a bad habit, but I definitely don't always change my clothes immediately after a sweaty workout. My schedule has been packed with errands, work obligations, and events recently, so sometimes a shower between an at-home cycling class and a trip to the grocery store (then the dry cleaners and the bank) doesn't always happen. In these moments, given that my shower really has to wait a while, I sometimes rely on intimate cleansing wipes and body wipes to quickly freshen up. This busy spell isn't ending for a while, so I figured it was a great time to road test Goodwipes, a new-to-me cleaning wipe brand that makes products for the body and intimate areas.
Specifically, I decided to test the Goodwipes Rosewater Flushable Wipes ($6 for a two-pack) — and, full disclosure, I was sent the sample from the brand.
These plant-based wipes are made for multitasking. They're advertised to help cleanse after using the bathroom, before and after sex, and during your period, but the brand also says you can use them whenever you want to feel a little fresher. They're pH-balanced, hypoallergenic, and free of alcohol, parabens, and dyes.
If you were wondering about the brand's stance on fragrance (which isn't generally great for the intimate region), Goodwipes products do hold a natural scent, but it's created by soaking botanicals in water. That still doesn't work for everyone, so if you know you're sensitive or are concerned, you might want to skip out on these wipes or talk to your doctor first.
To get onto how the wipes function, I think they're incredibly effective for a quick post-workout cleanse (which was my intended purpose in trying them), but I can't wait to give them a try when my period rolls around. I think they'll be particularly handy on those heavy-flow days when toilet paper just doesn't feel like it's enough, or before switching tampons. They never leave me feeling uncomfortable down there, and the rosewater scent is honestly barely noticeable.
Perhaps the best thing about these wipes, though, is that they're 100 percent biodegradable and flushable. Yes, that means you can toss them in the toilet and flush them when you're finished, because they will break down. However, if you know your plumbing system is finicky and you have major concerns, the brand says you might want to just throw them away.
In addition to these multitasking wipes, the brand also makes wipes specifically for intimate areas and body wipes.