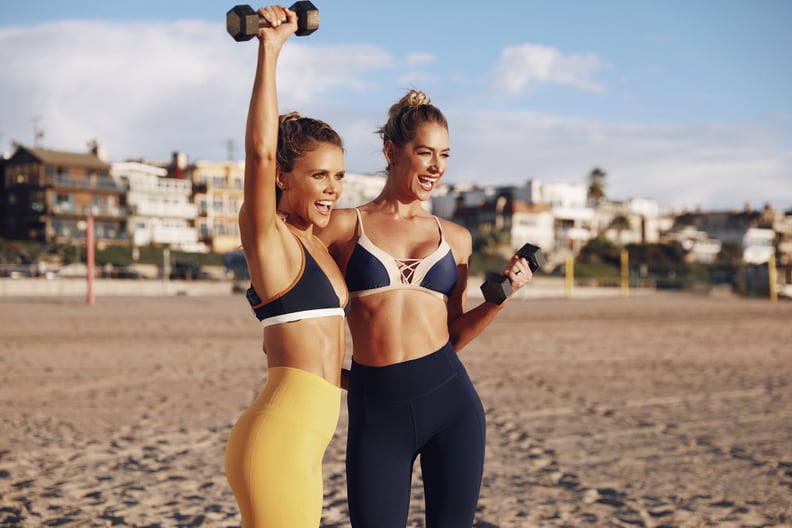 Tone It Up
Tone It Up
Best friends Karena Dawn and Katrina Scott founded Tone It Up back in 2009 and, more than a decade later, the trainers are overwhelmed by the community of strong women they've inspired to get moving. After a workout event at New York City's Energi, Karena told POPSUGAR she firmly believes that the community of Tone It Up women make the world a better place. And, the thing she and Katrina are most proud of is how much this community has grown with such love, strength, and positivity.
"The connection that the community has with each other is really beautiful," Katrina added. "Where women didn't have support, they now have it. Where women didn't have encouragement, they know it's there. And they're doing things they never thought they could." All it takes is showing up for workouts on the Tone It Up app — there's HIIT, kickboxing, cardio, kettlebell, barre, and more — and finding others doing the same via social media. "Friendships take work, community and connection takes work, and these women go out of their way to connect with each other, support each other on Instagram or in person, and it's beautiful."
Though you can use Tone It Up anywhere, it really is geared toward working out at home. Katrina and Karena know that getting your sweat on in your living room, or in close proximity to your bed (beckoning nonstop for you to take a rest), can be hard. But they're here to assure you that you can keep your motivation up. There are ways to ensure your home workouts are consistent, and it boils down to three key tips.
1. Set Up a Workout Space
Katrina said that having a set space to work out is helpful in getting it done. She actually admitted that she admires Karena for doing this for meditation sessions. To make that space, she suggests eliminating distractions, lighting a candle, and rolling out your mat, she said. "Create a space that motivates you. And, if you don't have a space in your home, you can literally clear a coffee table and be like, 'OK, I'm in it.'" Designating an area of your home to go to regularly for workouts not only brings structure, but it can also put you in a mindset that's focused on sweating as opposed to worrying about where, exactly, you're going to get that session in.
2. Find an Accountability Partner
Accountability works as a key motivator to keep you on track with sweat sessions, whether you're physically exercising with a partner or if you're there to check in. Some women in the TIU community utilize group chats for this. Katrina explained that you can use the Tone It Up hashtags (like #TIUteam) on Instagram to find other TIU members. That way, you can make a virtual appointment with someone who's doing the same workout as you that day. (Note: one POPSUGAR employee who's a TIU member said she uses the hashtags to follow other TIU enthusiasts on Instagram and chats can happen naturally that way, or you can message people through the actual app.)
Creating that connection and finding likeminded individuals makes you feel like you're not in it alone. Also, Karena said she'll even text or call her friends the night before a workout saying she needs extra motivation. Then, they'll check in with each other the following morning. It can be that simple.
3. Set Realistic Goals and Do What You Love
You don't want to go all out right away if you're just starting your fitness journey. Karena said that, especially for beginners, it's important to tune out the pressure. "It's just loving your body where you are right now and allowing that space and that time you need to just ease into it and be gentle," she said.
Katrina added that you shouldn't expect to love every workout. "A lot of things aren't going to be for you," she said. Trying out different workouts and not enjoying some of them shouldn't be discouraging. That goes for more than just at-home exercise, she noted. The important part is experimenting in order to find what you enjoy doing. That way, it'll be easier to stick with it for the long haul.