How Many Paralympic Medals Has Jessica Long Won?
Jessica Long Ends Her Fifth Paralympics With an Astounding 29 Career Medals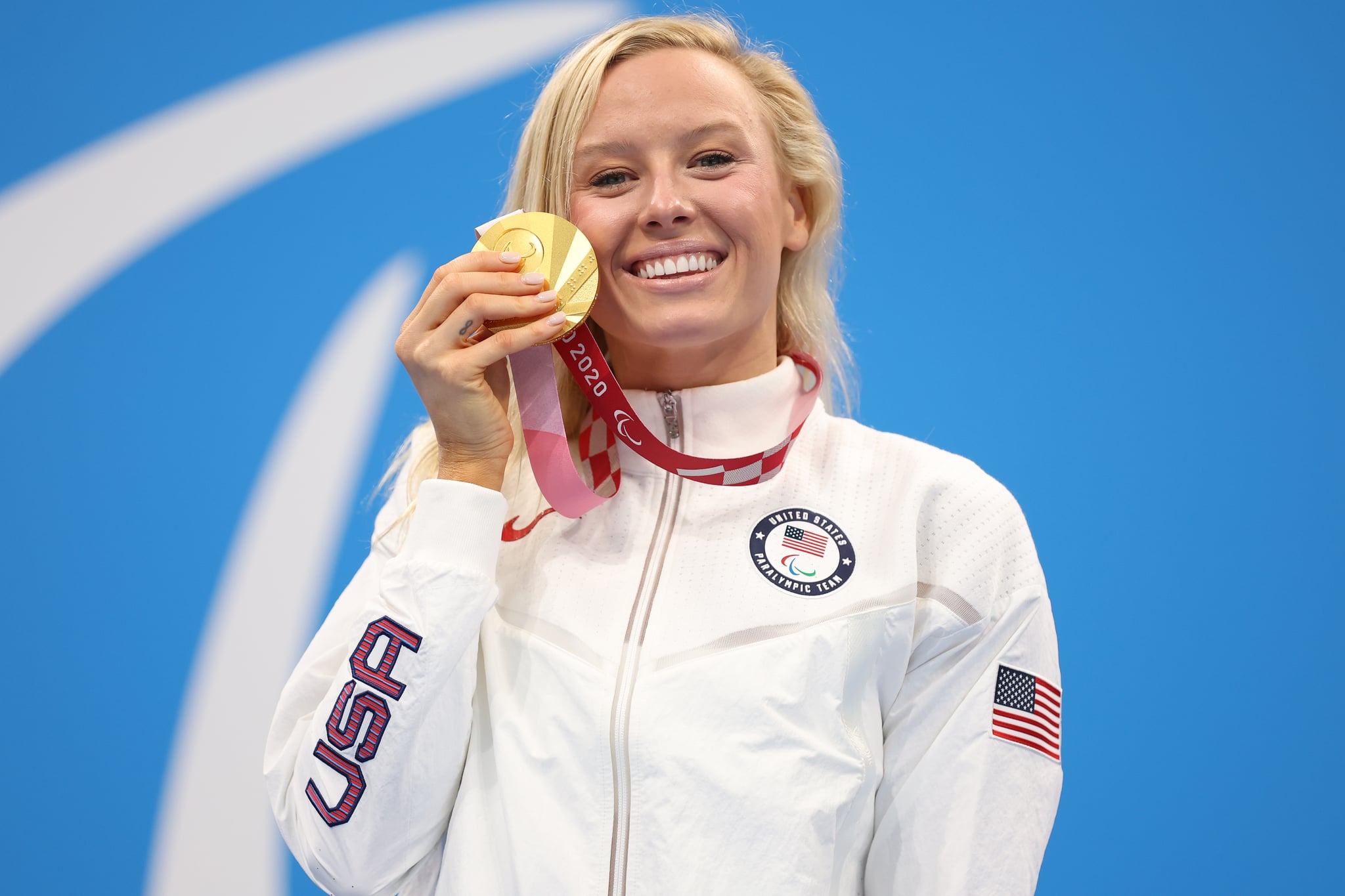 The Tokyo Paralympics are coming to a close, and few athletes have had a more impressive run than American swimmer Jessica Long, whose Paralympic career spans nearly 20 years. Since making her Paralympic debut at the age of 12, Long has won a staggering 29 Paralympic medals — six of those in Tokyo — making her the second-most decorated Paralympian in US history. Her collection includes 16 gold medals, eight silver, and five bronze, across a wide variety of events, strokes, and distances.
Long burst onto the scene in Athens in 2004, where she won three gold medals in the 400m freestyle, 100m freestyle, and 4x100m freestyle relay. Four years later, in Beijing, she doubled her previous medal haul, taking home six medals overall, including four gold medals in the 400m free, 100m free, 100m butterfly, and 200m individual medley; a silver in the 100m backstroke; and a bronze in the 100m breaststroke.
The 2012 London Paralympics would prove to be Long's most dominant Games yet. There she won five gold medals (400m free, 100m free, 100m breaststroke, 100m fly, 200m medley), two silver (100m backstroke, 4x100m freestyle relay), and a bronze (4x100m medley relay). Long continued her dominance at the 2016 Rio Games, where she won gold in the 200m medley; silver in the 400m free, 100m breaststroke, and 4x100m freestyle relay; and bronze in the 100m fly and 100m backstroke.
Long arrived in Tokyo poised to take home even more hardware, and she delivered, medaling in every individual event in which she competed. She closed out her fifth Paralympic Games with three gold medals (200m medley, 4x100m medley relay, 100m butterfly), two silver (400m free, 100m breaststroke), and one bronze (100m backstroke). "I'm over the moon," Long said, following her win in the 200m medley, her fourth straight Paralympic gold in the event. "I moved out to the United States Olympic and Paralympic Training Center about a year ago. I made that very big sacrifice to be away from my family and my husband just to have this type of performance and I think it's paid off."
It certainly did — over and over again in Tokyo. At this point, the only American Paralympian with more medals than Long is Trischa Zorn-Hudson, a swimmer who won an awe-inspiring 67 Paralympic medals between 1980 and 2004, 51 of which were gold. While it's unclear what the future holds for Long, her legacy is undeniable.