If You're Wondering How Leanne Hainsby Creates Her Mood-Boosting Peloton Playlists — Here's How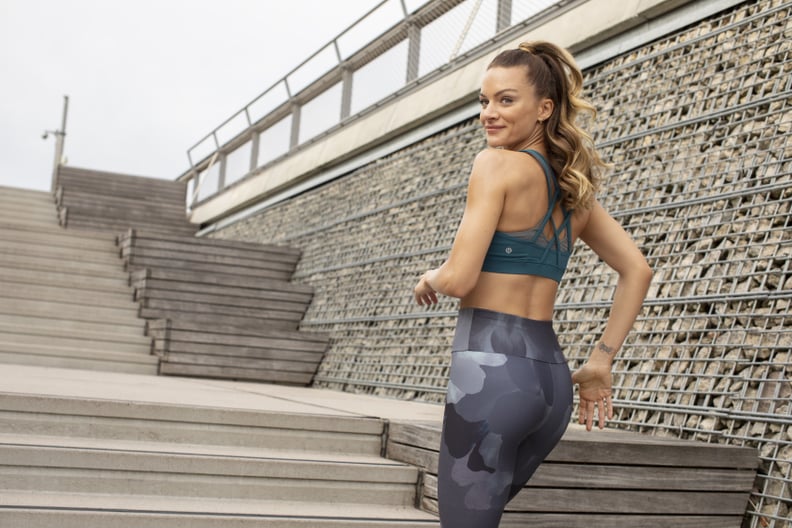 Peloton
Peloton
My first order of business after signing up for the Peloton app at the start of 2021? Put a call out on Instagram for the cycling instructors I should check out first. A name that came up again and again was the UK's own Leanne Hainsby, not only for her sweat-inducing pop rides and positive attitude, but because of her amazing music that — for those 20-45 minutes you're rocking out on the bike — makes you forget that you're really stuck inside your apartment with your partner playing video games on the sofa next to you (which, no matter how long you've been together, I still find quite awkward). I've taken Hainsby's class dozens of time now, and I'm hooked — thanks to her soul-boosting playlists and the fact I feel lighter, happier, and, as Hainsby likes to say, "sparklier" every time I finish her class.
Turns out, that's exactly what Hainsby sets out to do every time she sits down to create a playlist. "One of my biggest goals is to boost people's mood and their energy — that's always at the forefront of every music selection that I make," she told POPSUGAR over Zoom. "If you're having a good time, if there's a moment in the ride where you really laugh, I'm combining fun and fitness . . . and that's what I really want for people. I also think people will be surprised by how much they will push themselves when they're moved by the feeling of a song, or how the music makes them feel."
"I think people will be so surprised by how much they will push themselves when they're moved by the feeling of a song, or how the music makes them feel."
Hainsby admitted that her own music taste is "all over the place," something she owes to her former career as a professional dancer. "I think I'm just used to dancing and listening to different music all the time," she explained. It's something that you can easily tell just by scrolling through all of her rides, the themes of which vary from country to Latin, pop to hip-hop, and every decade from the 1960s to the present. In what may be surprising news to some, one of Hainsby's most popular classes is The Beatles ride that dropped on demand on Christmas; however, it's not just her themed rides that are unexpected. Hainsby also loves to sneak in songs you might not think you'd ever hear in a cycling class, from artists such as Luther Vandross, Bob Marley and the Wailers, and Johnny Cash. "It's important to me that there is a song for everybody, and a song that isn't a typical choice for a workout might reach one person who hasn't worked out yet."
Coming from a dancer's perspective, Hainsby likes to think of every ride as a show. "If it's a music ride, there's usually two sections: we warm up, we start slow, we've got a big finish midway. There's a little reset moment in the middle, and then we finish with a banging track, and then we're chilling out for a descend-and-recovery moment," she explained. "In my head, it's a complete journey, and I think that journey is because of the music. You could do the same workout with no music and with music, and it'll be completely different. You want to move when you hear music."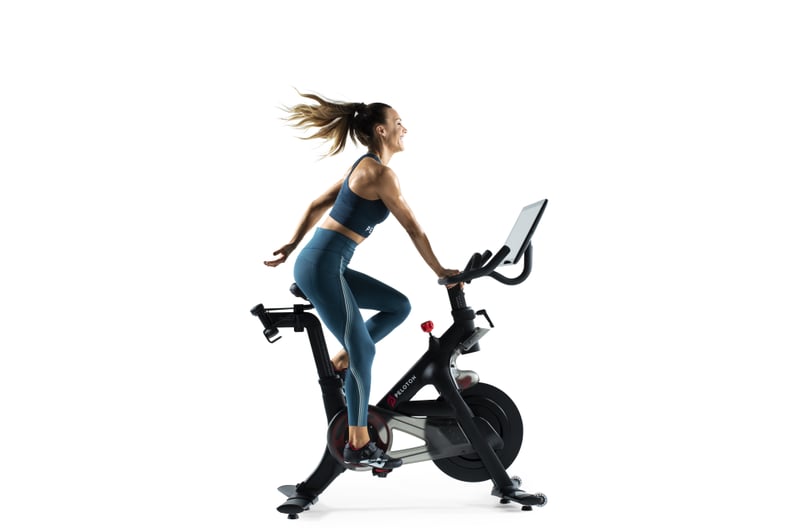 With the millions of songs dancing around in Hainsby's head, putting together a playlist can seem like a Herculean task. To help, she's created a loose rubric for herself. "There's always three things that I like to get into a ride. I like to get in a classic song that everyone will know and love and be able to sing along to. Then I like to include one song that provokes some kind of emotion, and then I like to have one song that either makes people really want to dance and lose themselves, or be like, 'Leanne, why have you put this in the ride?' A track like "Mambo Number 5," or "Barbie Girl," or something like that."
One artist you'll hear regularly in Hainsby's class is Dua Lipa. "I can't stop playing her music. Every song at the moment, if I can squeeze Dua Lipa into a ride, she is in," she laughed.
Hainsby's is one of the few British cycling instructors on the Peloton app, and taking her class gives you an opportunity to hear other UK artists such as Sophie Ellis-Bextor and Years and Years, music that non-Brits might not be that familiar with. "I do like to rep the UK," she said. "One of my jobs as a dancer was with a band called Steps, and in the UK, everybody knows who they are. But I've mentioned Steps before in some of my rides, and a non-British member asked me, 'What are the steps [in the class]?' And I'm like, 'No, no, no it's a band.' It's a song like that maybe people haven't heard — and they'll say to themselves, 'how did I miss that song in the '90s?'"
"It's important to me that there is a song for everybody, and a song that isn't a typical choice for a workout might reach one person who hasn't worked out yet."
Hainsby's dream, on the other hand, would be to create a themed ride with a British band that everybody around the world is familiar with: the Spice Girls. "When I can have 30 minutes of girl power and just play Spice Girls hit after hit, that would be a dream," she said.
While riding to "Wannabe" is somewhere off in the future, right now Hainsby is just focused on doing what she can to help people during the pandemic through the platform she's been given. "People are coming to the bike for so much, especially right now," she said. "Maybe it took everything in them to get onto the bike, and they're not feeling great, but they know they need to move. I really hope to take them on a journey and have this goal, and that starts with the music," she added. "When I put together my playlist, I want people to feel so good when it finishes. I'm not always bothered about numbers for people, because you could be feeling great and your numbers don't reflect that. But you can't take away how that moment has made you feel. So that's my goal: to make people feel as sparkly as they can, whoever they are."