How to Protect Your COVID-19 Vaccine Card
Instead of Laminating Your COVID Vaccine Card, Buy These $7 Protectors on Amazon
As POPSUGAR editors, we independently select and write about stuff we love and think you'll like too. If you buy a product we have recommended, we may receive affiliate commission, which in turn supports our work.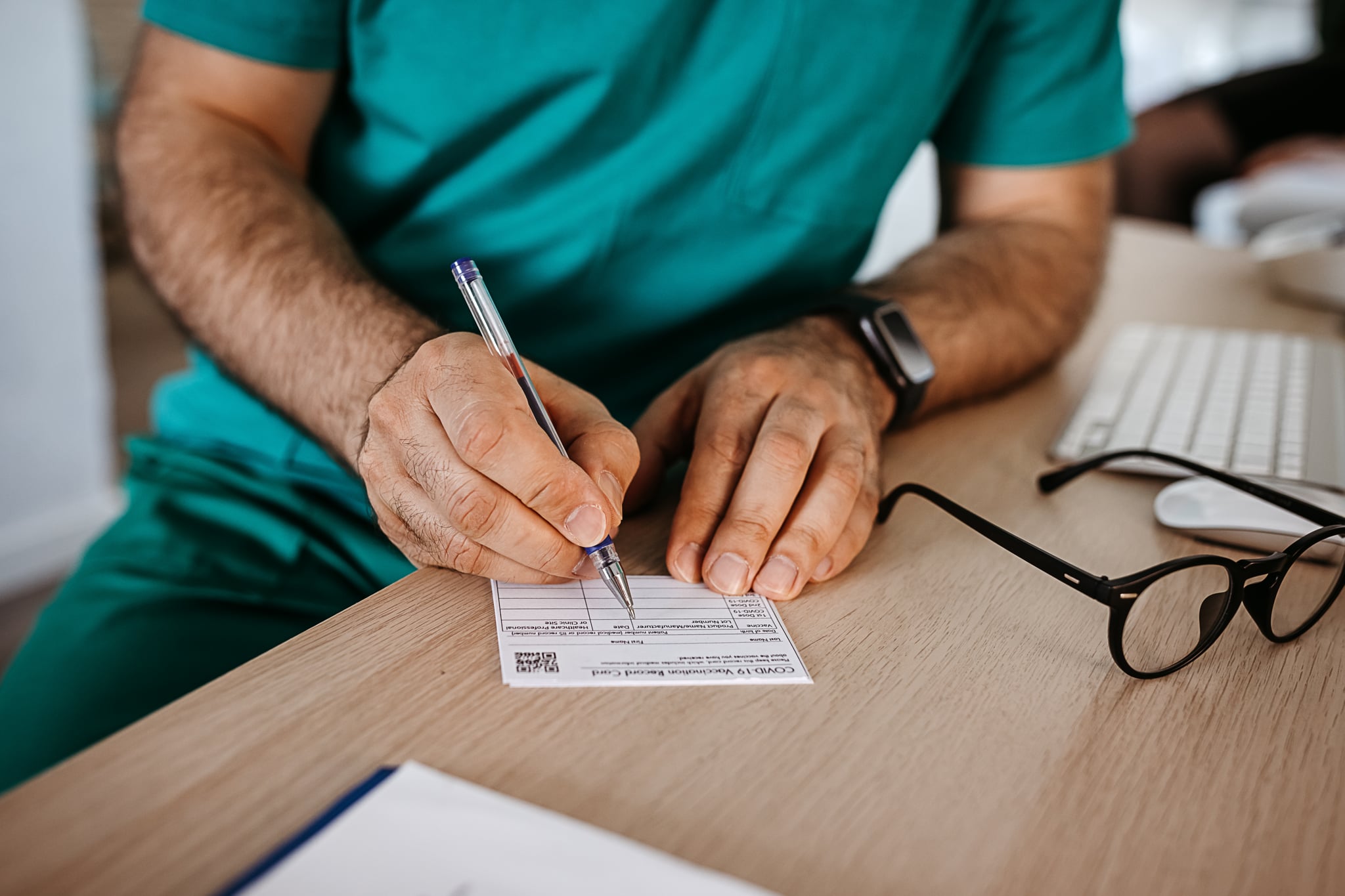 I felt such a sense of relief when I got my second dose of the COVID-19 vaccine. I got vaccinated at the Javits Center in New York City, a mass vaccination site, and the process was pretty easy and relatively painless. Before I left the facility, I scribbled out a heartfelt message to the healthcare workers, the National Guard members, and other essential staff at Javits who kept the process smooth and safe, as well as all the front-line workers during the last year of the pandemic. New York was nearly ravaged by COVID last spring, so seeing hundreds of people get vaccinated in the city was emotional. It finally feels like there's a light at the end of the tunnel. To make things better, the only side effects I had in the hours and days after the second shot was a sore arm!
Of course, as soon as I got my vaccination card, I wanted to show it off. But the Federal Trade Commission recommends not sharing your vaccine card on social media, because it puts you at risk for identity theft and cybersecurity issues (if your site gives you a sticker, share that instead). My next thought was that I wanted to laminate it to keep it protected, but I had heard that might not be the best idea in case you need your card to track COVID vaccine booster shots down the road. Plus, some vaccination sites use stickers instead of writing the vaccine information out in pen, and the heat from the laminator could damage the stickers. So what's the best way to protect your vax card?
Vaccine Card Protector on Amazon
On Twitter, I saw someone mention the idea of getting a plastic pouch protector to keep their card safe. I found this two-pack of four-by-three-inch vaccination card protectors ($7) on Amazon so I could have one for my husband and one for myself. Although the package doesn't come with a lanyard, there are holes in the top to attach to lanyard if you'd like. You can also buy them in packs of five ($9) and 10 ($10). It looks like some four-by-three card protectors on Amazon aren't in stock for a couple weeks, but there are plenty of options at different prices.
This way, if I need to take my card out for any reason, such as getting a booster shot down the road, I can. The plastic keeps it safe from liquids, stains, and other general wear and tear.
How to Protect Your COVID-19 Vaccine Card
Although The New York Times said laminating your card is fine since we may receive additional vaccine cards with booster shots in the future should we need them, I would rather play it safe with my card protector. The Times outlined some other ways to protect your vaccine card and your identity:
As soon as you get your vaccine card, take a photo of it on your phone. Take a photo of the front and the back, and email these photos to yourself. This isn't to share on social media or with your friends, but to have as backup in case you lose your physical card.
Keep your card in a safe place. Think of how you care for your passport and social security card, and keep your vaccine card in a similar safe location instead of carrying it around.
Keep in mind that you may need your vaccine card to travel. If you are planning on traveling or going on a cruise, make sure you do your research to see if you need proof of your vaccination.
What to do if you lose your vaccine card. Oftentimes, there will be a digital record of your vaccination in a database. Walgreens, for example, keeps digital records of vaccinations, according to The New York Times, and recommends people return to the pharmacy where they got vaccinated to get a new card printed out. State health departments also keep track of vaccinations, so you can reach out to your state's health department to get a replacement card, according to the CDC. Find the contact information for your state's vaccination records on the CDC website.