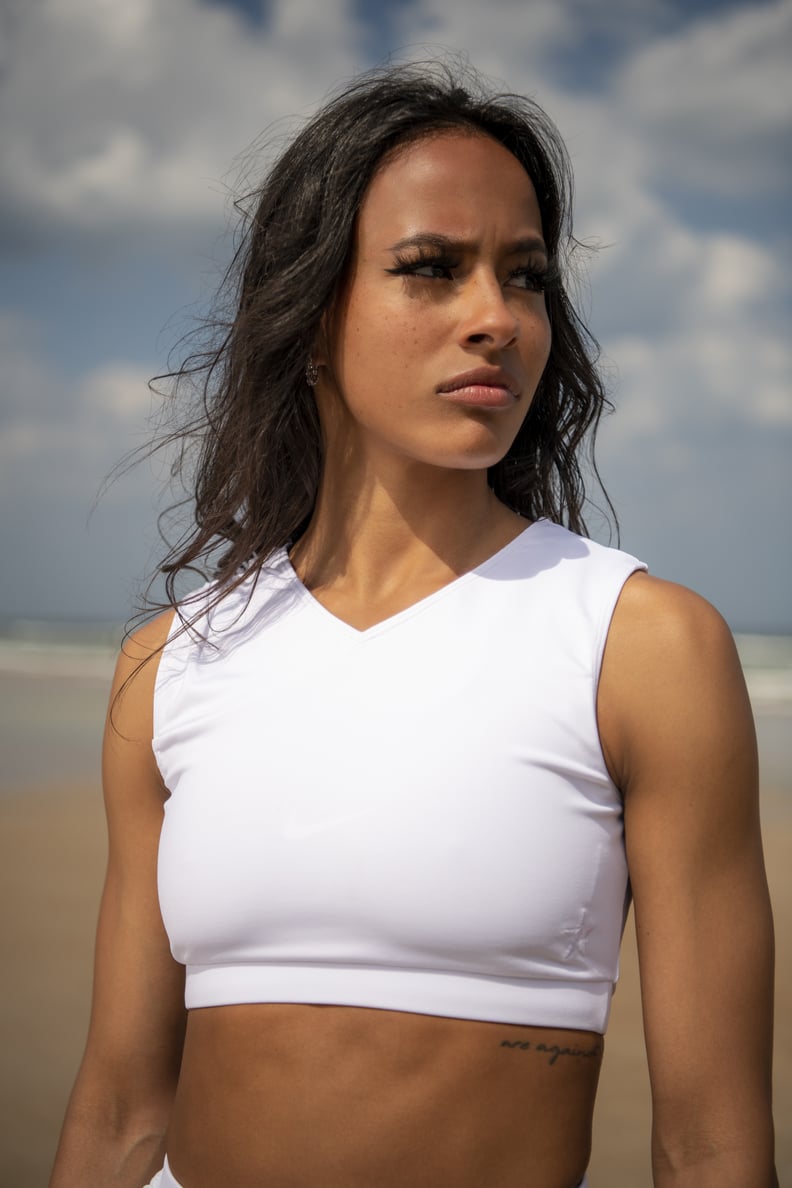 Courtesy of Netflix
Courtesy of Netflix
Jada Wooten is one of "Cheer" season two's breakout stars as a tumbler and flyer on the Trinity Valley Community College (TVCC) cheer team. We quickly learn that she's a leader — her past experience with mental blocks and her dedication to the sport elevated her role on the squad to supporter and motivator, especially when the COVID-19 pandemic impacted their shot at the 2020 national title. Jada, 20, is now with Sam Houston State University Cheer, but she says via Instagram on Jan. 31 that she was excluded from recent "Cheer" cast appearances due to language used on the show.
Wooten shares that she'd signed with cheer- and dance-wear brand Rebel Athletic prior to the show's release and did three photo shoots with them. She was given a list of appearances as well. However, she writes, "Rebel called me this past Tuesday to tell me not to come to the scheduled meet and greet at Stone Briar Mall this past weekend and that I also was not invited to come to the scheduled appearances at NCA or Cheersport. Their reason for this was my language in the show was bad and I don't fit their brand. She told me 'moms won't want their daughters taking pictures with you'."
Gabrielle Union, star of "Bring It On," shared her support for Wooten via social media. Though she doesn't call out Wooten's exclusion from casting appearances specifically, she does allude to it on Instagram: "What I saw was a woman unafraid to say the hard thing, to be real and authentic and never asking her teammates to do anything she wasn't willing to do herself. I see a young woman who seems to be suffering consequences for being a passionate athlete in a way the other girls who expressed themselves, similarly, have not."
Union adds, "I see a woman that understands her worth and refuses the constant shape shifting to appease folks who find unapologetic Black women to be inappropriate. I see a woman who inspires, uplifts, teaches, and WINS!!" She says that Wooten's talent and "no BS attitude" are reminiscent of "Bring It On," noting that while some might "misconstrue" Wooten's passion for "attitude," it will take her far. "And if you've seen Cheer this season, you know it is that exact passion that helped her lead her team to victory. Let us lift her up in the light of goodness and hold her there."
Rebel Athletic said in a statement to POPSUGAR, "Rebel was happy to partner with Jada Wooten. Due to her choice of words in Cheer Season 2, and our median audience being 8 to 10 years old, we asked her to sit out three meet-and-greet events that would attract a younger audience. We offered other opportunities and asked Jada to appear in our lookbooks. Jada choose [sic] to decline those offers, and instead she asked to terminate her relationship with Rebel in its entirety." The brand sent a similar statement to "Vulture," confirming to the outlet, too, that Wooten ended her relationship with Rebel Athletic.
You'll see "Cheer" star Gabi Butler when you click into the Rebel Athletic website, and the brand has worked with other familiar faces from the show such as Maddy Brum and Morgan Simianer. Wooten writes in her Instagram post that she wasn't invited to the "Cheer" tour either; "Cheer" Live 2022 is sponsored by Rebel Athletic and cocreated by Navarro head coach Monica Aldama and assistant coach Andy Cosferent. Athletes going on tour include Navarro alums and current members Brum, Butler, Simianer, Gillian Rupert, James Thomas, and Cassadee Dunlap, as well as TVCC's Angel Rice, Devonte "Dee" Joseph, and Jeron Hazelwood. POPSUGAR reached back out to Rebel Athletic to clarify if Wooten was excluded from the tour due to language specifically.
"Truth is I don't fit the Rebel or the tour brand. I'm too much and there's no room for all of me there. I won't 'clean up my language' to appease them in order to fit in. Because you know what? It never stops there. There will always be one more 'too much'," Wooten writes on Instagram. "More chipping away at who I am when trying to belong where I'm not meant to be."
Wooten said in a statement to "Vulture," "While my feelings were hurt, I really want the bigger focus to be on athletes who experience similar challenges to know they are not alone and that myself and others are fighting for every single one of them. I spoke about this today to be able to show everyone that even athletes who were given the opportunity to be on a Netflix series still go through the same battles that they do." POPSUGAR has reached out to Wooten for further comment.
She prefaces her Instagram post by writing, "This is to the real ones. The ones who are too much or never enough. Too big, too loud, too black, not black enough, too small, too poor, not smart enough. This is to all of you who are any of these things and still live your authentic life in spite of it! What I'm sharing with you today is one more ex. of the consequences I've experienced my whole life for being me. I'm not sharing this for you to feel bad for me. At ALL. Only to inspire any of you to be brave. To know that you're not alone."