Kaillie Humphries Won Gold in Debut of Monobob 2022 Olympics
Kaillie Humphries Takes Home First-Ever Olympic Gold Medal in Women's Monobob
A GOLDEN MOMENT for @BobsledKaillie! 🥇

A 1-2 finish for @TeamUSA in the Olympic debut of monobob!#WinterOlympics | #WatchWithUs
📺 : @nbc and @peacockTV
💻 : https://t.co/GUhjr8H1nu pic.twitter.com/XIdTcHwgCU

— NBC Olympics (@NBCOlympics) February 14, 2022
Kaillie Humphries won the first-ever gold medal in the debut of the monobob event at the 2022 Winter Olympics. In monobob, just one person rides in the bobsled, so that person needs to do all the pushing, driving, and breaking on their own. Fellow Team USA Olympian Elana Meyers Taylor snagged the silver medal. This event was first introduced to the 2022 Olympics because of these women's fight for gender balance and equality, so this historic gold-silver win is huge.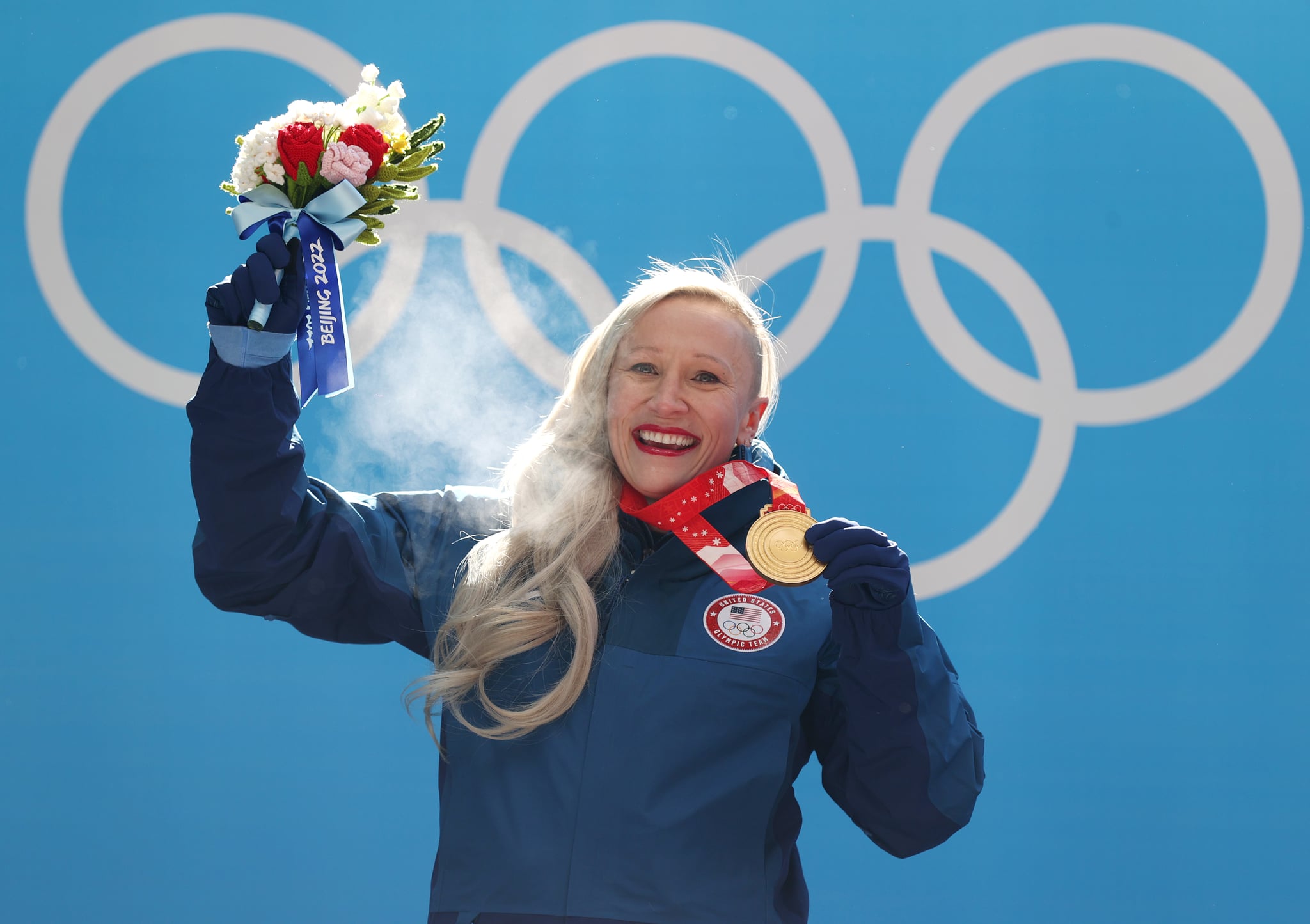 Image Source: Getty / Julian Finney
Humphries's gold medal in monobob was the third of her Olympic career. She had previously won two gold medals as a driver in the two-woman bobsled events in Sochi 2014 and Vancouver 2010, where she was competing for Canada. Three months ago, Humphries didn't know if she'd become a US citizen in time to compete in Beijing for Team USA. Watch the video below of Humphries sharing what it meant to represent the US:
.@BobsledKaillie talks about how much it means to her to represent @TeamUSA. #WinterOlympics \\ #WatchWithUS pic.twitter.com/wp0gf9qMyJ

— NBC Olympics (@NBCOlympics) February 13, 2022
Women's bobsled became an Olympic sport in 2002, 78 years after men were competing. And both Humphries and Meyers Taylor wanted more opportunities for women to compete in bobsled, since men had two events (two- and four-man), and women only had one (two-woman). They pushed international bobsled officials to let women race the four-woman event, just like the men, but it was a no-go. They were relentless, and finally, the IOC was looking for ways to improve gender equality, so in 2018, they agreed to add monobob, starting with the Beijing Olympics. Now women have two bobsledding events, just like men, but only women compete in monobob.
Humphries talked about Meyers Taylor in an interview with USA Today, saying, "We've had very different journeys over the last four years, her and I, but we will continue to fight for more equality for women within our sport for ourselves individually and for our nation."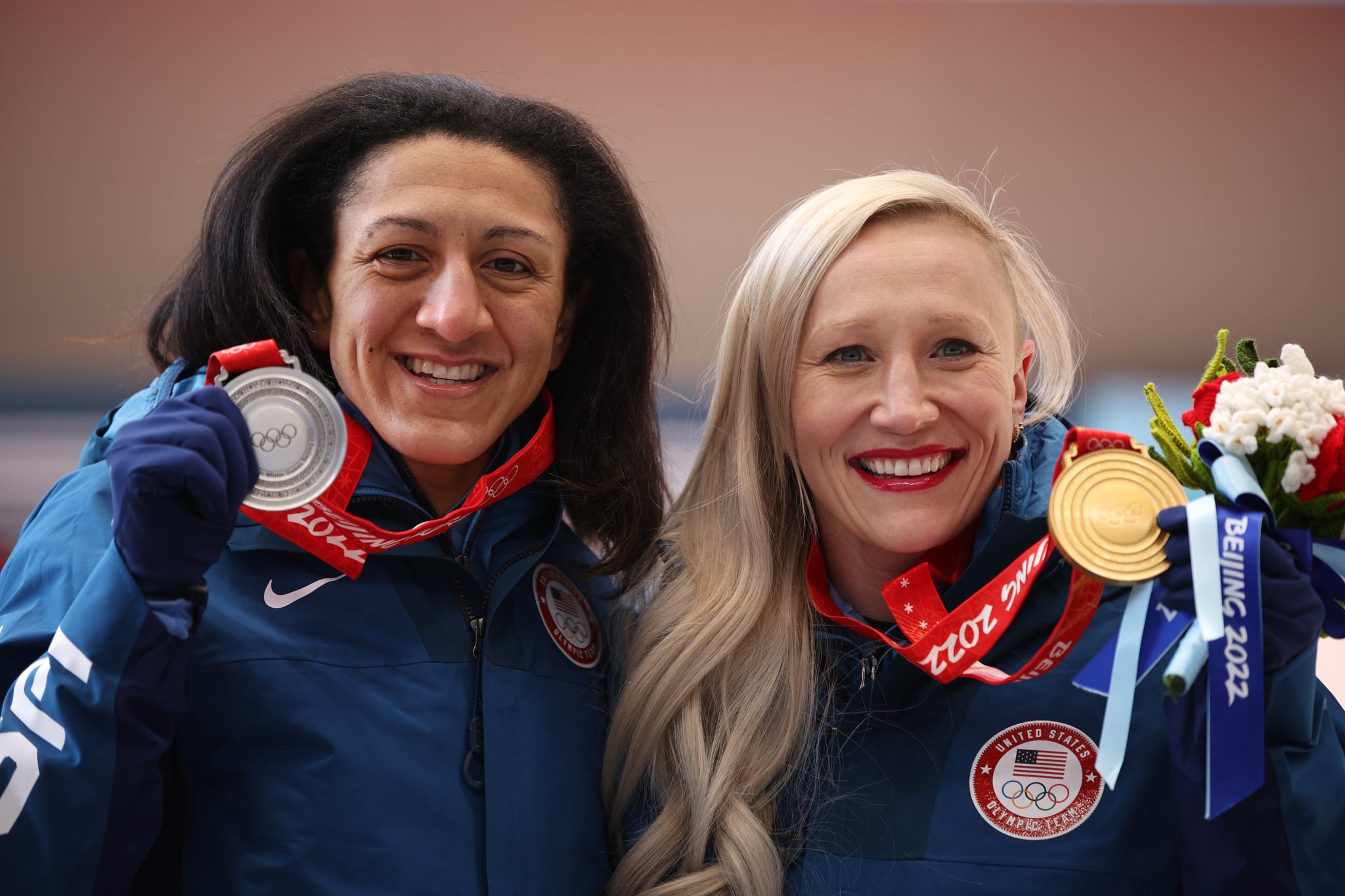 Image Source: Getty / Adam Pretty
Meyers Taylor said, "To know how much we fought for it, to know what we went through . . . all the stuff, and to keep at it and race when everybody told us we should quit. To do it anyway, that's pretty incredible we had another event added." She added, "To have this opportunity now, to have the event, to be next to her on the podium, it's like a storybook ending kind of."
Humphries is the first woman to win three golds medals in Olympic bobsledding. Later this week, she has the opportunity to go for a fourth in the two-person bobsledding event.