On Nov. 26, Kamila Valieva began the 2021 Rostelecom Cup, the last 2021–22 ISU Grand Prix event ahead of next month's finals, with the highest-scoring short program (87.42) in women's figure skating history — according to NBC Sports, this technically means since 2018 due to scoring changes. Then, the next day, she tallied the highest free skate (185.29), resulting in the highest total score (272.71). The 15-year-old subsequently won gold. What's even more impressive is that she had already set the latter two records earlier in the season, and this was simply her beating her own marks on the ice.
Valieva set the world records for the women's free program (174.31) and total score (249.24) at October's CS Finlandia Trophy 2021, where she also won gold in her international senior debut, The Skating Times reported. Then, at Skate Canada a few weeks later, she bested those scores in her first Grand Prix as a senior and claimed the title — she received marks of 180.89 for her free skate and a combined total of 265.08, becoming the first woman skater to earn over 250 points total. It was only fitting that she continued to raise the bar for those records at the Rostelecom Cup this past weekend, in addition to solidifying a new short program record.
Ahead, check out Valieva's history-making short program and free skate from the 2021 Rostelecom Cup. They feature graceful lines and arms-over-head jumps full of amplitude. You'll find some photos, too, from the competition. Valieva is a true front runner for the Beijing Olympics this winter, so keep your eyes peeled.
Kamila Valieva Sets Women's Short Program Record at the 2021 Rostelecom Cup
Kamila Valieva Beats Her Own Free Skate Record at the 2021 Rostelecom Cup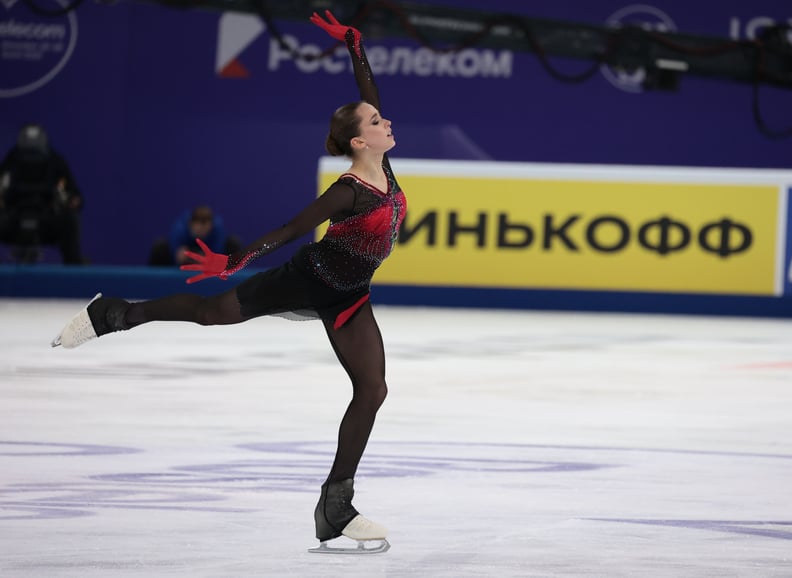 Kamila Valieva During the 2021 Rostelecom Cup Women's Free Skate