Keto and CBD Helped This Disabled Vet Lose Over 150 Pounds
Two of the biggest trends on the rise: the ketogenic diet and CBD. What happens when you add both to your lifestyle at once? According to Jason Genet, life-changing magic.
Jason: Before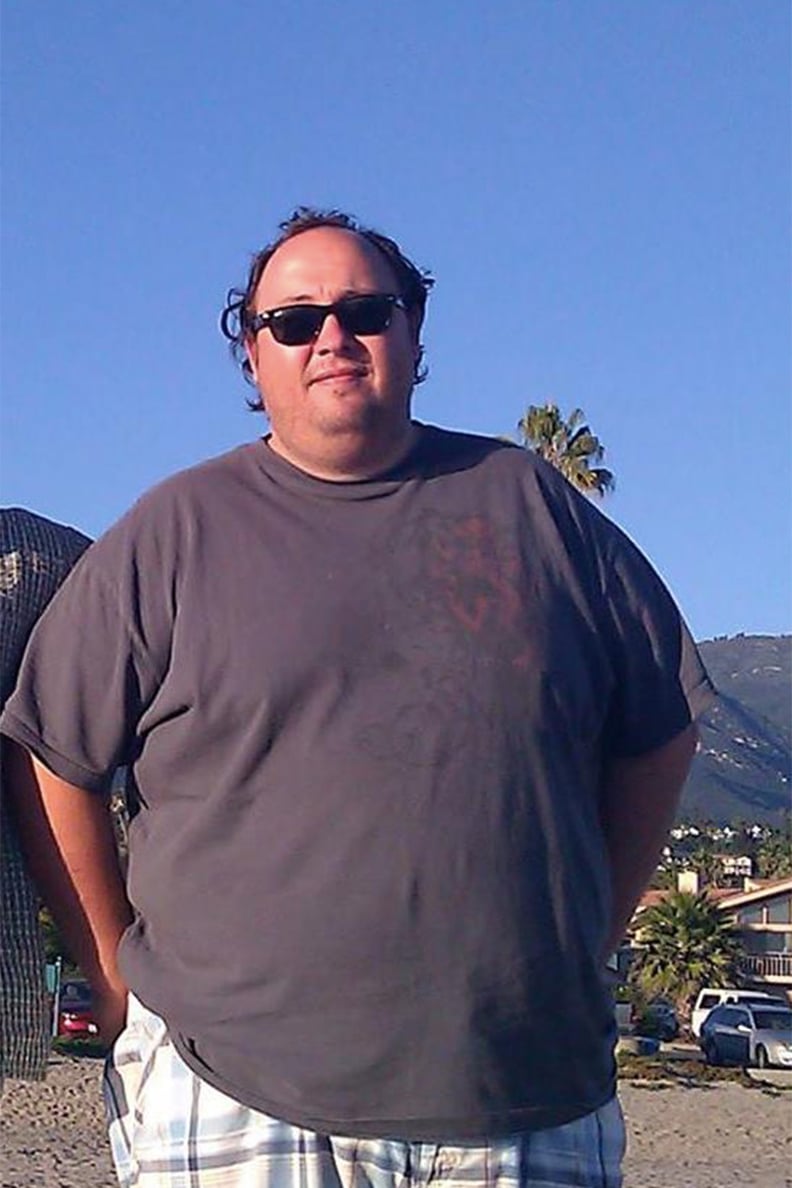 As a disabled vet with liver disease, Jason has suffered from a lot of pain, and as he told POPSUGAR, "CBD is the only thing I can take." Adding the all-natural, exceptionally powerful herbal supplement has "allowed [him] to get moving." The combination of diet and natural pain relief has been transformative. "The keto diet and CBD are giving me a new lease on life and more time with my kids and wife." It's been a miracle for Jason's pain levels; he can walk for miles and bike for even more miles, and he's joined a gym to help him stay active on this journey.
"The keto diet and CBD are giving me a new lease on life and more time with my kids and wife."
Just 50 pounds shy of his goal weight, Jason is loving the new turn his life has taken. "I eat amazing, too," he said. "That is probably the best part of the new me — I am not eating foods I don't like or don't want." Here's more on how this incredible man has taken control of his health and his life — not just for himself, but for his family.
POPSUGAR: What made you decide to start your weight-loss journey?
Jason Genet: When the doctor said I had a diseased liver from being overweight, it was a culmination of what I knew — you know you are fat. You know it because they do not give you a booth at your favorite restaurant even if you ask for privacy. You get glares and prayers from people hoping that you are not sitting next to them on a plane.
The oncologist was blunt: "Jason, you are dying; you are on the verge of damaging your liver to the point of no return. You won't qualify for a liver transplant. You will need to make changes or make plans for the end." What came up were these three things: keto, no drinking, and stay away from pain pills — even aspirin. Sure enough, pretty much everything I was taking to help with pain was actually hurting my liver — probably killing me. Even now it is hard to say, 100 percent, being fat was killing me.
I am a dad — I have two amazing girls. I am a husband and I have been married for 21 years, and if life could be extended by dealing with pain and changing my diet I was willing to try.
Jason: Today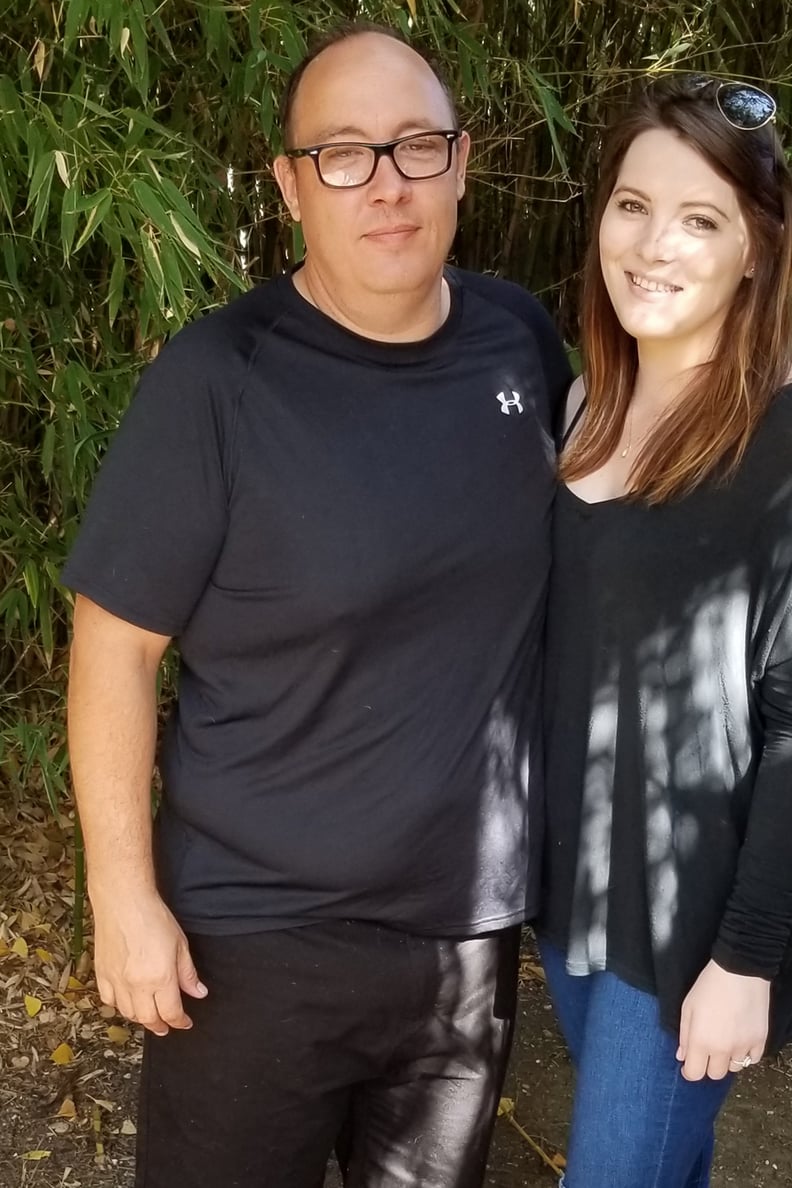 Pictured with his daughter Savannah.
"Even now it is hard to say . . . being fat was killing me."
PS: Can you tell us about all the obstacles that were standing in your way to lose weight and get healthy?
JG: I have a liver disease and some issues from my time in the service that really cause a lot of pain. Some injuries that have sidelined me:
NAFLD: While this is what they call asymptomatic and it supposedly does not cause pain, I almost cried putting on my cycling shoes. The fat on my liver makes doing easy tasks painful.
Umbilical Hernia: Being fat, your stomach weakens. It is pretty big, and now that I have a lot less of a belly, you can really see it. I could be Alien for Halloween. It is pretty painful. Can't do much about it until the liver is fully healed.
Left shoulder: Crushed in an accident in the army. This is the injury that started the obese journey excuse train; the steroids they gave me to treat the pain did not help. It is painful pretty constantly.
Right shoulder: Now in severe pain from overusing it due to the injury on the other side.
Ulnar nerve damage in the right hand
Body aches: My body aches from immune issues that present like lupus but are not lupus.
Sleep apnea: Super severe and likely from the weight.
PS: So your first step was the keto diet — what was the transition like?
JG: The ketogenic diet was really not too far off from what I liked food-wise; it was just changing how I looked at food, dropping my sugar habit, and picking better fats while watching my calories. I would likely miss bread the most! My shape started to change. Ninety days in, I was starting to feel better and could see it working.
Jason: Before and After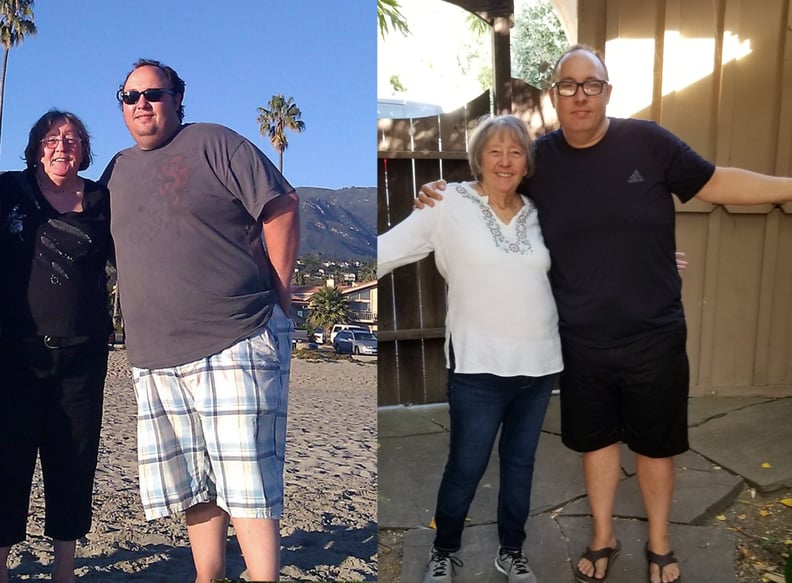 Pictured with his mother, who also lost 70 pounds thanks to Jason's positive influence.
PS: How did you find this diet?
JG: Like everyone else: Google. I searched diets for fatty liver disease. It sounded insane to me that I could battle a fat liver by increasing my fats. I stopped drinking immediately. I started to follow blogs about low-carb or keto, and I started trying the things I found on POPSUGAR. I tried tweaking things to my taste, and, of course, trying to keep my wife happy with the sudden shift in food.
Keto alone helped the weight to start to fall off. Like never before. My shape also started to change; 90 days, in I was starting to feel better and could see it working.
PS: What's a typical day of meals and snacks?
JG: Yesterday I had a sausage and egg breakfast burrito with a little salsa and cheese for breakfast. I had a simple salad for lunch, and dinner was rib eye with asparagus.
The other day for breakfast, I shared an omelet with my wife. It had cheese, ham, bell peppers, cilantro, jalapenos, and avocado. Since we were skipping lunch, we split a side of bacon. To drink, we had iced tea. I grabbed some raspberries and cream cheese to make a cream cheese cake with raspberry topping. For dinner, we took advantage of a local restaurant's happy hour and had lettuce-wrapped beef sliders for dinner.
The snacks were filled with a 1/4 cup of walnuts, two slices of cheddar cheese, and some coffee — no cream. I tend to use deli meats, cheese, and nuts as snacks. It really comes down to how many calories I might have used exercising. After losing over 150 pounds, I have stopped tracking the calories, as I know I am eating good and I focus on trying to burn calories. I do miss candy, but I solve that with some dark chocolates, like [the Not Pot] CBD Chocolate.
Jason: Before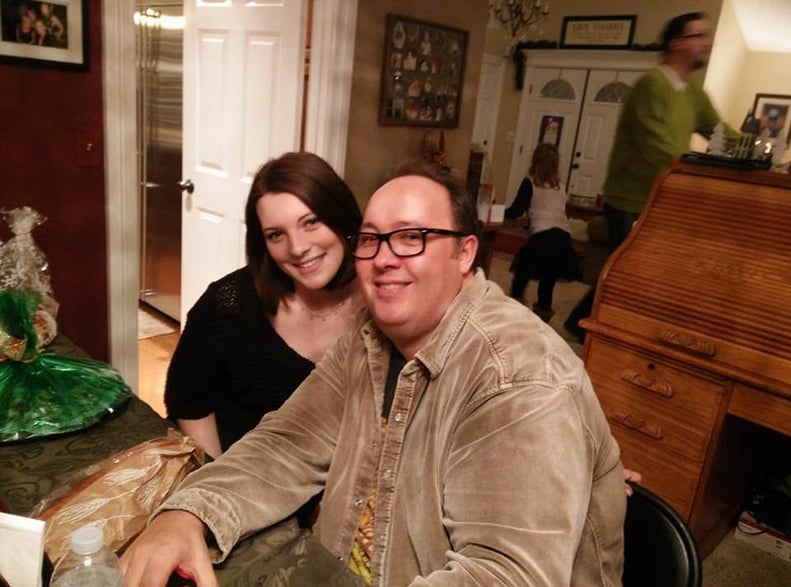 PS: What are the healthy staples that are always in your fridge?
JG: I think my healthy might shock people. Pickles, heavy cream, cream cheese, deli meats, and cheese. I really had never heard of heavy cream before keto. Now I use it in coffee, desserts, and all kinds of meals. I used to view cream cheese as a bagel topping. Now it helps me make cheese sauce for broccoli, pizza dough, or a nice dessert. I like to fluff my veggies up, making goulash with cauliflower instead of potatoes, or mashed cauliflower for Thanksgiving. It is all about being innovative and finding good-tasting food that is good for you.
PS: What were the big differences, other than the number on the scale, that really made you feel proud and excited?
JG: I just donated my first set of regular clothes to Goodwill because they were too big. This is a glorious feeling. I remember going shopping after our wedding and realizing I was at the last rung on the men's size. Along came the baby, and I wanted my wife to feel I was with her, so I bulked up too and I never looked back.
My most recent blood work showed normal liver enzymes, the fat deposits on the liver are reducing, and I went from blood work that showed a person in prediabetic state to no signs of diabetes. I have completed a metric century recently (100km bike ride), and overall, my shape and face have changed. I see my friends adjusting the way they eat. I just took my 21-year-old daughter to Disneyland and rode every ride for the first time since I was a kid.
Yet the most important change is those around me. I see my friends adjusting the way they eat. My mom has gone from needing full time oxygen tanks and COPD issues to buying skinny jeans — and she just turned in her oxygen tanks! She certainly has more years because of the diet and my changes. I would estimate she has lost well over 70 pounds. My wife is down over 50 pounds.
Jason: After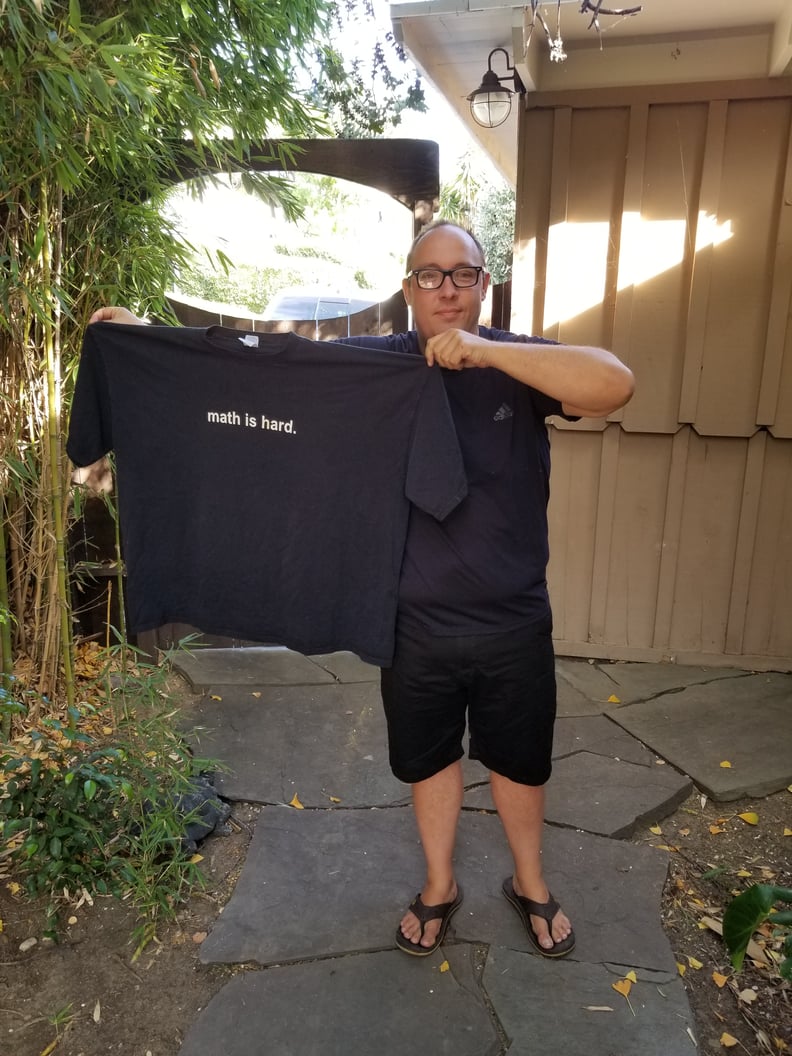 "I just took my daughter to Disneyland and rode every ride for the first time since I was a kid."
PS: How much weight have you lost?
JG: About 150 pounds. I started keto at 396. Now I weigh 249. I buy my t-shirts and pants at the regular stores now. My shoes are size 10 again! Yes, your feet get smaller too.
Jason: Before and After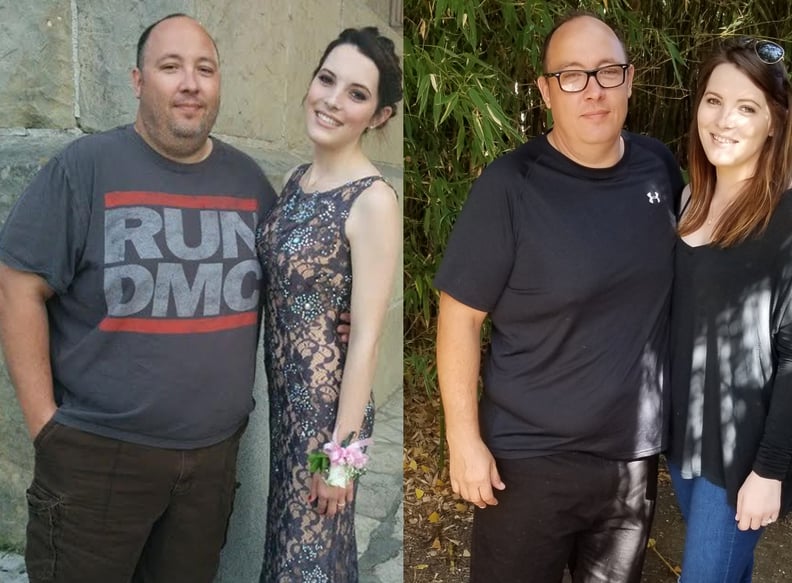 PS: How do you work out?
JG: I ride my bike about 20 miles a day.
PS: How are you feeling now? Can you tell us more about CBD's role in your journey?
JG: I still have pains to deal with; my shoulders and stomach pains are a lot to contend with. I have days where putting on my shoes brings on pain that makes me cry. I ache at night; I have a hard time sleeping between the autoimmune issues and sleep apnea. Both shoulders are now aching constantly, one from my service-related accident and the other from overuse.
A couple years ago, I discovered CBD. My oncologist said he can't prescribe it, but he felt, considering where I was health-wise, I should try it. So I began this journey; at first I figured I would get Charlotte's Web, as that is what I had heard about. That research lead me to hemp laws, and, as they, say I went down the rabbit hole.
CBD products are really allowing me to push forward. As I mentioned, I was at Disney and we walked eight miles that day. I was fine — I had my CBD with me.
"We walked eight miles; I was fine — I had my CBD with me."
PS: What CBD products have you been using?
JG: My CBD top picks are: Myaderm, Blue Moon E-Liquid, and CBDistillery.
I am a big fan of the isolated CBD, and now they are doing those with terpenes and that is my new favorite. What I like most about isolates is that I can use your recipes and make them at the strength I want. I like using isolate in my CBD cream cheese. With that I can make pizza dough, cheesecake, and even cinnamon rolls — all low-carb and sugar-free, of course.
Prestige is another great brand. My athletes [clients] like Revivid Sport; they are also super conscious about THC levels. My youngest has what may be rheumatoid arthritis at 21, so we are trying Revivid for her as well. There is a lot of wrong information about CBD, so I tune into sites like POPSUGAR for the good!
PS: Now that you have these amazing tools and have seen such incredible progress, what's next for you? What are your goals?
JG: I want to get down to 200 pounds! I am excited about an upcoming plane flight where I will fit in the seat and not need an extender or extra seat.
"My bloodwork, my weight, my shape, and my life are all improving every day thanks to keto, CBD, and loving, supporting family."
PS: What advice would you give to someone who was in your shoes a few years ago?
JG: When I see overweight people, I want to tell them what my oncologist told me, followed with, "I know the way out of it." I feel like I need to give back to people who feel like they can't [lose weight] or don't know how.
The simplicity of keto and the results of keto are really lifesaving techniques. I call it the keto lifestyle vs. the keto diet. I have done plenty of diets, but this is a life change. My bloodwork, my weight, my shape, and my life are all improving every day thanks to keto, CBD, and loving, supporting family.
Any cannabis products referenced above are not intended to diagnose, treat, cure, or prevent any disease. The writer is not a medical doctor, and their experience is based on personal use, the results of which may not be typical or intended. The legality of cannabis products varies by state, and readers are encouraged to check their local laws before purchasing and using cannabis products. Nothing in this article should be construed as advice regarding the legal status of cannabis products. Any views expressed in this article by a third-party sponsor are those of such sponsor, and do not necessarily represent the views of POPSUGAR.