Kin Euphorics Lightwave Review
An Editor's Review of Bella Hadid's Calm-Inducing Drink
As POPSUGAR editors, we independently select and write about stuff we love and think you'll like too. If you buy a product we have recommended, we may receive affiliate commission, which in turn supports our work.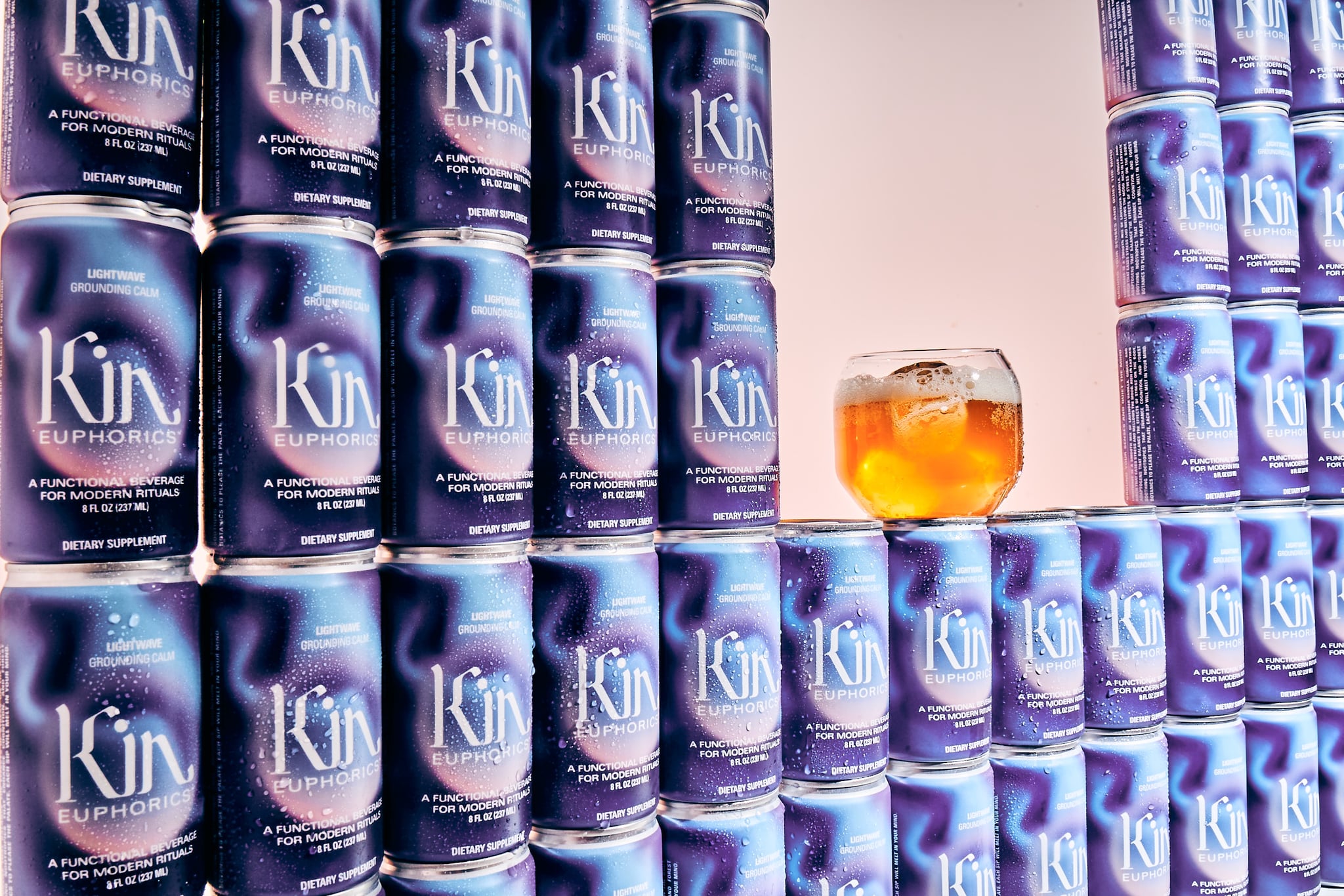 The calming companion to the viral cocktail alternative, Kin Spritz, is here. Lightwave ($30 for eight), the latest from Kin Euphorics, is a canned drink that uses three main ingredients to help users unwind — reishi mushroom, L-theanine, and L-tryptophan. To learn more about this calm-inducing beverage, I attended a virtual press event where cofounder Bella Hadid shared her experience drinking Lightwave.
Hadid says, "For me, [Lightwave] really just calmed my nervous system . . . what I love so much about it is that it doesn't put you slap-on-your-butt, you're asleep for 15 hours, but it does really calm your brain . . . I know people that start drinking it at seven in the morning and can go through the whole day, just drinking Lightwave." After hearing Hadid's rave review and being offered to try a case, I was excited to drink Kin Euphorics's Lightwave myself.
Note: Before you try Kin Euphorics, heed the advice on its website:
Don't drink more than four cans in 24 hours, since everyone reacts to its main ingredients differently.
Don't drink it if you're under 18, breastfeeding, pregnant or may become pregnant, or taking SSRIs.
Talk to your doctor if you're not sure if you should consume Kin Euphorics beverages, including Lightwave.
What Is in Kin Euphorics Lightwave?
A blend of herbs, spices, and juices — including apple juice, organic bourbon vanilla extract, chili pepper extract, rosemary extract, clove extract, and saffron extract — make up Lightwave's ingredient list. The magic behind its most soothing effects, according to Kin Euphorics, lie within the following three main ingredients:
Kin Euphorics Lightwave Review
On day one, the box of Kin Euphorics's Lightwave landed at my doorstep, and I couldn't wait to crack open a can. After chilling a few cans in the fridge, I took a sip and could immediately taste notes of lavender, vanilla, and smoked sea salts.
The next day, I woke up to the sound of my alarm, which I calmly turned off — instead of my usual angry glare followed by hitting the snooze button. I woke up feeling like I could just glide into my day, which doesn't happen often. To continue my peaceful aura, I decided to start my day with a can of Lightwave. I noticed that I didn't crave my regular two-plus cups of coffee, and I felt more more focused for the rest of the day, too.
Now, I make sure to start my day with a can. While it's intended to be a wind-down-from-the-day type of beverage, I find it more effective for me to drink it in the morning so that I remain focused and centered all day long — and feel like a supermodel, of course.
Image Source: Courtesy of Kin Euphorics