These CBD Balms Are My Favorite Sore Muscle Soothers, and I'm Ready to Order More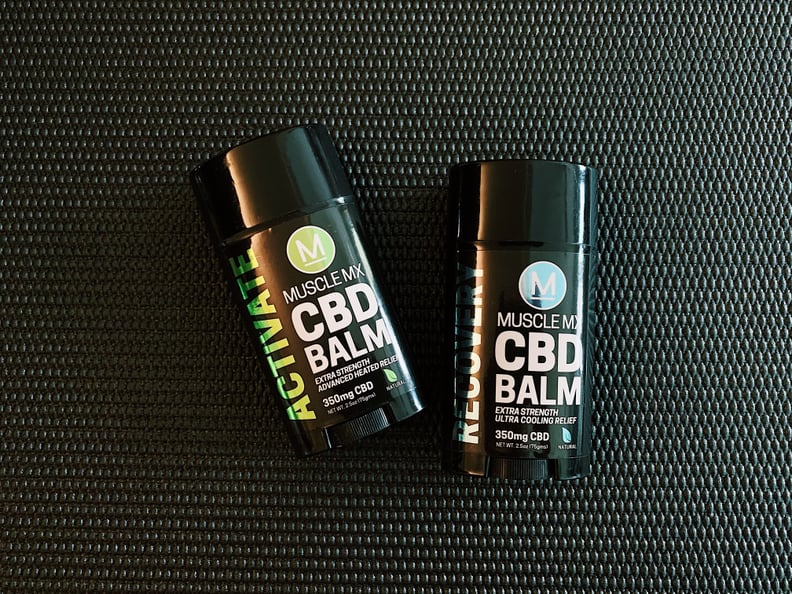 POPSUGAR Photography | Sam Brodsky
POPSUGAR Photography | Sam Brodsky
Every editorial product is independently selected by our editors. If you buy something through our links, we may earn commission.
My post-workout routine usually consists of quick stretching, lots of water, and some cuddles with my cat (full disclosure: he likes to lick the salt off my face!). A few months ago I started using CBD balm to recover after and in between sweat sessions, and I love the way it eases muscle pain.
Muscle MX makes the two CBD balms that I currently use: a heating one, Muscle MX Activate CBD Heating Balm ($40), and a cooling one, Muscle MX Recovery CBD Cooling Balm ($40). Both have a minty smell and feature ingredients like cannabidiol, menthol, as well as coconut, olive, and peppermint oils. Note: there's caffeine in the active balm, and though Muscle MX says you can use that prior to or during workouts and use the cooling one afterward, I alternate between them both for recovery. Ice and heat can help temporarily relieve the discomfort of sore muscles, and it certainly seems to help me!
Recently, I've relied on these balms more than usual for a strained muscle in my hip. Strains can take several weeks or months to heal depending on the severity, and I use the balms to help alleviate symptoms as needed. It's not the only way I'm easing that pain — rest is essential — but, especially as I add more resistance back into my workouts, it feels good when applied. Of course, if you're going through something similar and have pain that worsens, you should consider consulting your doctor.
Claudia William, MD, a board-certified family medicine physician specializing in cannabis, told POPSUGAR in a previous interview that she's heard anecdotal evidence from patients that CBD creams "help for musculoskeletal pain, such as muscle strains, muscle tightness, or soreness. In some instances where it doesn't completely relieve pain, it has helped decrease the amount of NSAIDs or oral pills people have had to take."
To me, these are simply a means to soothe soreness and pain, and I recommend giving them a try. Interested in more CBD products? Check out these trainer-approved picks. You'll find balms, creams, oils, sprays, and even bath salts.
Any cannabis products referenced above are not intended to diagnose, treat, cure, or prevent any disease. The writer is not a medical doctor, and their experience is based on personal use, the results of which may not be typical or intended. The legality of cannabis products varies by state, and readers are encouraged to check their local laws before purchasing and using cannabis products. Nothing in this article should be construed as advice regarding the legal status of cannabis products. Any views expressed in this article by a third-party sponsor are those of such sponsor, and do not necessarily represent the views of POPSUGAR.