The Only Thing Burning More Than My Thighs Etsy Candle
This "The Only Thing Burning More Than My Thighs" Candle Is Our New Favorite Holiday Fitness Gift
As POPSUGAR editors, we independently select and write about stuff we love and think you'll like too. If you buy a product we have recommended, we may receive affiliate commission, which in turn supports our work.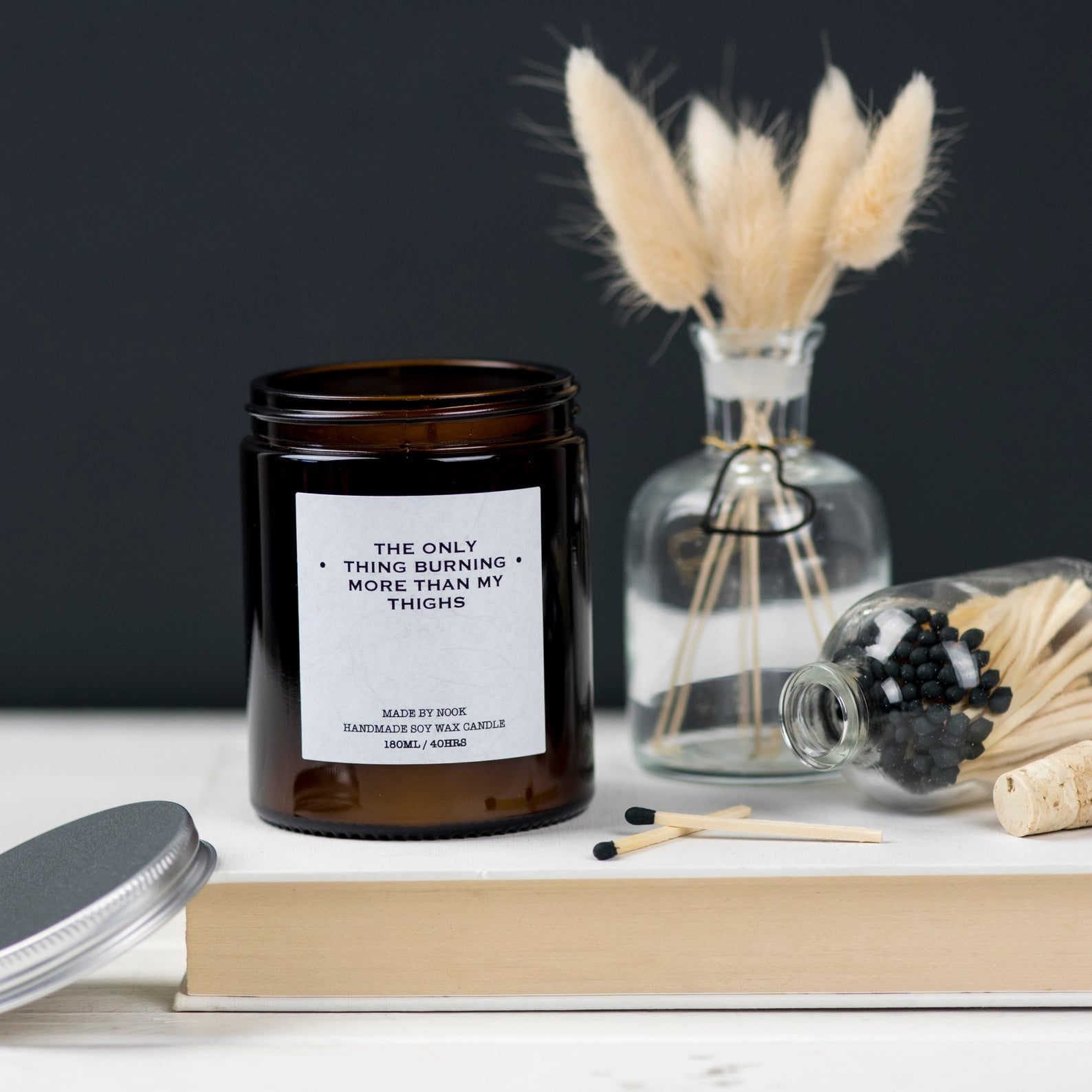 If you're wondering what to get that fitness-lover in your life, you could go with necessity, or you could go with humor. This "The Only Thing Burning More Than My Thighs" candle checks off both boxes — it's clever but also chic, and can add a lovely scent to your space. It's from the UK Etsy shop UnchainedBride, and owner Sadie Baldwin, who has sold candles since 2018, told POPSUGAR that she came up with that specific label when a friend wanted her to think of one suited for a personal trainer. It's been offered in Sadie's online shop for about a year now.
Her candles are all handmade using soy wax and a mixture of fragrance oils and can be personalized for you or whomever you're giving them to. "I think of all my labels," Sadie said. "You can ask me directly or on social media to think of a label for you and I will! So if you need some help to come up with a truly original one, just reach out to me. The brainstorming is quite hilarious." We can only imagine! Her most popular candle, she said, is the "Mortgage Wanker" one that's meant for a housewarming party.
Know someone who celebrates leg day holiday-style? Or, do you, like Sadie's friend, have a personal trainer you want to show some love, but also tell how much their workout regimen can truly . . . suck? Is your roommate, significant other, or friend always dreading squats? Buying this "The Only Thing Burning More Than My Thighs" Candle ($16 for 180mL) is a relevant, funny, and unique gift idea.
Sadie said you have to order soon to receive the candle by the holidays since she's shipping from the UK — her Etsy page says the last order date is Dec. 12, and she told POPSUGAR that the last postal date should be Dec. 14, so it's recommended that people definitely order the candle before than. Get to it, because you're running out of time. It's a gem of a find that's waiting for you (and your thighs)!