Peloton 5-Minute Meditation Review
Daily Meditation Doesn't Intimidate Me Anymore, Thanks to Peloton's 5-Minute Classes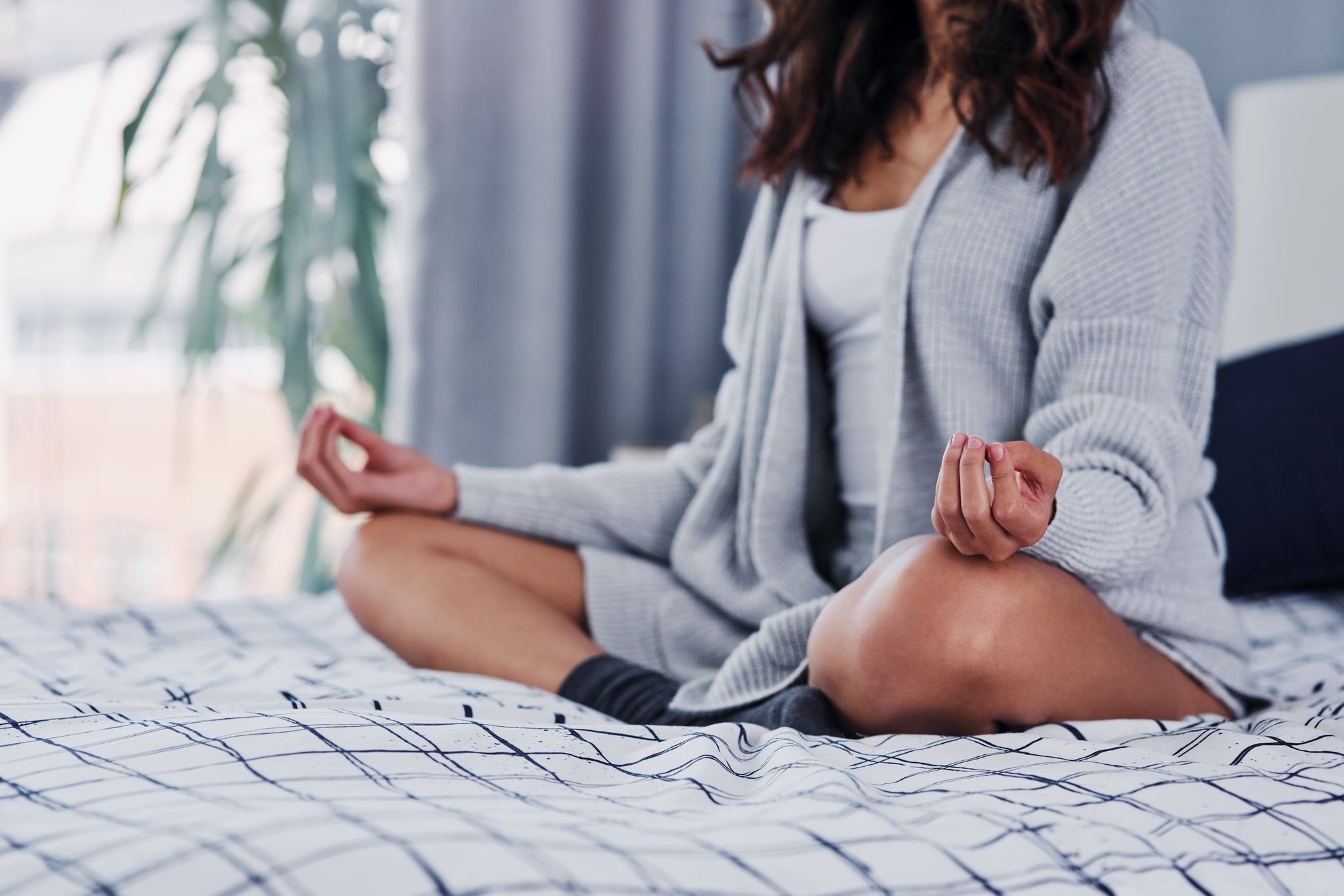 I've always bit off more than I can chew when it comes to meditation. It was originally recommended to me years ago by my therapist, who thought practicing on a regular basis would help me manage some of my anxieties. But, instead of easing into the routine, I challenged myself to 15- to 20-minute classes right off the bat.
As a beginner, this wasn't sustainable. The thought of sitting still for that long every single day and being expected to get some sort of stress relief out of it was daunting and incredibly intimidating. As you can imagine, it never became a daily habit — until I discovered Peloton's five-minute meditation classes.
I had been using Peloton's app for workouts for months and didn't even think to road-test the meditation offerings until my fiancé recommended we try meditating with each other one super stressful morning. I immediately clicked into the first class that popped up: a much-needed five-minute calming meditation with Ross Rayburn, who happens to be my favorite Peloton yoga instructor, too.
As a meditation newbie, five minutes felt manageable. If I could stand in front of the microwave for five minutes, waiting for my dinner to heat up, I could conquer a five-minute meditation. And while I can't say I was relaxed and rejuvenated during my first session, I also didn't feel overwhelmed with the anxious desire to jump up and get moving.
So the next day, I tried yet another five-minute meditation with Ross Rayburn. It was a calmer experience, for sure. I connected with my breath and stayed in the present better than my previous session, and I felt like the five minutes flew by.
Getting through each individual five-minute session gave me the confidence I needed to keep going; to continue adding meditation to my morning and/or evening routine. Now, my day doesn't feel complete without it.
Apart from the digestible content segments, what I love most about Peloton's meditation is the volume of classes and class categories, which you can customize to your overall mood and needs.
For example, one morning I woke up feeling like I needed to address my negative attitude, so I clicked into a Peace Meditation. Another evening, I was having difficulty settling down for bed, so I tried a Sleep Meditation, which was specifically curated to promote the relaxation that'll help you drift off.
After a while, you'll probably find an instructor that you connect with the most — and you can filter by their name, too!
Some reflection helped me realize that, before I discovered 5-minute sessions, I was trying to be "successful" at meditation. I wanted to be able to say I could meditate for 20 minutes, which totally defeats the purpose.
Just by taking it slow, I've come to understand the power and positivity meditation can bring into your life when practiced regularly.
Click here for more health and wellness stories, tips, and news.
Image Source: Getty Images / Dean Mitchell