Low-Impact Workouts Aren't Necessarily Easy — Peloton's Low-Impact Rides Are Proof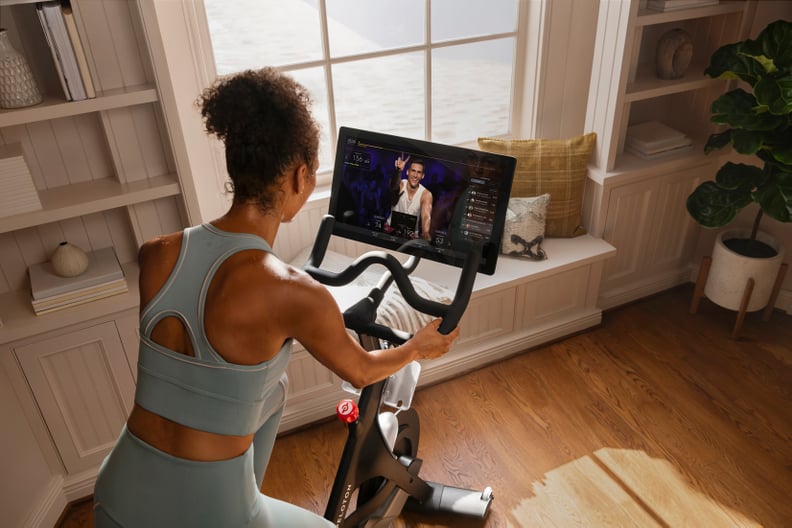 Peloton
Peloton
When my Peloton arrived, I couldn't wait to hop in the saddle and ride out all of my pent-up cardio energy. I immediately dove into all the HIIT, intervals, and Tabata-based classes that popped up onto my homepage, with a goal of ending the workout completely drenched in sweat — and that I was. I was certainly getting a good use out of my new bike, but in my quest to take as many advanced classes as possible, I was also ignoring one particular workout category: the low-impact ride.
Low-impact workouts are not always easy. I've taken enough challenging hot-yoga and Pilates classes to personally vouch for that fact. But I had never taken a cycling class that was specifically designed to be low-impact. I sort of figured the simple act of cycling alone was low-impact enough.
One day, though, my muscle soreness and aching joints signaled to me that I needed more recovery, so I decided to give the category a chance.
Many HIIT-based Peloton classes feature intense bursts of hard work, lots of standing, and jumping up and down at a superhigh resistance and cadence. However, the low-impact classes I've taken are exclusively seated (meaning you don't stand up and ride) and are focused on limiting the cadence and resistance for an overall less-intense experience.
That's not to say I wasn't sweaty or didn't get my heart rate up — I just wasn't totally wiped out and drenched after my ride. I felt like I could focus on more consistent riding and form, compared to my HIIT classes where I was pedaling at my maximum effort for 60 seconds and fully out of breath at the end. And yes, the playlists will still make you sing at the top of your lungs.
What I noticed specifically about my low-impact rides, though, was that the instructors encouraged you to focus on what you needed out of the experience. Perhaps you're just in the mood for a low-impact vibe, or you're using it as a recovery ride from a week of challenging workouts. Maybe you're clipping into this ride because you are getting back in the saddle after an injury.
In one of Ben Alldis's ride I've taken recently, he mentioned that after taking a low-impact ride, you might feel even better or score a PR during your next high-intensity ride because you gave your body that time to unwind and recover. Real talk: I actually did!
I've taken a few of these classes with Alldis, and I especially appreciate that he's upfront about the maximum resistance and cadence that we'll hit in the ride. It gives me the opportunity to address how I'm feeling, listen to my body, and get into the right mental space.
Sure, I still love the feeling of crushing a 45-minute HIIT class on Peloton early in the morning, and now I know that swapping in a low-impact class or two will help me do that.
Click here for more health and wellness stories, tips, and news.