Planet Fitness Will Require Face Masks Inside All Gyms Starting August 1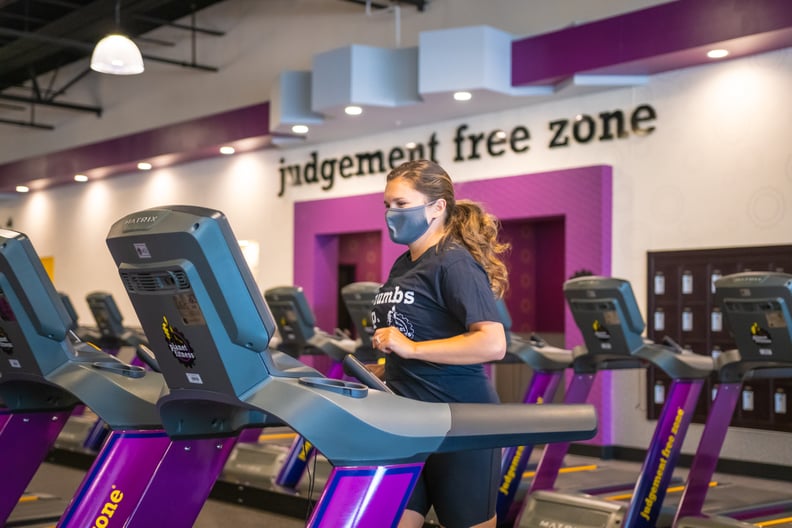 Planet Fitness
Planet Fitness
Beginning Aug. 1, Planet Fitness will require all members and guests to wear face masks at all times while inside clubs, according to a statement released today. The new rule comes after 205 gym-goers were asked to quarantine in West Virginia following a Planet Fitness member's positive coronavirus test in June. At that time, members and guests were invited but not required to wear personal protective equipment like face masks and gloves.
"As we continue to face the COVID-19 pandemic, amid an ongoing global health crisis, wellness has never been as essential to our collective community as it is today," said Planet Fitness CEO Chris Rondeau. "Gyms are part of the solution and a key element of the healthcare delivery system . . . Given our leadership position within the industry, we believe it's our responsibility to further protect our members, employees, and communities so that we can all safely focus on our health, which is more important now than ever before."
On top of the new mask requirement, Planet Fitness says it has also implemented extra safety measures, including enhanced cleanliness and sanitization procedures, training for employees (who are already required to wear masks), physical distancing measures, and touchless check-in. The company also implemented a "Crowd Meter" feature on its mobile app "to allow members to check club capacity before coming into the gym."
Mounting evidence shows that even non-medical grade masks are highly effective at blocking respiratory droplets, which researchers believe is the main means of coronavirus transmission. The majority of experts also agree that the coronavirus is airborne, making indoor spaces more risky for transmissions, depending on ventilation; Planet Fitness noted in its statement that its facilities are "well-ventilated." While you might feel wary about working out in a face mask, doctors agree that it's the right choice right now and that your body and lungs will likely adapt, though you should check with a doctor if you have underlying cardiovascular or respiratory conditions. Here are more tips about safely exercising in a face mask and breathable mask styles to try if you're headed to the gym.