Protests Didn't Cause a Coronavirus Spike, Study Finds
Racial Justice Protests Haven't Caused a Coronavirus Spike, a Study Found — Here's Why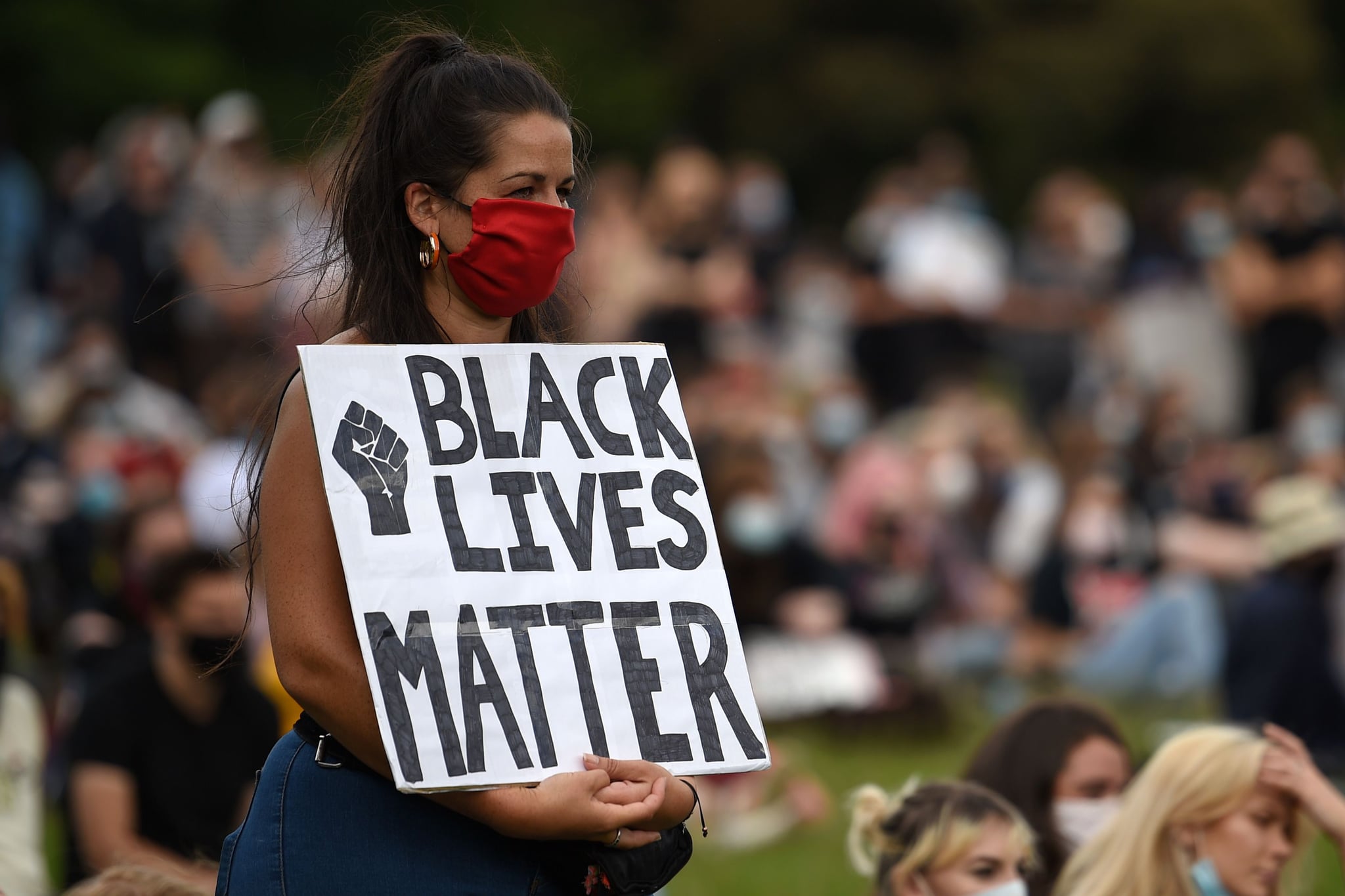 Despite the efforts of mask-wearing protesters and volunteers squirting out hand sanitizer, it seemed all too likely that the large-scale, widespread protests over the killing of George Floyd would cause an increase in coronavirus cases. Experts noted that a spike was imminent, while agreeing that the demonstrations were too essential to avoid. Now, though, a new study indicates that the much-feared spike doesn't seem to be coming after all.
Did Black Lives Matter Protests Cause a Coronavirus Spike?
The study, published this month in the National Bureau of Economic Research, looked at anonymous cellphone GPS data from 315 US cities, 281 of which held protests. Researchers considered three different factors: the percent of the people who stayed at home full-time; median hours spent at home; and median percent of the day spent at home. Finally, they compared the changes in that social-distancing data (taken from May 15 to June 13, both before and after protests began) to number of coronavirus cases tracked over time.
Researchers found that no evidence of a coronavirus spike following the onset of the protests. In fact, they said, there was "modest evidence of a small longer-run case growth decline." They speculated that a few factors came into play.
Why Didn't Protests Cause a Spike?
One main concern: it was virtually impossible to maintain social distancing at many protests. But instead of leading to a spike in cases, the study's findings suggest that "any direct decrease in social distancing among the subset of the population participating in the protests is more than offset by increasing social distancing behavior among others who may choose to shelter-at-home and circumvent public places while the protests are underway." In other words, people who didn't attend protests actually stayed home more than before, statistically making up for the decreased social distancing at demonstrations. The increase in stay-at-home tendencies continued after protests as well. "After the outbreak of an urban protest, we find, on average, an increase in stay-at-home behaviors in the primary county encompassing the city," the study said. "That overall social distancing behavior increases after the mass protests is notable."
Researchers also considered another possible explanation: that protesters have continued to social distance after attending protests. That would keep case counts from spiking widely in the general population, many of whom are staying home more than before.
Finally, researchers noted that the characteristics of the protesters themselves may have played a role. Protesters are often younger, so even if they're infected, they may experience fewer severe symptoms and forgo testing. Additionally, the study noted, "protest attendees may have mitigated the spread of COVID-19 via infection countermeasures such as wearing masks."
Further research will likely be needed to confirm these findings and delve into why, exactly, the protests haven't led to the expected coronavirus spike. And, as the researchers pointed out, "the net effect of increased sheltering and decreased case growth could mask adverse outcomes within a subset of the population (specifically protest attendees)." That is, the protests may have caused an outbreak among those who attended, but one that hasn't moved the needle in the larger population.
Still, as far as the current data can tell us, "public speech and public health did not trade off against each other in this case."