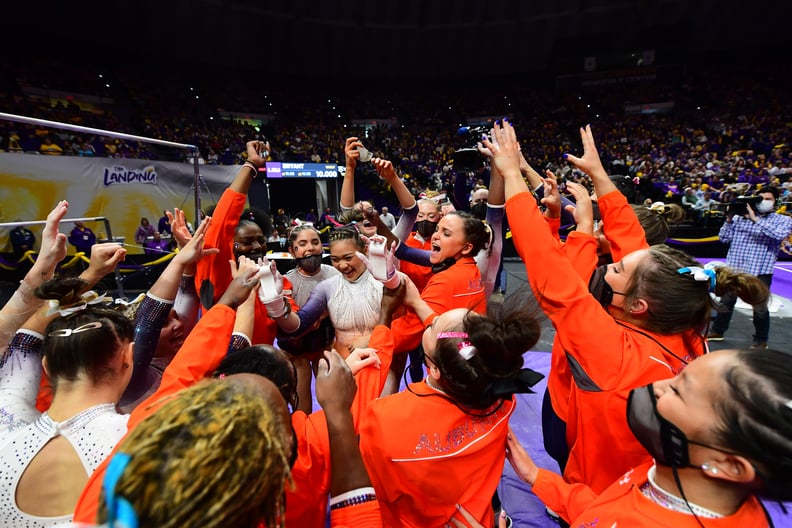 Courtesy of Brandon Gallego | LSU Athletics
Courtesy of Brandon Gallego | LSU Athletics
The United States had a strong squad of women artistic gymnasts at the Tokyo Olympics, and on Feb. 4 and Feb. 5, every one of those women who'd transitioned from the elite world to collegiate gymnastics — Jordan Chiles, Suni Lee, Grace McCallum, and Jade Carey — scored their debut perfect 10s in the NCAA. On the first day, McCallum, from the University of Utah, showcased a 10.00 bar routine; then Chiles, on the opposing school of UCLA, came to shine with a perfect-10 floor routine set to Lizzo, Doja Cat, and Normani. Auburn's Lee and Oregon State University's Carey earned their own perfect marks on bars in separate meets the following day.
When it comes down to it, the elite world is more about individual performances. Women's gymnastics on the college level, while highlighting standout talent, focuses primarily on fostering a team environment. There's also a difference in scoring — the elite level follows a complex system of combined execution and difficulty scores that surpass a 10.00, and collegiate routines (except for some vaults that have lower starting values) are scored out of the elusive 10.00.
Delve into the depths of gymnastics "gymnerd" Twitter, and you'll come across passionate debates on any given day about whether or not NCAA judges "overscore" certain teams or routines. But whether you agree with the marks or not, 10.00s across the board do happen in collegiate gymnastics, and when they do, they're a huge deal.
Fellow Team USA gymnast Simone Biles, who competed with these women in Tokyo, congratulated them on Twitter, sending McCallum love, telling Carey she deserves "the world & more," calling Chiles a "superstar," and praising Lee as a "bar queen." Biles may not be done with elite gymnastics (she isn't ruling out Paris 2024), but for now, she plans on enjoying her downtime.
MyKayla Skinner, the last of the women artistic gymnasts who represented Team USA in Tokyo, has retired from the sport. "Love seeing all these girls having fun and slaying in the college world! Keep making your grandma proud!" she wrote on Twitter.
Ahead, check out all of the perfect-10 routines from McCallum, Chiles, Lee, and Carey. They're defined by grade-A form, stuck landings, and an overwhelming roar of subsequent cheers.
Watch Grace McCallum Get Her First NCAA Perfect 10 on Bars
The University of Utah faced off against UCLA on Feb. 4, where McCallum became the first of these four women to receive her debut 10.00 in college gymnastics — and the fact that Chiles, representing UCLA, got her own flawless score at the same meet was undeniably special. McCallum, a silver medalist in the Tokyo Olympic women's artistic gymnastics team event, showcased the first flawless bar routine for the Utes since 2015. Here, watch her fly.
Watch Jordan Chiles Get Her First NCAA Perfect 10 on Floor
In Chiles's UCLA floor performance, you get to hear Doja Cat's "Boss B*tch"; "Truth Hurts" by Lizzo; "Rumors" by Lizzo, featuring Cardi B; and Normani's "Motivation." The high-energy routine features personality-filled choreography, and she looks like she's having a true blast.
"You know, my 10.00 was something that I wasn't expecting at all," the Olympic team silver medalist said after the fact. "I was just going out there to have fun and do what I know I can do and be Jordan. And so, knowing that I came out with something so big, makes me feel like . . . I have no words."
Chiles further tells POPSUGAR that finishing her perfect-10 performance "kind of felt like when I finished my floor routine at Olympic Trials." And, reflecting on the Olympics, she says her silver medal marked the end of a goal she'd worked toward her entire life. Her first collegiate 10.00, in comparison, was "the beginning of something new and exciting."
Watch Suni Lee Get Her First NCAA Perfect 10 on Bars
Lee, who received a bronze medal on bars at the Tokyo Olympics in addition to team silver and all-around gold, swings bars with ease. Her transitions from the low bar to the high bar and vice versa are what she's known for. And you'll see a solid stuck landing on her dismount here. It was the first time that an Auburn gymnast scored a perfect 10 on any event since 2004.
"This means a lot to me," Lee said on Feb. 5, according to the Auburn Tigers' meet recap. "I've always watched college gymnastics, so to be competing in college, to score a 10 and the first 10 at Auburn in a long time feels so surreal."
Lee further tells POPSUGAR that both the Olympic medals she earned and this 10.00 are memorable, "but the Olympic medal has been my dream since I started gymnastics. No other achievement will compare to how special that moment was. As far as that perfect-10 moment, the celebration with my team was the most surreal feeling because it was just pure happiness."
Watch Jade Carey Get Her First NCAA Perfect 10 on Bars
Carey is the Tokyo Olympic gold medalist on floor, but she earned a perfect score on bars on Feb. 5 with a full-twisting double tuck dismount (half-in, half-out, to be more specific). When asked on the Pac-12 broadcast if she knew her routine would get a 10.00, she stated, "I honestly didn't know. I try not to think about it, but it's really crazy that my first 10.00 in college comes on bars 'cause that's kind of known as my weaker event." This was the first bars 10.00 for Oregon State University since 2017.
Carey further tells POPSUGAR that winning an Olympic medal and getting her first collegiate 10.00 are equally as special. "I have dreamed of an Olympic medal since being a little girl, and making that dream come true was a feeling like no other," she says. "Receiving my first perfect 10 was also a memory I'll never forget. The amount of love and support I've received from Beaver Nation and my teammates is indescribable. Both of these memories will last a lifetime."