Simone Biles Sends Powerful Message in Facebook Watch Finale
Simone Biles's 2-Part Docuseries Finale Further Proves She's Not a Quitter — She's a Fighter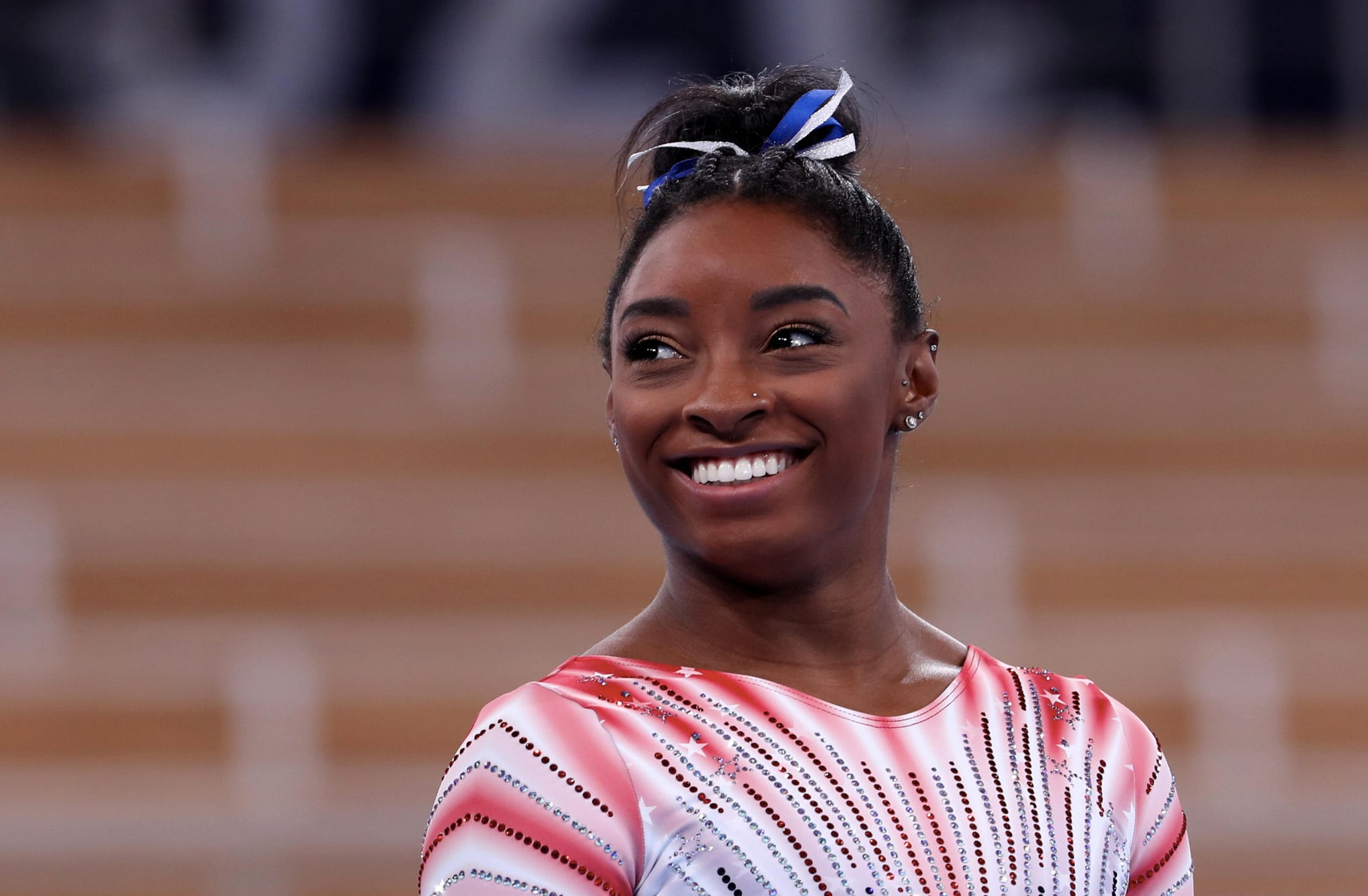 Facebook Watch docuseries Simone vs Herself has given the world an inside look into the headspace of Simone Biles, one of the greatest talents the sport of gymnastics has ever seen. The two-part finale delves deep into the mental struggles that caused her to withdraw from most of the Tokyo Olympic finals this summer. She details the sequence of events that led to her extremely dangerous case of a disorienting mind-body block called "the twisties": a not-so-great night two of June team trials, an off day at the qualifying competition in Tokyo a month later, and a subsequent rough practice on July 26 where she lost her air awareness.
Biles once again walked us through her reasoning behind stepping down after the twisties impacted her planned Amanar vault in the Tokyo team final — yet another explanation she doesn't owe us. Her thought process involved putting her own mental health and safety first and also weighing what would best benefit the team score. (If she were to go ahead and compete, she could have made major mistakes in addition to injuring herself, and the team would have had to count those potential low scores given the "three up, three count" rule, jeopardizing their chance at a medal.) Mainly, these last episodes prove what it takes for an athlete to triumph: the perseverance to choose oneself when the world seemingly wants the opposite, as well as the strength to push through adversity and show up despite it all.
In part two of the finale especially, we see a Simone Biles who has grown wiser, braver, more bold in the last five years and even since leaving for Tokyo. Through tears, she says in the episode airing Sept. 28, "I've done gymnastics on broken ribs, my two broken big toes . . . or shattered cause they're not just broken, they're shattered in pieces . . . kidney stones, I've been through sexual abuse, I came back to the sport. There are so many barriers that I've gotten past, and so to say I just had a bad turn and quit, if you look at all of those, you can see I'm not a quitter, I'm a fighter." Biles further stated in a cover story for New York Magazine that she should have quit gymnastics long ago, "way before Tokyo, when Larry Nassar was in the media for two years. . . . But I was not going to let him take something I've worked for since I was 6 years old. I wasn't going to let him take that joy away from me. So I pushed past that for as long as my mind and my body would let me."
"I know I'm worth more than gold."
Biles did not need to return for the Tokyo Olympic beam final for her legacy to be cemented in the record books — but she did, and that was pretty damn remarkable. Furthermore, her struggles in Tokyo do not negate the fact that she tied Shannon Miller as the most decorated American in Olympic gymnastics history, or that she has the most World Championship medals out of any gymnast, or that her combined World Championship and Olympic accolades also tied her with Russia's Larisa Latynina as the most decorated woman gymnast ever. The list goes on (her seven national titles set a record, for instance), but you get the point.
Though the Simone vs Herself series finale feels like a farewell of sorts, coach Cecile Canqueteau-Landi reveals after the credits that Biles texted her hinting at Paris 2024. "The sentence was, 'Haha, tell me why I'm thinking about 2024,'" Canqueteau-Landi recalled with a smile. When her coach responded asking if she had unfinished business, Biles answered with a simple yet hopeful, "Maybe."
Regardless of whether or not Biles will retire or return, she has shown fellow gymnasts, fans, and people around the globe what it means to be superhuman, but, more importantly, what it means to be human. "I know I'm worth more than gold," Biles says toward the end of the finale, adding that if she did everything that was expected of her in Tokyo, she would have only been known for her winning streak if she chose to walk away from gymnastics, as opposed to having others "respect me as a human, as an athlete, Simone. That's what I've always tried to get people to see."
The first finale episode of Simone vs Herself came out at 12 pm ET on Sept. 27, and you can watch the second episode starting at 12 pm ET on Sept. 28 via Facebook Watch.