What Simone Biles Is Doing Now
Simone Biles Doesn't Have a Plan For What's Next Yet, and She Deserves That Peace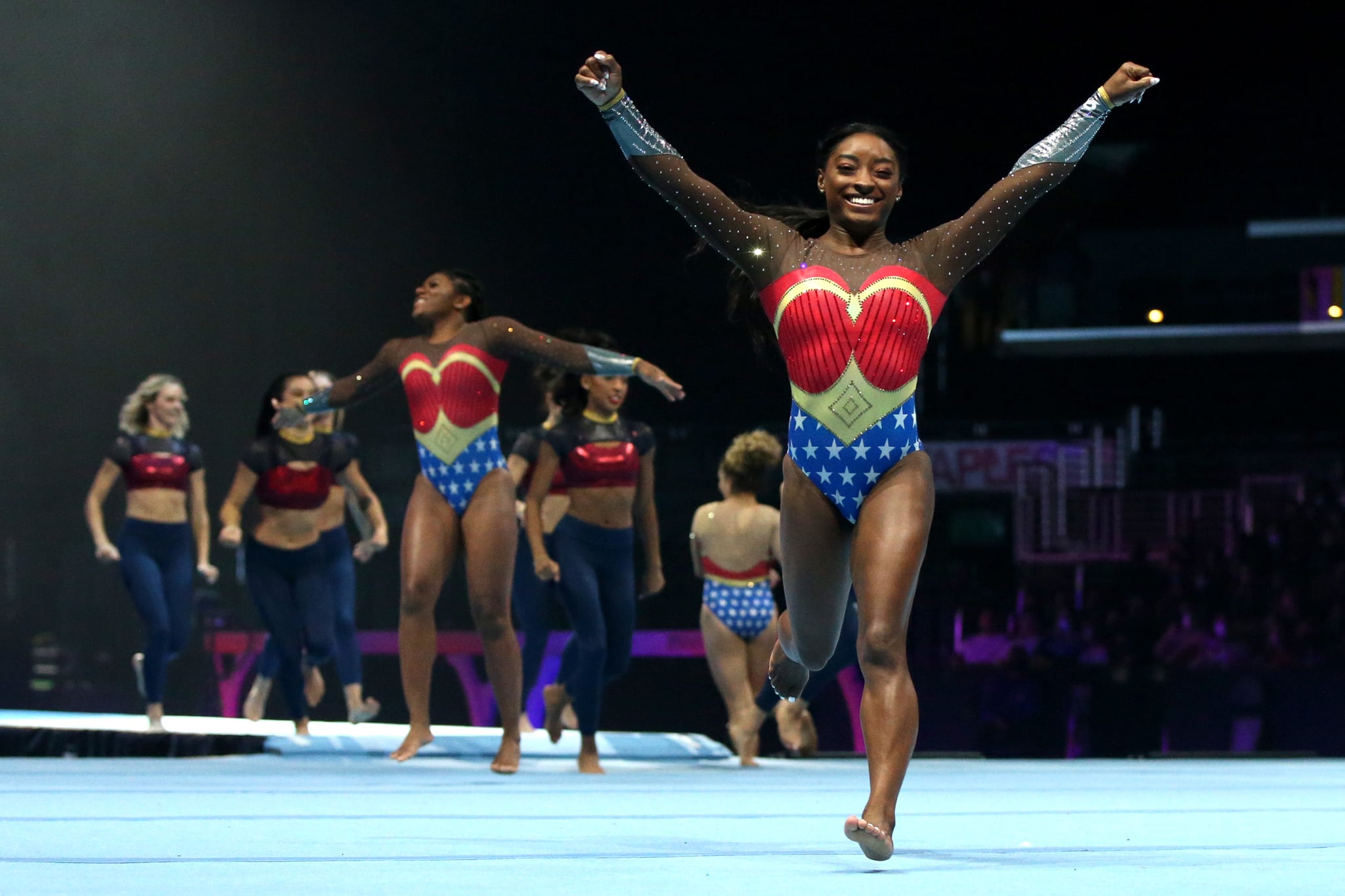 Gymnastics is the impossible made possible, and it has been Simone Biles's world for the majority of her 24 years. After two Olympics and a seven-week tour across the country, she intends to press pause — as she should. When POPSUGAR sat down with Biles and teammate Jordan Chiles to discuss the Dec. 4 Gold Over America Tour streaming event, Biles said what's immediately next for her involves "taking a step back from the gym world [and] embracing who I am."
What will she do now that the tour is over? "The holidays, for sure," Biles noted. "Relaxing, having that quality time with my friends, my family. I'm going on vacation with my family, too. Everybody's always so rushed to know the next thing. It's like, 'Live in the now, embrace that before stuff gets picked back up.' So we'll definitely see."
Biles was studying business online in 2018 with the University of the People, but she said a degree is not in the cards for her. She also isn't certain what interests she wants to pursue aside from focusing on her partnerships — Cerebral and Athleta, for example — and eventually doing work to benefit kids in the foster system. "I feel like I'm really only good at gymnastics and rallying my dogs," Biles confessed, though she noted she might want to try snowboarding because it "seems fun." (For the record, you can follow her dogs on Instagram.)
This no-plan plan is a relief in our eyes. Believe it or not, Biles is considered old for a woman gymnast. That window of opportunity in which talent and timing have to perfectly coincide for success? Well, that's stayed wide open, and worked in her favor, for her entire elite career. Just look at her eight-year winning streak that lasted through the 2021 US Olympic Trials, the four moves named after her plus the history-making Yurchenko double pike, and the handful of records including the most medals in world championship history and a tie with Shannon Miller for the highest number of Olympic medals from any American gymnast. What also makes her one of the greatest of all time is her self-awareness to recognize when, mentally, she cannot perform without risk of injury. It's what happened at the Tokyo Games this summer with her case of the "twisties."
Mental blocks like the twisties are, for the most part, temporary, but trauma endured from abuse in the sport is a deep, slow-healing scar — a fact fellow survivors Aly Raisman and McKayla Maroney specifically spoke to in a September Senate Judiciary Committee hearing on the FBI's mishandling of the Larry Nassar investigation. In recent years, Biles was the only known gymnast who came forward with allegations of Nassar's abuse still competing, and that is a heavy burden. As she told Today's Hoda Kotb this past spring, "I feel like if there weren't a remaining survivor in the sport, they would've just brushed it to the side."
Excluding the glamour of accomplishment, her decades as a gymnast brought darkness none of us can begin to understand. Imagine processing struggles outside of and inside of the sport twice over: personally and publicly. That's why the absence of a real plan at the moment makes us exhale for her. It's long overdue.
Is Simone Biles Competing in the 2024 Paris Olympics?
The answer to this is to be determined. At the very end of Biles's Facebook Watch docuseries, after the credits rolled, coach Cecile Canqueteau-Landi read texts she and the gymnast had exchanged in which Biles teased she may want to try for Paris 2024. She told POPSUGAR, though, that her options remain open. "It's still a lot just to go back into the gym and dedicate a couple more years. And if it were four years out, it would [have] probably been a definitive no. But, shoot, it's November of [2021], and [Paris 2024] is not that far away. So I think that's what everybody's on the fence about." She'd have to decide, too, if she would compete in all four events or become a specialist (bars isn't her favorite).
While it's unclear when she'll retire, Biles recently told Us Weekly that it's all a matter of how she is mentally. She calls entities involved in the failure to protect young athletes from Nassar — USA Gymnastics and the FBI — "a huge dumpster fire that we're trying to get rid of and that I'm trying to stay as far away from so that my mental health can be intact." She also said she has to keep her twisties under control in order to train again. "But then, at the end of the day, if it costs me my peace, I'm going to step away. And I'm completely fine with stepping away because I've been through so much. I've accomplished so much."
Jordan Chiles and Simone Biles Predict Each Other's Futures
POPSUGAR was curious where Chiles and Biles picture each other in the next five years. Chiles said of her teammate and friend, "You're going to at least be engaged or married. I see you being a businesswoman. I see you encouraging others to be better in different ways in the gymnastics world and outside the gymnastics world. And I see you just being an amazing, encouraging person greater than you are now."
Biles went next, sharing, "I see Jordan doing a lot for the collegiate world, being a star there, but still bettering people." Chiles is headed to UCLA, where she will study business and compete for the school's stellar gymnastics team. "In the outside of the collegiate world, she's probably going to have a little boyfriend out there at UCLA, too," Biles said with a smile. "Probably a football player, I could see that, and just thriving." They are manifesting bright futures, and we're all for it.