Tierney Wolfgram's American Record, Junior Women's Marathon
Tierney Wolfgram, 17, Just Set an American Junior Marathon Record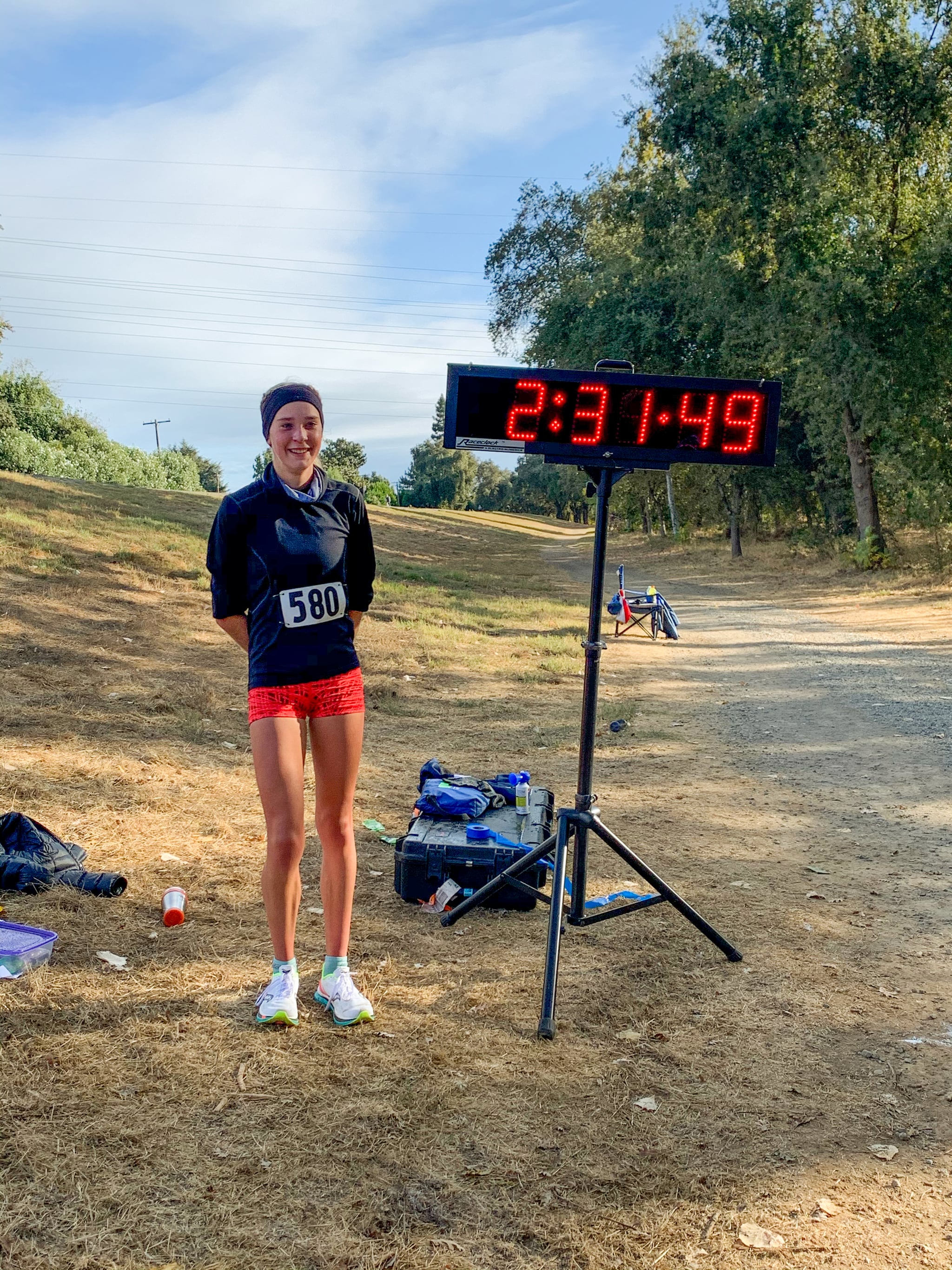 Tierney Wolfgram is just 17 years old, but she's already an American record holder. On Saturday, Wolfgram set an American record in the women's marathon, junior division, with a scorching time of 2:31:49, surpassing Cathy (Schiro) O'Brien's mark of 2:34:24 set back in 1984.
"It still hasn't hit me yet . . . that I did this," Wolfgram told Runner's World afterward. With large-scale marathons off due to the pandemic, Wolfgram ran on a specially designed 6.55-mile out-and-back course twice to get in all 26.2 miles. Instead of competing against dozens of other athletes, she was accompanied by just two other runners, her University of Nevada, Reno, teammates Carson Leavitt and Adam Sjolund. They had to line up with her on the starting line in order to make the race official, per USA Track and Field rules, and they served as pacers as well.
"There are no words to describe the mass of my gratitude for these two guys," Wolfgram wrote on Instagram afterward. "They kept me in line and controlled me in the early miles, broke the wind for me the entire way, and lent me strength during the tough parts."
"I'm absolutely stunned," Nevada cross country assistant coach EmKay Sullivan, who was there to see Wolfgram break the record, told Nevadawolfpack.com. "I knew she was going to break it, but she really showed out today! She has a couple of great teammates in Adam and Carson, who helped her immensely in her American record run . . . Super proud to call her part of the Wolf Pack."
"All I was thinking was I was super happy," Wolfgram told Runner's World of beating the record, which had been a goal of hers since completing her first marathon in 2018. "I knew I had done what we wanted to do."
Wolfgram, who graduated high school a year early before starting at Nevada, is also a US Olympic Team hopeful. She placed 76th at the marathon trials in February and has her eye on making the team in 2024, depending on what track and cross country events she excels at in college. "If I find success in the 5K, 10K, and steeplechase, we're gonna focus on those," Wolfgram said. "My goal is to put myself in contention to make a team."
With an impressive American record already under her belt, we'd say Wolfgram's in a good spot to do just that. Check out more photos and videos of her amazing feat below, including the moment she finally crossed the finish line.
Image Source: University of Nevada Athletics