These 6 Americans Qualified For the Tokyo 2021 Marathon
Team USA Is Set For the Olympic Marathon — Here Are the 3 Women and 3 Men Headed to Tokyo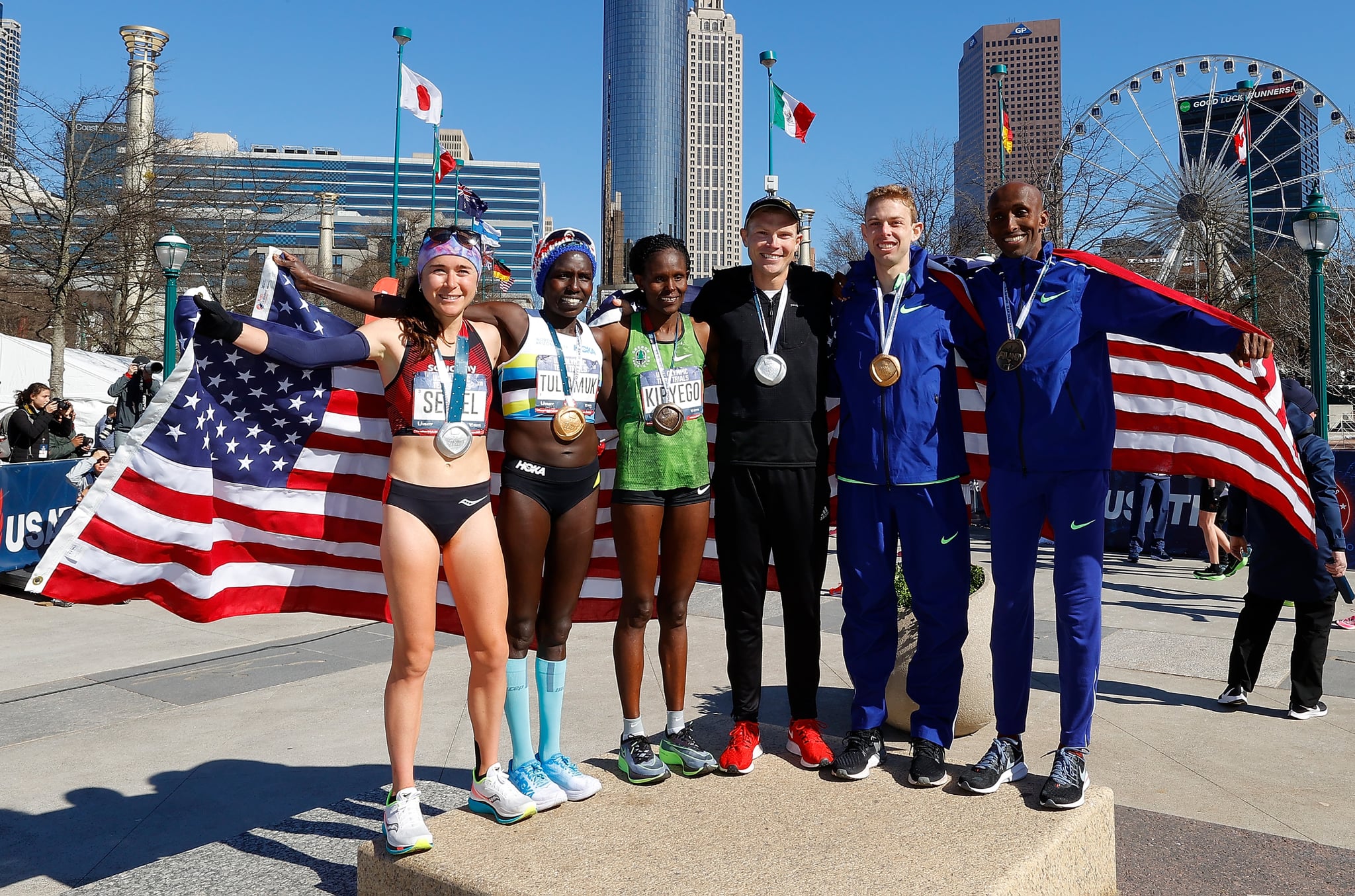 Image Source: Getty / Kevin C. Cox
After 26.2 miles on a windy Saturday in Atlanta, on one of the hilliest Olympic marathon trials courses, three women and three men qualified to represent Team USA in Tokyo. There was a huge field of starters this year, the largest ever — 235 men and 450 women, according to NBC. That's 685 marathoners total compared to 364 back in 2016.
Winners of those Tokyo tickets on the women's side include first-place finisher Aliphine Tuliamuk (2:27:23), first-time marathoner Molly Seidel, and 2012 Olympian Sally Kipyego. Yep, you read that right: Molly had never competed at 26.2 miles before the Olympic trials. "It truly takes a village with this one," the 25-year-old Notre Dame alum said after the race. She thanked her support system for believing in her, naming them as the reason she was able to achieve the feat. You can watch the moment Molly crossed the finish line below.
We live for moments like this ❤️#MarathonTrials20 x #TokyoOlympics pic.twitter.com/P8hkN7SW6u

— NBC Olympics (@NBCOlympics) February 29, 2020
Tokyo will be the first Olympic Games for both Aliphine and Molly. Sally won a silver medal in the 10,000-meter at the 2012 Olympics for her native country of Kenya before becoming an official US resident in 2017.
As for the men, defending Trials champion Galen Rupp, who claimed a bronze medal in the Rio 2016 marathon, won with a time of 2:09:20. He's joined by first-time Olympian Jacob Riley and Abdi Abdirahman, who will be going on to his fifth Olympic Games. Abdi, 43, will become the oldest US Olympic runner in history.
Des Linden, the 2018 Boston Marathon winner and one of the favorites in the women's field going into the Trials, came in fourth. She was the only Rio 2016 marathon team member who competed in this year's Olympic Trials. Four-time Olympian Shalane Flanagan, who finished in sixth place at Rio, retired in the Fall of 2019, and Amy Cragg, who came in ninth at Rio, withdrew from the Trials due to illness.
Sticking with the leading pack of women at the very start of this race was 16-year-old Tierney Wolfgram, a cross-country runner from Minnesota who, according to Runner's World, qualified for the Trials with her performance at the 2018 Twin Cities Marathon. Also running was 28-year-old Alaska native Megan Youngren, who made history as the first openly transgender athlete to compete at the US Olympic Marathon Trials. Tierney finished in 76th place with a time of 2:42:47 and Megan placed 230th with a time of 2:50:27.
The 2021 Olympic marathon course was moved from Tokyo to Sapporo, and it will reportedly be flatter than the Trials course athletes ran on Feb. 29. We can't wait to see these six marathoners stride overseas for Team USA!
To learn more about all the Olympic and Paralympic hopefuls, visit TeamUSA.org. Watch the Tokyo Olympics, beginning July 23, and the Tokyo Paralympics, beginning Aug. 24, on NBC.