2 Black Coaches at Women's Final Four For First Time
For the First Time in History, 2 Black Coaches Will Be in the Women's Final Four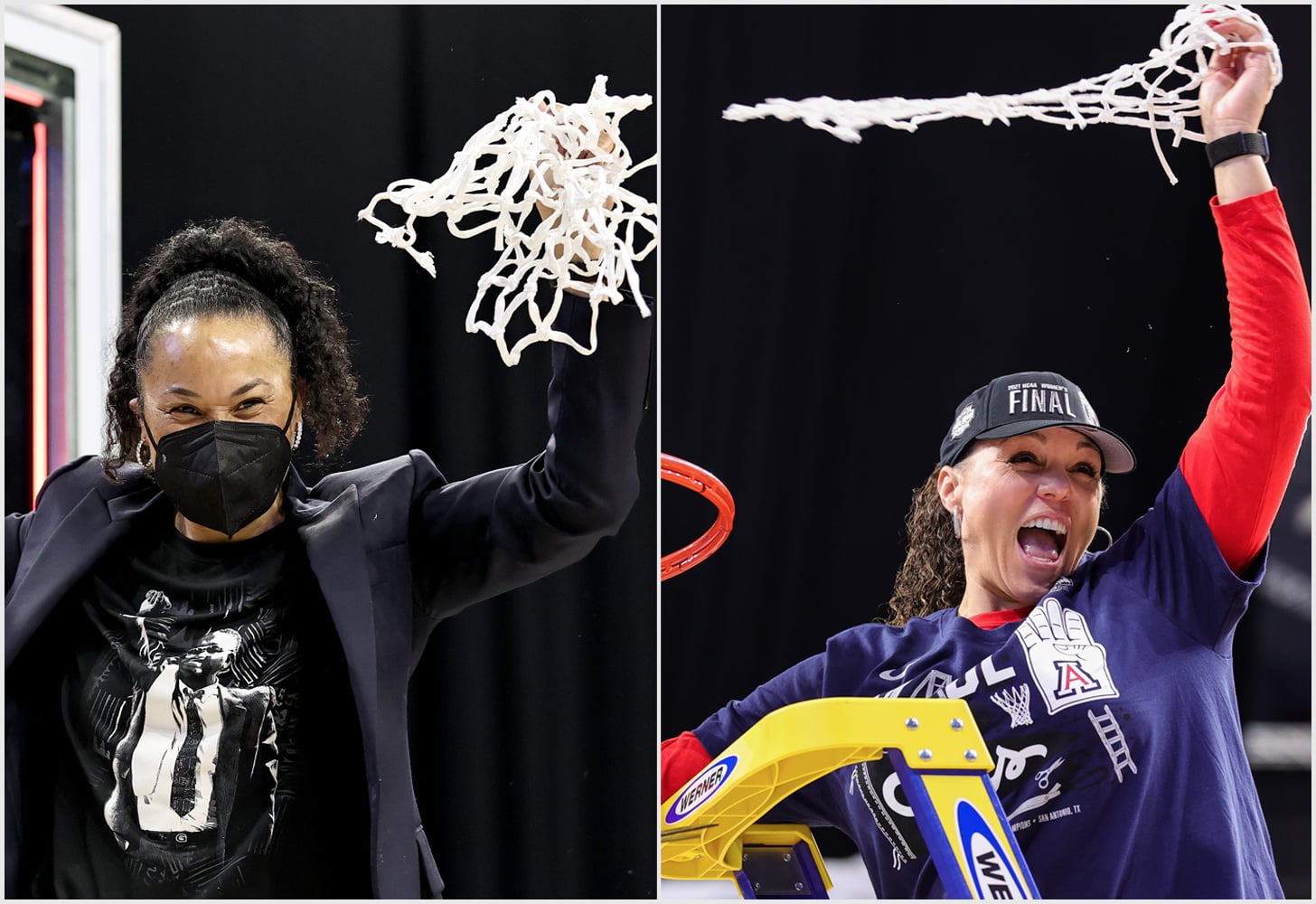 The University of South Carolina's Dawn Staley and the University of Arizona's Adia Barnes will make history on Friday, April 2, as their teams both head to the Final Four of the March Madness NCAA women's tournament: South Carolina against Stanford and Arizona against UConn. It's the first time that two Black coaches — and two Black women coaches — have reached the women's Final Four.
Staley, a three-time Olympic gold medalist who led South Carolina to its 2017 NCAA championship victory, said via Yahoo! Sports, "Representation matters. It's nothing against anybody else that lost to us. But when you see two Black women representing in this way, I hope the decision makers who are — because there are a lot of jobs out there that you give Black women an opportunity."
Both coaches played in the WNBA; both are fighting for a title. "I think there needs to be more WNBA players coaching women's basketball," Barnes said after Arizona's victory in the Elite Eight, according to ESPN. "I want to see more. Dawn is someone who's always believed in me and sent me a nice message. We all support each other. When you've played pro, you've walked the walk. I think a lot of players want to play for someone who's been there."
It's Arizona's first Final Four. "I'm so proud, because I'm looking in their eye now," Barnes said of her team, "and there's a fire, there's a belief, there's a confidence." Staley said of Barnes, "I'm super proud of Adia. I wanted that to happen. I was cheering for her to get it done. It was not for any other reason besides us being represented at the biggest stage of women's college basketball."
Staley also made history earlier this month on March 7 at the SEC Women's Basketball Tournament, when she and University of Georgia's Joni Taylor were the first Black coaches to face off in a women's Power Five tournament championship. According to ESPN's The Undefeated, seven out of the 14 SEC women's basketball teams were led by Black women this season, while Black women head coaches made up only approximately 17 percent of Division I women's basketball head coaches in 2020, according to estimates from NCAA demographic data (note: there was no data listed for women head coaches in Division I men's basketball that year — no woman has ever spearheaded a men's Division I basketball team — but former WNBA guard Tamara Moore was hired as head coach in April 2020 by Mesabi Range College, a public community college, making her the first known woman in the US to head a men's collegiate basketball program at any level).
"You know, our history here in women's basketball is so filled with so many Black bodies that for this to be happening in 2021, to me, is long overdue, but we're proud. We're happy," Staley said of her and Barnes's historic feat. "I know my phone is probably full of text messages of Black coaches all across the country, just congratulating us on doing that, on being present, being in the moment, being able to take our programs to this place."