Across the country and around the world, people in the sports community are paying homage to a legend. On Jan. 26, a helicopter crash and fire in Calabasas killed nine people, including five-time NBA champion Los Angeles Laker Kobe Bryant and his 13-year-old daughter Gianna.
The following day, UCLA sophomore Margzetta Frazier and junior Nia Dennis showed their respect for Kobe by writing one of his numbers, 24, on their skin prior to an away gymnastics meet against Stanford. The Bruins won 197.575 to 196.250, and UCLA head coach Chris Waller, who took the reins over from longtime leader Valorie "Miss Val" Kondos Field, said after the competition that they went into the night with heavy emotion.
"It was a tough 24 hours leading up into this meet with the horrible tragedy of Kobe Bryant passing . . . it really affected our team and our coaches, and hearts went out to them," Chris said of the victims. "Some of our athletes wore 24 to remember him by. . . . I know that some of them dedicated this meet to him and his family." Chris added that associate head coach Kristina Comforte had even met and spent time with the basketball star.
Nia told POPSUGAR through a spokesperson, "Miss Val recruited me, she always said I reminded her of Kobe Bryant because of my drive and hard work and good sportsmanship, and I was so honored every time she said that to me. I really wanted to honor and celebrate everything he did accomplish and how many people he inspired. I really live by that Mamba mentality, always fighting until the end."
"His legacy will live on forever, and that's a promise."
Margzetta told us that she loved Kobe since she was little. "For as long as I can remember, I was tossing paper wads into the trash can shouting 'KOBE!' Kobe Bryant was a Philly guy turned Angeleno. Both cities hold a special place in my heart," she said. "On Friday, I hurt my ankle and haven't been able to train. All I could think about was when Kobe tore his Achilles, made both free throws, and then walked himself off the court."
Margzetta continued on to say that she competed bars for her team without fear due to the 24 she'd drawn on her cheek. "You better believe I stuck that bar dismount cold," she said. (See her full routine here!) "I dedicated yesterday to him and his family. Kobe Bryant was an exceptional human being on and off the court. His legacy will live on forever, and that's a promise."
The UCLA team did what they did best — they showed up, had fun, and performed. But, some chose to hit their routines in honor of Kobe, who will be posthumously inducted into the Basketball Hall of Fame's 2020 class, and his Black Mamba greatness.
Check out photos of these athletes commemorating Kobe ahead.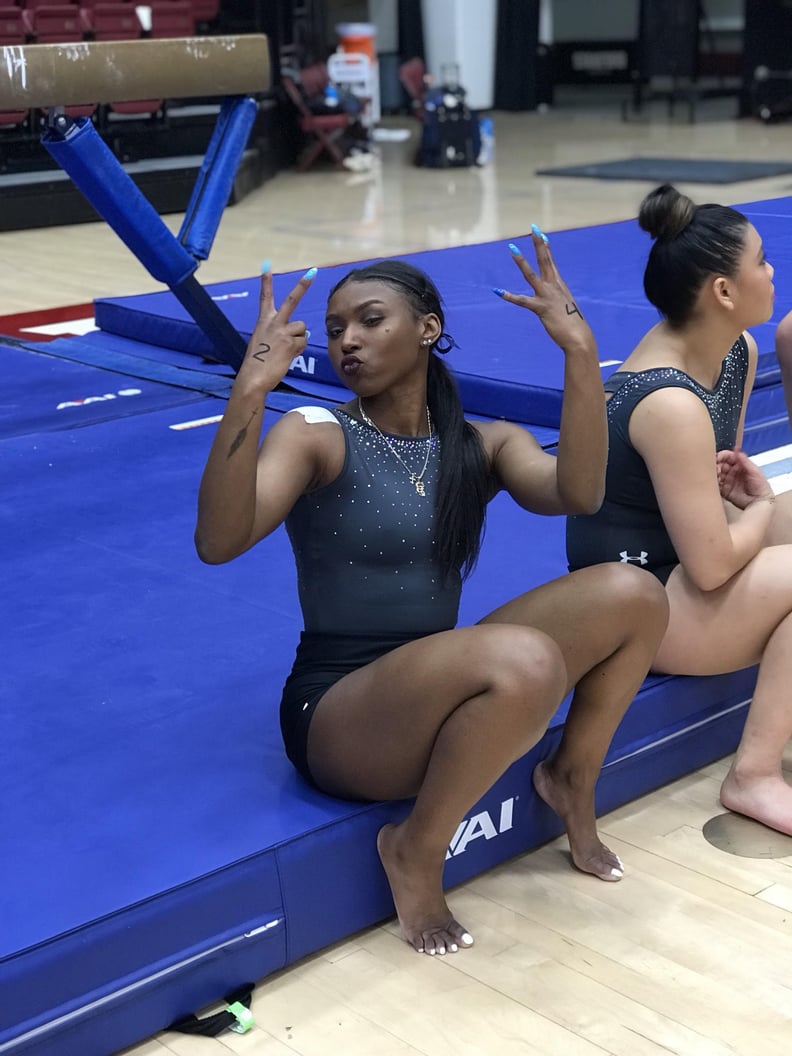 Nia Dennis Wearing Kobe Bryant's 24 on Her Hands
Margzetta Frazier Wearing Kobe Bryant's 24 on Her Cheek