US Women's Hockey Schedule | 2022 Winter Olympics
The US Women's Hockey Team Faces a Steep Climb to Olympic Gold — See Their Schedule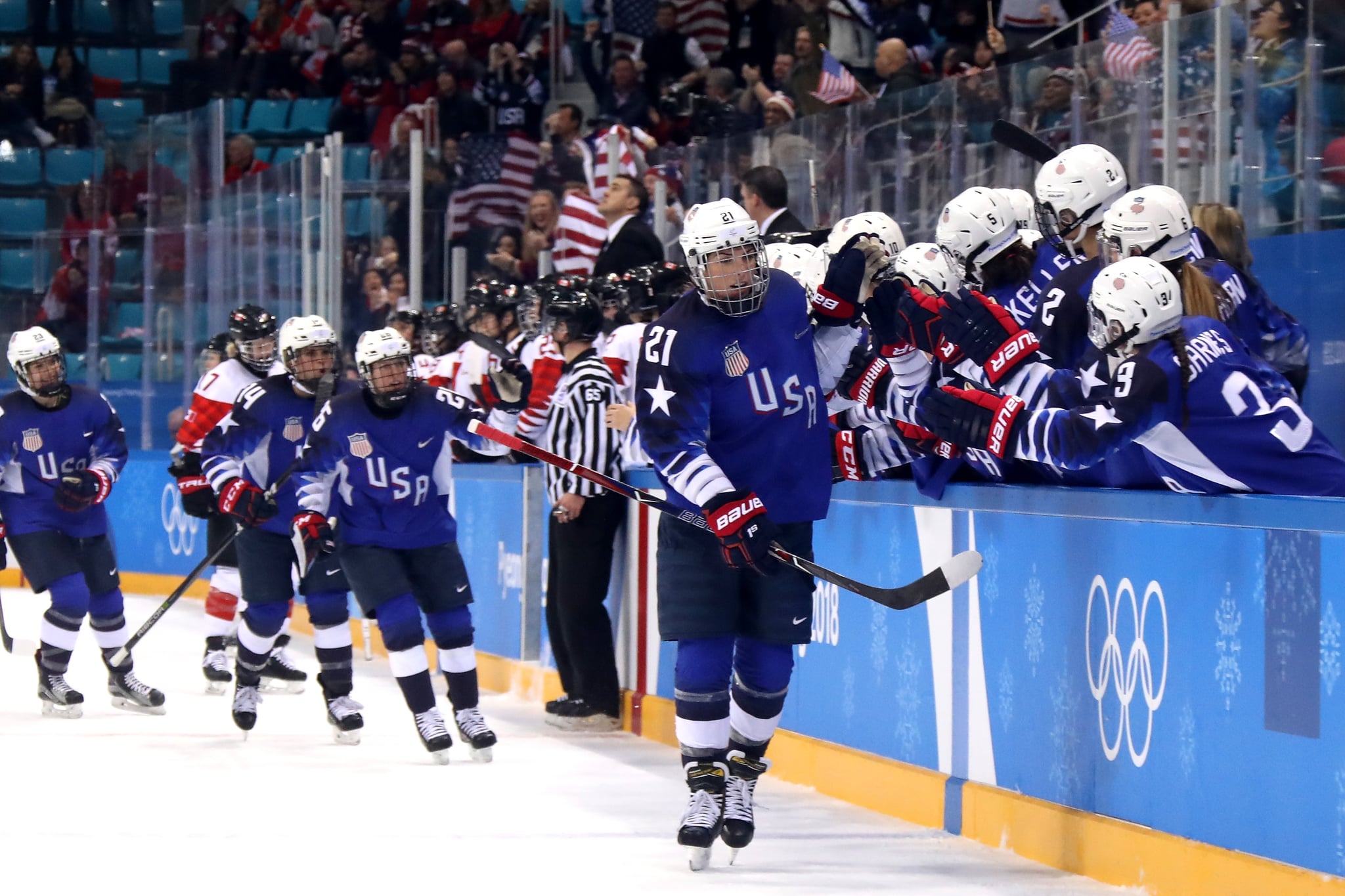 It's been four years since the US women's hockey team defeated Canada in a sudden-death shoot-out to win Olympic gold, and now Team USA is back, ready to defend their title at the 2022 Winter Olympics in Beijing. The roster includes 15 Olympic veterans, whose level of experience will serve the team well as they face off against some of their fiercest competitors in the earliest games of the Olympic tournament. Keep reading for their game schedule for the 2022 Winter Games.
US Women's Hockey Schedule For the 2022 Winter Olympics
The Olympic women's hockey tournament begins with a preliminary round, during which the 10 teams are split into two groups — Group A and Group B — based on their International Ice Hockey Federation (IIHF) ranking. The top-five teams (United States, Canada, Finland, ROC, and Switzerland) have been placed in Group A, and the bottom five (Japan, Czech Republic, Sweden, Denmark, and China) in Group B. Teams will face off in a single round-robin tournament, in which they'll play each team in their group once.
Unique to Olympic women's ice hockey, all Group A teams automatically advance to the quarterfinals based on their IIHF ranking; however, their record in the preliminary round will help determine their seeding in the quarterfinals. After the preliminaries, the top three teams from Group B will also advance. From there, the top eight teams battle it out in a single-elimination competition format. Those games will kick off Thursday, Feb. 10 (Eastern Time), with the teams to be determined. In the meantime, you can watch Team USA in group play — here's their schedule:
United States vs. Finland: Thursday, Feb. 3, at 8:10 a.m. ET.
United States vs. Russian Olympic Committee: Saturday, Feb. 5, at 8:10 a.m. ET.
United States vs. Switzerland: Sunday, Feb. 6, at 8:10 a.m. ET.
United States vs. Canada: Monday, Feb. 7, at 11:10 p.m. ET.
The US heads into the preliminaries as the top ranked team of the tournament, but their stiffest competition will lie in the last game of group play against No. 2 Canada. In the past six months, the neighboring rivals have faced off a total of eight times, with Canada defeating Team USA in six of those matches, including the 2021 IIHF Women's World Championship final. Four of those games went into overtime and were decided by one goal. The Olympics are sure to be equally thrilling.
Olympic sports will be available for streaming on various NBC platforms (with a paid subscription to a partner cable, satellite, or streaming service), with live and tape-delayed coverage also airing on NBCUniversal-owned networks.