I Tried Victoria Beckham's At-Home Arm Workout, Using Olive Oil and Prosecco as Hand Weights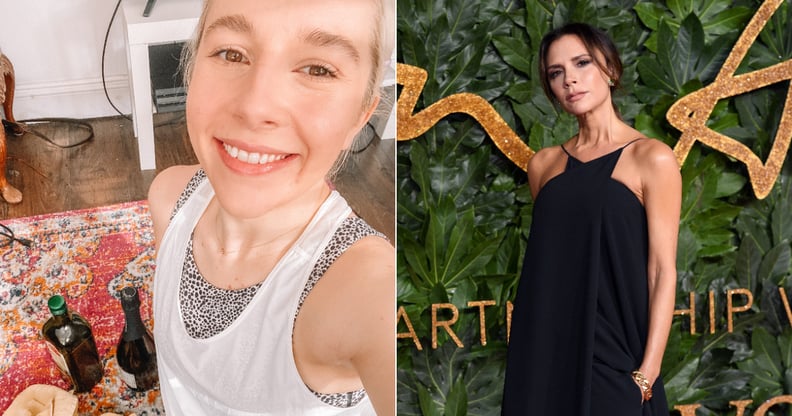 POPSUGAR Photography | Ange Law
Getty | Karwai Tang
POPSUGAR Photography | Ange Law
Getty | Karwai Tang
On Monday, Victoria Beckham shared her at-home arm workout on IGTV, devised by her trainer Tracy Anderson. Anderson is a household name in the fitness industry — she's been Gwyneth Paltrow's trainer for over a decade, and once upon a time, she counted Madonna and Stella McCartney as clients, too. In fact, Beckham admitted in the caption of the video that it was actually Paltrow who introduced the pair "9 years ago and have been working out with her ever since."
Anderson is known for helping her celebrity clientele build svelte and toned bodies with her signature Tracy Anderson Method, so when Beckham shared her at-home workout, I had to give it a go. It must be said: I am definitely not one of the exercise heroes you've seen on Instagram, working out in their living room every single day in lockdown or posting sweaty selfies after running around the block. No, ma'am. I'm the person that ate pizza and pasta for dinner last night with two glasses of red wine while snuggling up on the couch with a good romance novel. At this time, just getting through is my priority and there's absolutely no chance of me emerging fitter than I went in.
But Anderson's arm workout was under 10-minutes long, so in the interest of trying something new, I decided to prop my phone up in my living room and dive straight into her half-aerobic, half-resistance, arm workout. I only needed two pieces of equipment: a hand towel and two small dumbbells. Stumbling at the first hurdle, I only had the towel and no weights. Then, after realizing I'd accidentally drank the bottles of wine I intended to use in place of dumbbells (whoopsies), I improvised with an unopened bottle of Prosecco and a big bottle of olive oil. Not ideal, but it'd have to do.
There were three rounds of exercises that each went for roughly three minutes. First, Anderson took me through a weight-free workout that I had stupidly underestimated, and within a minute, I was already sweating and complaining that my arms hurt. My boyfriend jumped in to attempt the moves and lasted about 30 seconds before packing it in. Next, we used the "hand weights" for a series of high-octane moves, and lastly, moved on to using the towel.
Overall, the workout was tough, and I'll be very surprised if I don't wake up tomorrow morning with sore arms (honestly, my biceps already hurt). Before starting the workout, Anderson explained that one thing Victoria Beckham is very good at is stretching and lengthening her arms while performing the aerobic-style moves. Keeping that in mind while moving through the workout, I can 100 percent understand what she means. Not only did I confirm that I am one of the world's most uncoordinated people, but my arms felt stretched and very much worked out during and after the session.
You can watch the full video ahead, and stay tuned because Beckham has promised that her leg and ab routine will follow later this week. My body is already quivering in anticipation.
Victoria Beckham's At-Home Arm Workout by Tracy Anderson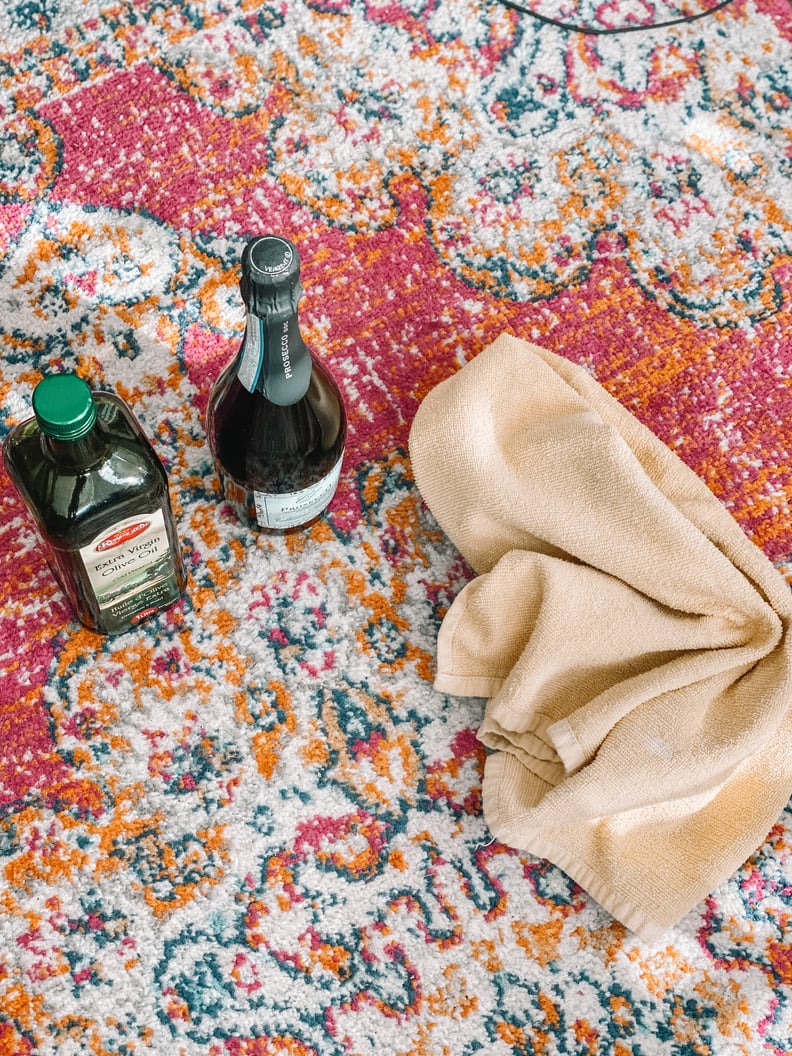 My Limited Home Gym Equipment
Unfortunately, I don't have dumbbells at home, so I had to improvise with an unopened bottle of Prosecco and a big bottle of olive oil. They worked great.