I Switched to Phone Therapy During Coronavirus — Here's Why I Prefer It Over in-Person Sessions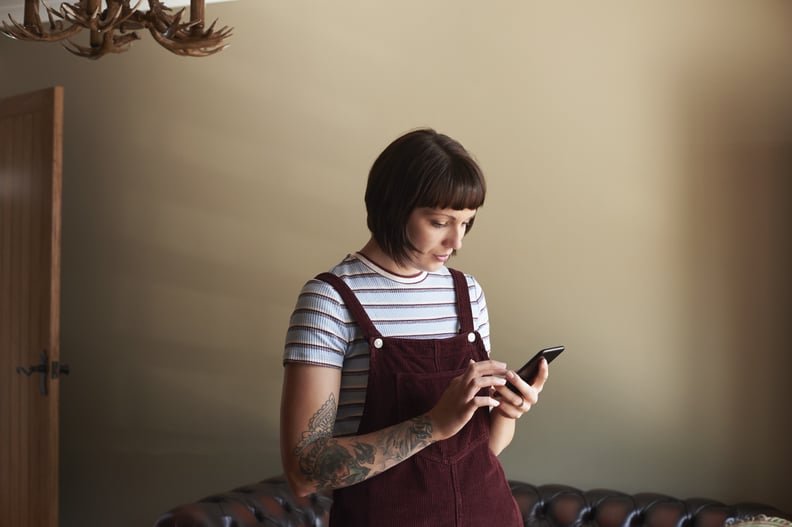 I made the decision last fall to go back to therapy. I had a brief stint in children's sessions when I was about 10, and this time I was signing up on my own without the help of my parents. In the beginning, I took the less-than-five-minute drive over to my therapist's office almost every week. It felt awkward, and I swore I didn't have any sort of connection with the mental health professional sitting across the room from me. Then, she moved offices to a town 20 minutes away, and the sessions themselves seemed to get a little easier. I was finally starting to feel a thaw with my therapist when the novel coronavirus pandemic hit and the world came to a standstill.
When we began social-distancing measures, my therapist assured me that she'd be offering phone and video sessions. It's important to note that the regulations for administering teletherapy have changed under the national emergency — some states are allowing cross-state therapy and technology used for these sessions isn't as strict, meaning you don't necessarily need to be on a HIPAA-compliant platform. I live in New Jersey, as does my therapist, and we will most likely follow stay-at-home guidelines for the foreseeable future, which makes teletherapy our only option. I tried out phone sessions, as well as two video calls, through what happens to be a HIPAA-compliant service (Doxy.me), and I realized that I actually prefer phone calls over video and even in-person therapy. Here's why.
Why I Prefer Phone Teletherapy Sessions
I immediately became a fan of the fact that I didn't need to drive 20 minutes to see my therapist. For the first phone session, we talked about coronavirus, and she had some helpful things to say about dealing with anxiety during this time. The conversation seemed to flow just as well as, if not better than, in person. Instead of sitting in front of her on a couch, I was curled up in bed with my cat, hair in a messy bun. This, to me, was actually comforting. There was something about being home, fresh faced and relaxed, that made me feel more at home with her than I typically do.
Video calls with my therapist presented more distractions. (Can she see me all right? Is my computer fully charged? Does she notice that I haven't washed my face? Is she looking at me or something else on her screen?) There's enough to be worried about right now; I'd prefer to not stress over seemingly trivial things while in therapy. Needless to say, I've stuck with phone sessions ever since I tried video calls for those two consecutive weeks.
Yes, viewing someone on screen while talking to them might work better for you, but I've felt like the conversation has flowed much more fluidly when talking on the phone. I'm able to focus on her voice and nothing else, and perhaps the invisible barrier from not being able to see one another has actually started breaking down a wall I may have built up. There was nothing wrong, per se, with speaking over video — some people may prefer this because you're able to read each other's body language — but I've officially gotten into a routine of biweekly phone calls that I enjoy.
Tips For Teletherapy Sessions at Home
I'm still not 100-percent comfortable with my therapist and therapy in general, and there are topics I haven't opened up about yet. But, here's guidance for you during this time that has worked for me. Who knows; I may keep doing phone sessions even after the pandemic has calmed.
Put on a sound machine or your fan. Having my white noise machine on in the background makes me feel more comfortable talking to my therapist in my home. I don't live alone, so I wanted extra privacy.
Use headphones. On that same note, I have my AirPods on for my phone calls to maximize privacy, and I also used AirPods for my video calls when I tested those out.
Get comfortable. Some people prefer to talk to their therapist in a space separate from their bedroom so that it feels more like an in-person session, but I've actually enjoyed being able to cozy up in a familiar place. If you're doing a video call, you may not be able to get as comfortable on screen, but do your best.
Pick a time that works for you. Normally scheduling an in-person therapy appointment meant I had to sign off of work at least half an hour early to leave myself enough time to get to the office. Now, there's more flexibility. Don't stress. Play around with times that cooperate with your daily schedule.
Ask your insurance provider any questions you have. I haven't had an issue getting teletherapy sessions reimbursed by my insurance company during this time, but it's important to reach out to your own insurance if you have any questions, as coverage differs per provider. This is especially important as states start to gradually open up again and teletherapy laws may or may not shift depending on the state. I don't see my state opening back up completely any time soon, so teletherapy will continue on accordingly.
Teletherapy increases access to mental health services for those who may not otherwise be able to go in person. It also gives both clients and mental health professionals an easier means to adapt to change in schedules and, as we've learned, adapt to pandemics that physically shut down businesses. I learned that I like phone sessions with my therapist, but your preferences will depend on you and your relationship with your own therapist. You can read more about how to sign up for teletherapy during coronavirus here.