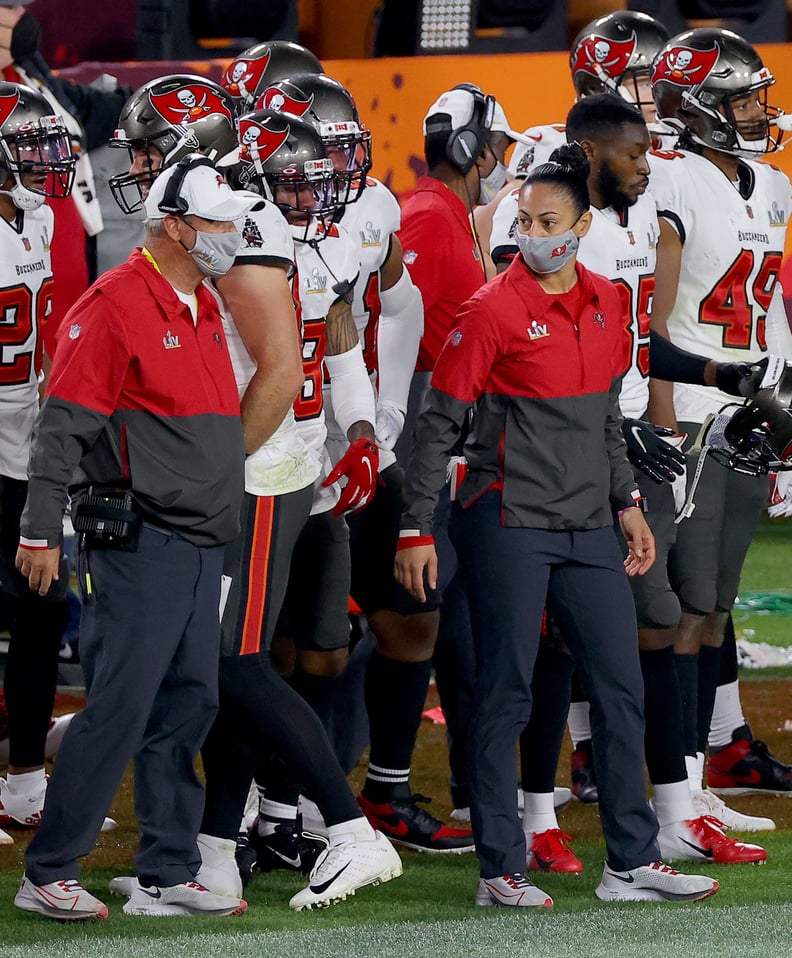 Assistant strength and conditioning coach Maral Javadifar, right, with the Tampa Bay Buccaneers during Super Bowl LV.
Assistant strength and conditioning coach Maral Javadifar, right, with the Tampa Bay Buccaneers during Super Bowl LV.
When the Tampa Bay Buccaneers won Super Bowl LV Sunday night, we all became witness to another inspiring victory — Lori Locust and Maral Javadifar are the first women assistant coaches to win a Super Bowl. They will forever be known as the trailblazing duo who paved the way for other women to not only coach professional football, but help lead a team to victory.
Who Is Lori Locust?
Locust, age 56, born in Harrisburg, PA, became the assistant defensive line coach for the Buccaneers in 2020, so this is her second season with the team. She actually began her coaching career after playing women's semiprofessional football for four years. She continued coaching after college, and worked her way up to the NFL. She interned with the Baltimore Ravens, and worked as the assistant defensive line coach for the Birmingham Iron of the AAF (Alliance of American Football).
Who Is Maral Javadifar?
Javadifar, age 30, became the assistant strength and conditioning coach for the Buccaneers in 2020, so this was also her second season. Before joining the team, Javadifar, known as M.J., worked as a performance physical therapist. She also has a sports background, as she played college basketball at Pace University, where she earned her bachelor of science degree in molecular biology. She then received her doctor of physical therapy degree from New York Medical College.
Javadifar grew up in Queens, NY, but her family is from Iran. In the early 1980s, her family left the Middle Eastern country to come to America. She shared in an Instagram post that when her mother was growing up, women weren't allowed to go to sporting events, so becoming one of the first female coaches to win a Super Bowl was a way to say thank you to her mother.
Locust and Javadifar Are Women, Yes, but They're Coaches
Below Locust talks about her experience as the assistant coach, that she's just a coach, and that's how she's been treated:
"She's an extremely talented coach," Bucs defensive line coach Kacy Rodgers said in a Tampa Bay Times article. "She is a coach. She is Coach Locust. She is very knowledgeable. She puts the work in, she puts the time in. She's always asking questions, she's hungry, she wants to learn. She is no different than any other coach I work with."
Javadifar said that the Bucs are doing a great job offering women and other people the opportunity to show what they can do:
Both Locust and Javadifar prefer to be recognized just as coaches instead of female coaches, but are also aware of their important role in setting a path for future women in coaching and sports. Coach Locust said in an Instagram post, "I'm a coach who happens to be a woman, not a woman who happens to coach." Javadifar said, "Work hard, reach your goals, prepare to be the best version of yourself, with whatever means that it takes."
Sarah Thomas Is First Woman Referee in Super Bowl
While Locust and Javadifar were making history Sunday, they weren't the only ones. Sarah Thomas became the first woman referee to officiate a Super Bowl. She's worked full-time in the NFL since 2015, when she was named the first permanent female NFL official.