Why Sports Should Be Postponed in 2020
My Year Has Always Revolved Around Sports, but Even I Know It's Time to Shut Them Down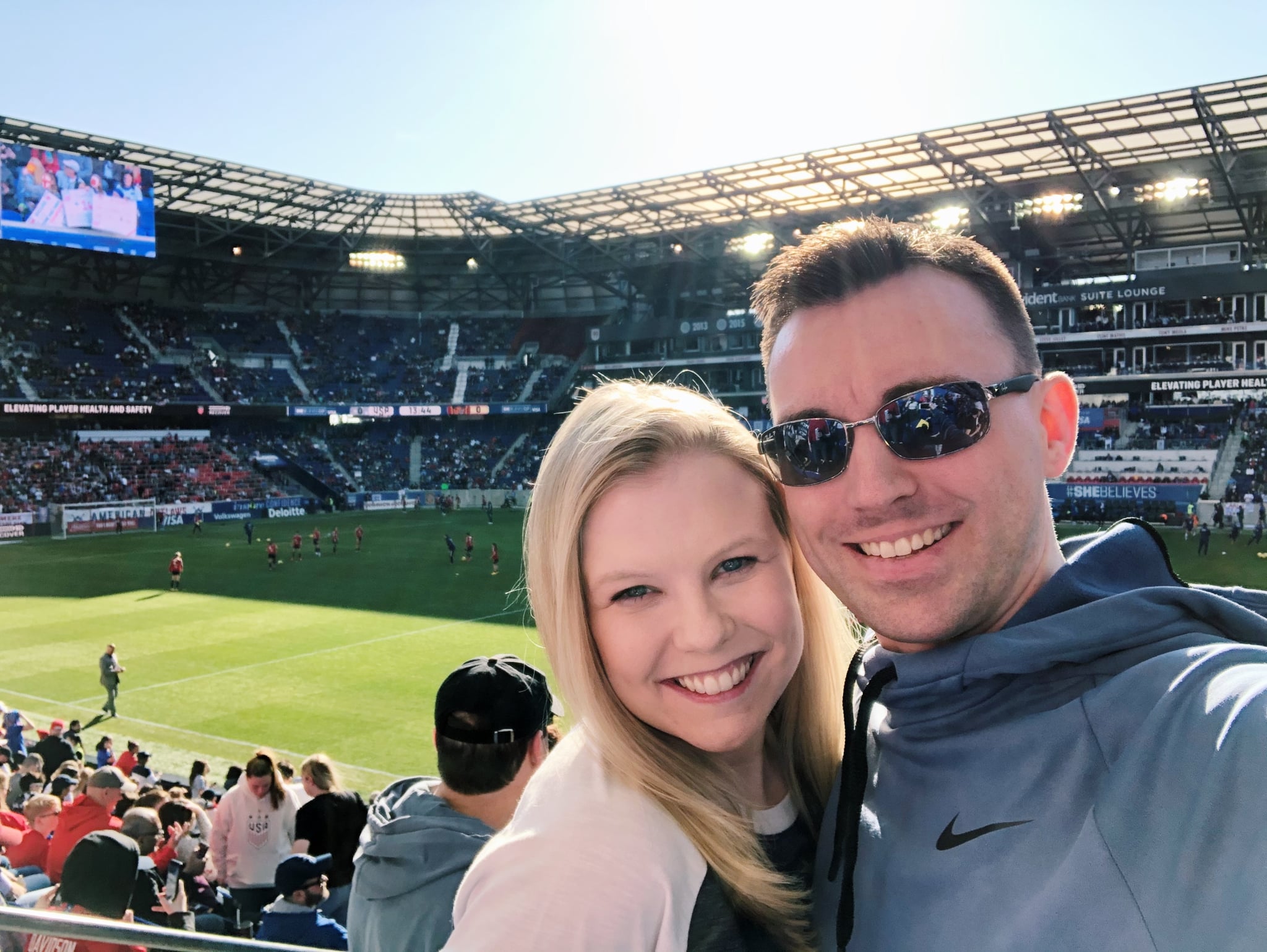 The author with her husband at a soccer match between the USWNT and Spain on March 8, 2020.
It was one of those moments in sports you just know you'll remember for the rest of your life. The US Women's National Team had played 87 minutes, scoreless, in a match against Spain. The sellout crowd inside Red Bull Arena in Harrison, NJ, had grown relatively quiet, as if everyone in the stands was collectively holding their breath. Forward Christen Press stood at the edge of the field, the ball resting on the ground in front of her. This free kick would likely be the Americans' last chance to put a point on the board and bring themselves one step closer to their third SheBelieves Cup.
Then it happened. Press floated the ball to midfielder Julie Ertz, who was surging toward the goal. In one swift motion, Ertz leapt into the air and headed the ball, past the leg of a defender and off the hand of the goalkeeper, into the back of the net. The stadium erupted. In a video my husband took, I'm seen screaming and smiling, as though the world wasn't about to change.
That was March 8, 2020. Three days later, the reigning World Cup champs defeated Japan 3-1 to win the tournament, and I unknowingly left my office in Manhattan for the last time this year. I watched in disbelief as the COVID-19 pandemic ravaged New York, then smaller cities and towns across the country. Within weeks, it became clear that 2020 would be unlike any year before it. But of all the changes that would take place in my life — suddenly, I was commuting from my bed to the dining-room table and spending weeks at a time inside, which made me both lonely and fortunate — losing the sporting events I had always looked forward to was one of the hardest. There would be no NCAA basketball tournament to help pull me through a harsh winter or a Tokyo Olympics to keep me up at all hours of the night this summer. Stadiums sat empty, and a part of me felt empty, too.
I was never very athletic growing up, but like the rest of my family, I had a mind for the complexities of the game — any game — and loved watching others compete. Some of my fondest memories from childhood stem from sports. Hiding my laughter when my dad — at the time, a middle school basketball coach — got teed up for accidentally collapsing a folding chair on the sidelines, as he jumped up to call out a play. Watching with my mom as an injured Kerri Strug landed her second vault at the 1996 Olympics, clenching the gymnastics team's first Olympic gold. Driving 45 minutes to watch many a midlevel hockey game with my brother and parents, then eating so much cheesy bread and pasta at a local Italian restaurant that I thought I might burst.
When I reached college, sports became an important part of my social life. While I've always been a bit of a homebody, I never missed a home game. I'd file into the football stadium early to get a prime spot on the front row of the balcony (it had a better view than the field-level seats) and walk in bitter cold to cheer on the basketball team. I relished talking strategy with my now-husband and hugging friends and high-fiving strangers in the stands. There's a longstanding tradition at West Virginia University where, after a win, the crowd stays behind to sing "Take Me Home, Country Roads" by John Denver. The sound of tens of thousands joining in still gives me chills.
I've always struggled to articulate why sports mean so much to me, but I think it comes down to this. Sports have an innate power to bring people together. They unite us around a common goal — and right now, that goal has to be defeating this virus.
Sports have an innate power to bring people together. They unite us around a common goal — and right now, that goal has to be defeating this virus.
I know there are a lot of reasons not to call things off again. Sports bring in revenue for colleges and universities and provide a paycheck to thousands of professional athletes, coaches, training staff, and stadium workers year-round. But the safety of the athletes, the staff, and their families has to come first. At least 10 NBA players chose not to finish the season at Walt Disney World, and nearly 70 professional football players have followed suit, opting out of the upcoming NFL season out of concern for themselves and their families. Both the Big Ten and Pac-12 have postponed all sports through the end of the year. The decisions to forgo college sports, including football, came after officials learned that at least a dozen NCAA athletes who had tested positive for COVID-19 have developed myocarditis, an inflammation of the heart muscle that can affect its ability to pump and cause abnormal heart rhythms. Still, conferences in which dozens of athletes have tested positive for COVID-19 seem determined to move forward.
But at what cost? You could argue that fall sports could have gone on if only we had taken COVID-19 more seriously the first time seasons had to be canceled. Instead, states reopened swiftly before we had flattened the curve, and college and professional teams began workouts that allowed the virus to spread with abandon. What will happen when athletes begin traveling to games, sometimes states away? How many people will be hurt, and how long will it further delay the nation's recovery?
To me, the choice seems clear. This is just one season, but the long-term consequences for athletes and staff who contract COVID-19 — or bring it home to their friends and families — and even for the country as a whole could be devastating. Athletes will play again, and fans will one day fill stadiums, just as we did before this began. But that day will come sooner if we choose to be on the same team.
Image Source: POPSUGAR Photography / Karen Snyder Duke